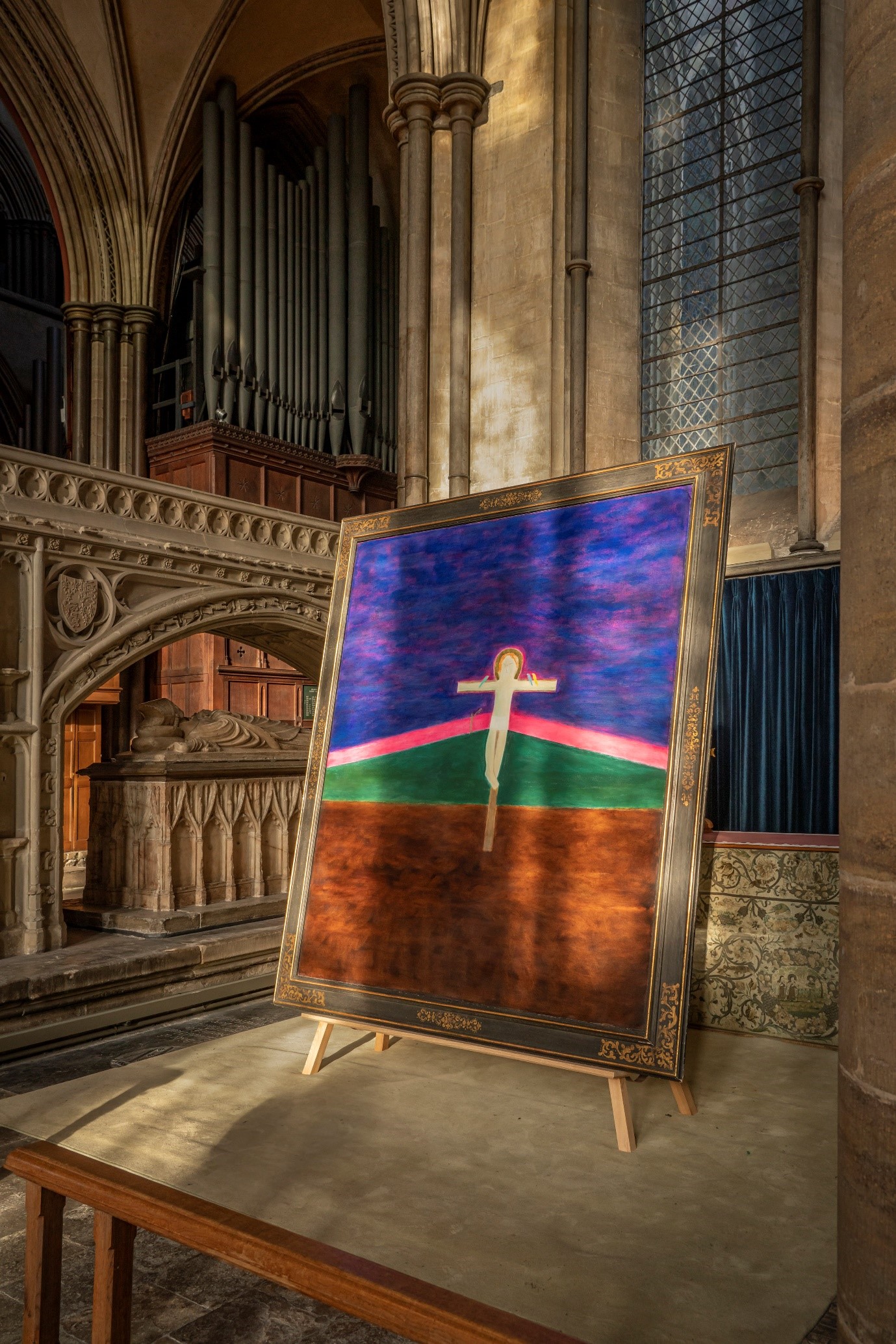 A scene of the crucifixion by Craigie Aitchison

---
The picture of the Cross by Craigie Aitchison (above) reminds me of one of David Scott's volumes of Poetry Piecing Together, which has an even more enigmatic painting of Aitchison's on the front cover.  Jesus, in this darkly haunting picture, is bright and glowing against a black background.  His figure is diminutive, and on a Cross little bigger, and beside him and looking up at him is a dog, almost on his level.  In the picture that we have been sent for Passiontide from Salisbury Cathedral, that you can see at the head of this blog, the creatures looking at Jesus are, rather, birds, perched on the cross-beam of the scaffold.
David Scott is a priest-poet that I have quoted before - and shall do again, I am sure - who retired from the full-time ministry a few years ago, having been Rector of St Lawrence and St Swithun, Winchester for some time.  His poetry is gentle and reflective; winsome and emotive, and appeals to Anglican devotion of quiet and undemonstrative depth.  So, for him to be interested in Craigie Aitchison's art says to me something more than i would otherwise imagine, through the lens of his spirituality.
Birds and a dog at Calvary.  Why?  I am asking myself this at the beginning of the days of Passiontide that begin tomorrow.  Lent turns away from the desert and towards the Cross; away from self-examination to consider the power of self-offering and love.  These crucifixion scenes of Aitchison (and he painted a whole series - including in Liverpool and Truro cathedrals) are glowing images.  They are not really portraying suffering, they are showing the effect of suffering; they are reaching to the Cross as experienced by John and Mary; torn to the heart and utterly exposed, they know the love of one another and are united in that love.
David Scott reckons in his poem Reflections on Craigie Aitchison's Paintings that the dog is howling at the sight of Christ upon the Cross.  In the exhibited picture from Salisbury Cathedral, the birds are probably canaries.  Aitchison kept canaries in his studio, and they would fly around him as he painted.  Settling on the Cross, the symbolism is surely that Christ's connection with the world is not just with the human race.  The whole earth groaned in agony, as it still does, but beauty is in its nature too; and freedom; and light.
Tomorrow is the Fifth Sunday of Lent, Passion Sunday.  We have a few days; a week in fact, before Palm Sunday begins Holy Week once again.  Time to prepare, for what will be a different sort of Passiontide and Easter this year.  Over the next few days, I will be exploring how we might make things special in days when we are unable to be in Church, even for private prayer.  
Our main concern remains for those who in our own community, and across the country and internationally, who are having their lives turned upside down through the results of the Coronavirus pandemic.  We have some idea as to the suffering that people are experiencing, and can imagine, or may know very well from bitter experience, how we may be feeling with a friend or family member very ill.  Approaching the Cross in these circumstances will bring us close to Christ and so closer to them too.
John Mann
"Piecing Together" by David Scott was published by Bloodaxe Books in 2005