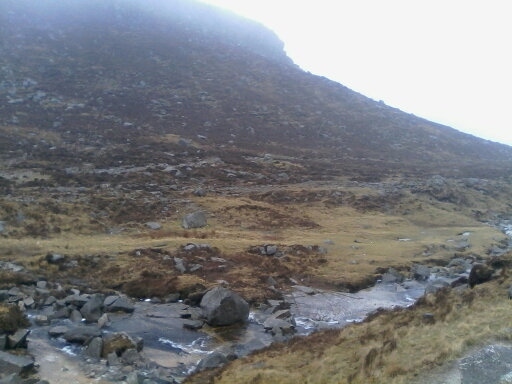 ---
Another damp morning and we both remembered that we should have covered the garden furniture last night and didn't.  How a dry day lulls one into a false sense of security, though the expectation of rain at anytime should be well and truly in the DNA of anyone who has lived much of their lives in Ireland.
Sticky paths and wet overhanging vegetation are going to meet early walkers on this Friday.  The market will be wet too.  But it is life giving. There was an interesting article in the Observer last Sunday on a botanist who has spent her professional life studying mosses.  I learnt some extraordinary things from it.  I knew that mosses could dry out and then be revived, but the statistic that they can lose at least 98% of their water and still live is amazing.  Even more incredible is another fact from the same article that mentioned experiments to revive mosses that have been dried and stored in museum herbariums.  The author speaks of a moss that has lain in a store dried up for 40 years and has been revived in water.
We are reading psalm 55 this morning and it is one that I have spoken on more than once, but it does cut to the quick and its sentiments are inclined to linger - and its tone is sobering.  The core arises from an author who is attempting to find life that is sustaining, and he manages the manifold problems and trials that to some degree or other assail us all.  Like other psalms and portions of Scripture that lay bare the good and the bad in human relationships, Psalm 55 may be taken with a sigh, but, on the other hand, facing how things are brings a certain comfort; and courage rises, as with the psalmist we do not flee from the crises, but in the strength of Christ within us, take them on.  
Mind you, I still think that to revive a dried up moss after 40 years is pretty remarkable.
John Mann