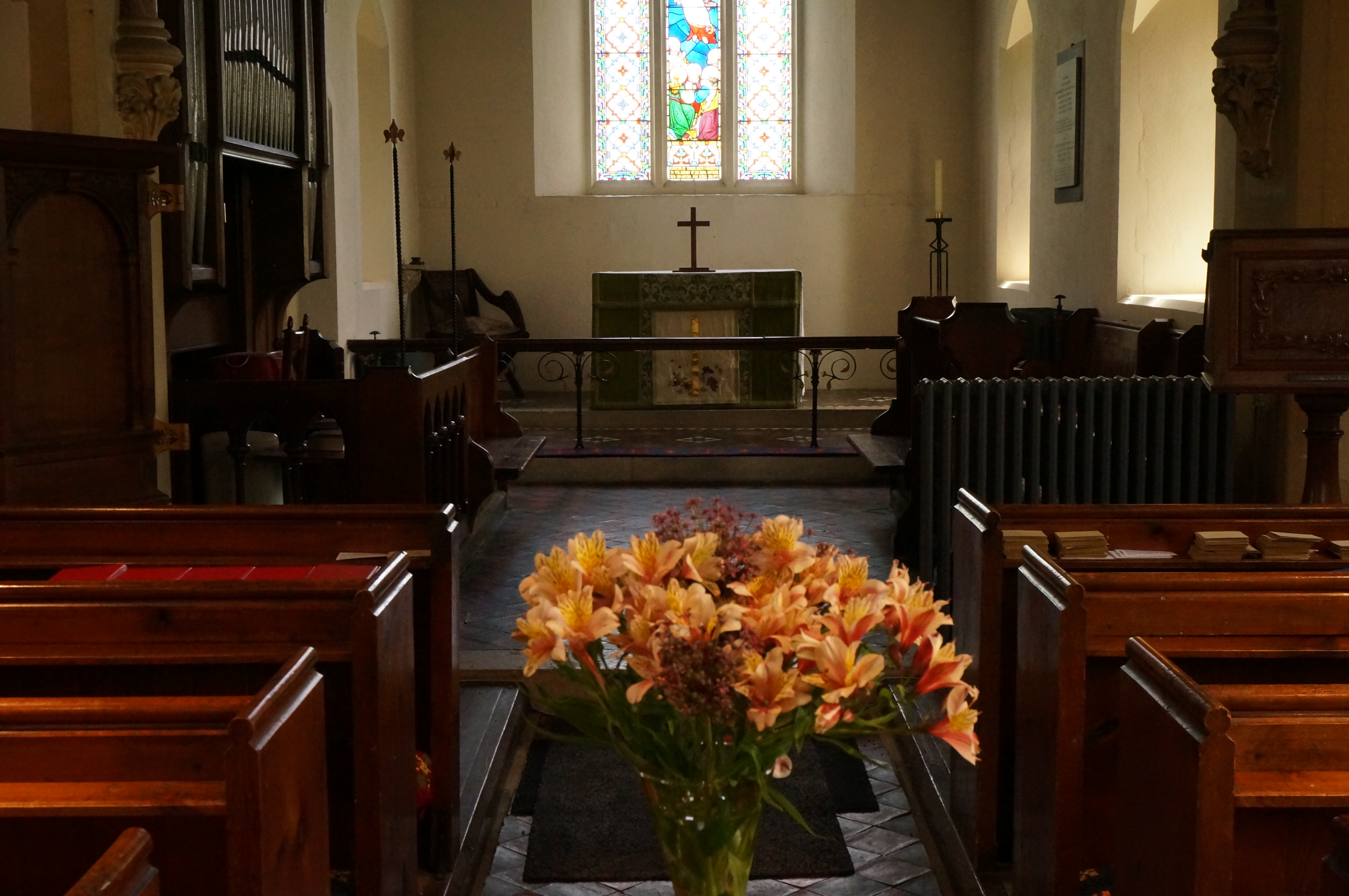 ---
Yesterday, the morning Church services on-line over, Helen and I drove to meet family for a picnic to a spot in Hampshire that is between our two houses.  We had originally intend to go to Selborne, but, it being a honeypot for picnickers, we went to a nearby village where I had been rector in another age.  We left there twenty-seven years ago.  
The village church was open, with its risk assessment done, and most of its pews taped off; sanitising hand gel was on the font and instructions in the porch.  There were also fresh flowers in two arrangements, forming a point beyond which we must not go in the aisle, and another vase at the entrance, with a lovely mix from someone's garden; white roses amongst them.
Outside, on a seat dedicated to Sam and Ursula Way, and with rugs on the grass, we had our picnic.  There were swallows above and wild flowers at our feet.  Memories gathered unconsciously from lists in the porch, of those working away, maintaining this lovely Victorian village church, and, glancing round, things flooded back.  Nettles are still growing in that patch of ground from which a tree fell in a storm, and we thought we should never get used to losing its shade.  I recalled days of splitting logs and clearing branches.  From near the church, paths crossed the fields, through crops of wheat and barley; the soil full of flints; and beyond, by lanes deep in the shade of huge oaks and limes, ways open to meadows of tall grasses and the occasional glimpse of deer, whilst the sunshine plays tricks with light and memory: surely that space was smaller than it is; and the gate, nearer the corner than now?
Sam died in France in 1998, five years after we left.  His grave, and that of his wife Ursula, lie a few feet away, the headstone already aged.  Beginning work straight from school, his remarkable talent gave him the edge over many a graduate, and having become a permanent secretary in the civil service, he began a second career in business life.  I was introduced to him, when I was incumbent of the parish, as having, "run London Transport", but he had filled other prestigious roles.  He was really "Sir Richard Way", but everyone knew him as "Sam", because, he, modestly, was also a self-taught pianist who was ever ready to, "Play it again Sam!", for his friends, of which he had many, and as a young man the name stuck.
With an architect friend, who is a fine cellist and still living in the area I believe, Sam and the two of us a managed - sometimes a little painfully, it has to be said - to work our way through the "Archduke" and "Ghost" trios; and when it was just Sam and I, it was often still Beethoven, or the Brahms violin sonatas, that are really duets for violin and piano, their interwoven themes and extraordinary harmonies, fully shared.  During a summer's evening we would stop after an hour or so, for a crisp glass of something cool and refreshing, then maybe some Vivaldi, or one of the easier of Fritz Kreisler's little treasures, Sam running his fingers over his beloved Blüthner.
John Mann