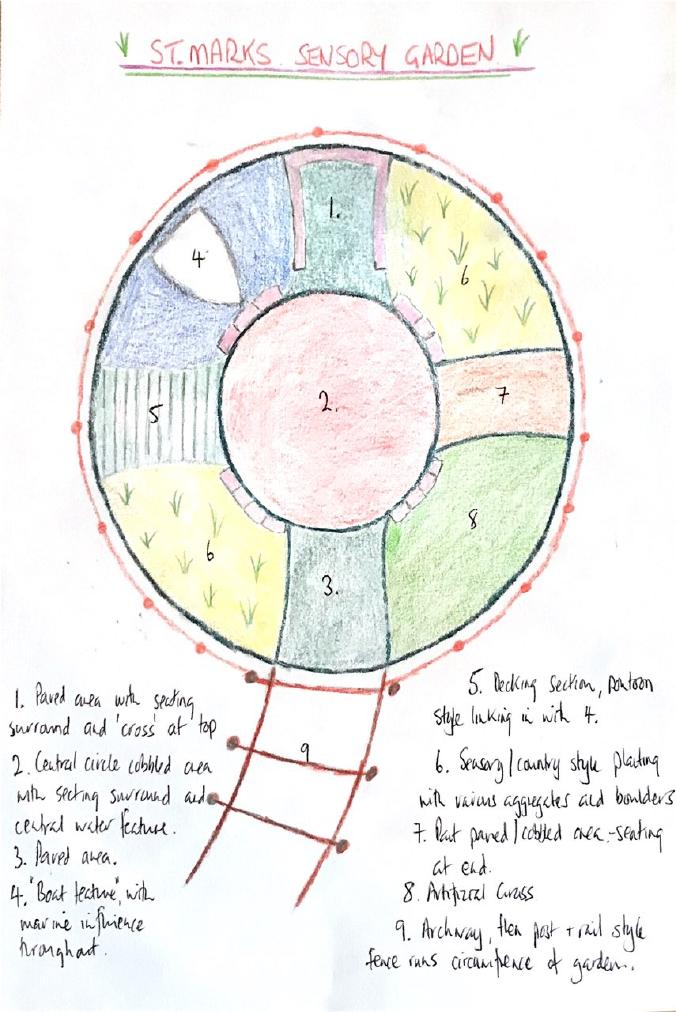 The design for the spiritual garden under construction during the school holidays.

---
Some projects have taken a little longer to come to fruition than expected, as those involved have been engaged in more essential things - or unable to work - due to the weeks of lockdown.  One long-cherished plan has been the establishment of a 'spiritual garden' at St Mark's Primary School.
Swanage PCC approved a grant from an educational fund, held at the Diocesan Board of Education, for part resourcing of this school garden some months ago.  The construction of the garden is now underway.
The idea for the garden has been talked through with the children, and its plan partially determined by them.   They principle is that there is a place in the grounds of the school where children may go for reflection and inspiration.  So the planting and hard landscaping are both sensory and symbolic.
The children themselves asked to have the Cross prominent in the design, and a water-feature to give a gentle sound.  The flowers and shrubs will be chosen to enhance this basic structure and, with carefully placed seating, the whole garden may be a place where children may go in small groups with a member of staff, for the purpose of contemplating the place of God in their lives, knowing the beauty and wonder of nature, in a small garden of peace and quiet and familiarity.
We look forward to seeing the photographs of the construction of the garden after the summer holidays and hope to have a chance to visit this special area of St Mark's School that the Church has helped to provide.
John Mann