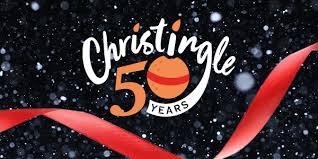 50 years of the Children's Society promoting the Christingle Service is celebrated in Salisbury Cathedral - and St Mark's School was there!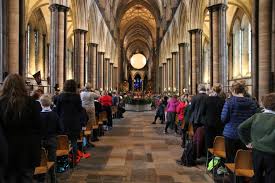 Church Schools, children, staff and parents filled the Cathedral nave. We were just to the left of the huge font in the middle of this picture.

---
Yesterday (Thursday) twenty-five children, from St Mark's Church of England Primary School in Swanage, travelled with staff and parents to Salisbury Cathedral for a very special Christingle service. They were with pupils from church schools across the diocese to celebrate 50 years of the Christingle service being held in the Church of England, and the sponsorship of these services by the Children's Society.
We left the school at 11.30 a.m. and were not back until 5.30 p.m., but it was well worth the journey and the experience for those children from years 3 to 6. On arrival we ate our lunch in the cloisters and then took our seats on the north side of the nave, near the font, and, for a very special reason we needed to be there, near to the north door of the cathedral. The reason being that Her Royal Highness the Duchess of Gloucester, Patron of the Children's Society, was to arrive and leave again through that door, and our school had to be positioned there as two of the children had been chosen to give the Duchess a posy as she left. This was a great honour for the children of our school.
Both Bishop Nicholas and Bishop Karen came and spoke to the children at the end of the service, that had included songs that all the schools had learnt, and, of course, the lighting of several hundred christingles, that were held by the children as a continuous line of flames of light down the central aisle of the cathedral and up both north and south side aisles. The overall effect of this was quite dramatic, and they were kept burning for some minutes as further prayers were said and everyone sang.
As the Duchess went to leave she stooped to speak to the girl and boy from St Mark's as they presented the flowers to her. I am sure that they will never forget that moment, and all the children from the school who were there for that service will remember their first visit to Salisbury Cathedral for a long time. They behaved impeccably, and were a credit to themselves, their school and their town of Swanage.
John Mann