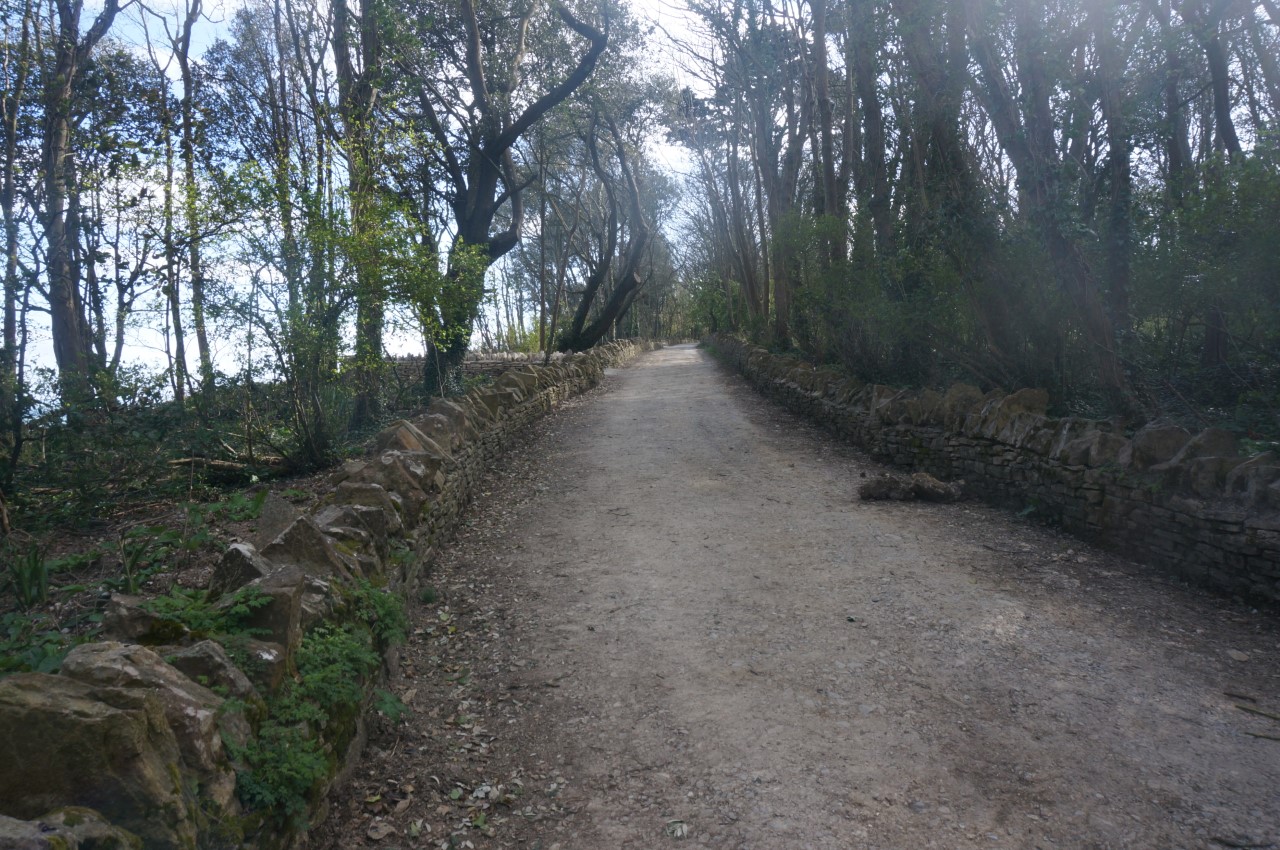 The old carriageway to Durlston Castle now a much used footpath, and just re-opened!

---
Some people have very kindly been sending me messages having read the blogs in recent days, and a recurrent theme is to re-live walks.  So today, without me leaving my study or you leaving your home, I invite you to come on a virtual walk; a walk from memory, into our lovely Isle of Purbeck countryside.  Jump in your car and park at St Mary's Church, or walk of cycle there first, and let us begin.
Take the steps up beyond the church door - so sad to see it shut, but the poster announces Palm Sunday coming up, so a little thought of waving palms to come - and make your way onto Church Hill, up to what I think of as Palgrave's Cross (since I was told that it was put there by Francis Turner Palgrave of The Golden Treasury of English Songs and Lyrics fame - is that true?) and meet me at the corner of Townsend Road, beside the Black Swan public house.  We shall observe social distancing, so I will be across the road outside Peter and Bridget's house.
Up we go, past Anthony and Roni's, spare a wave for Jean, in case she is looking out of her flat window, and we are breathing more energetically as we pass John and Jane's garden, whilst our eyes catch the bed to our right, with its daffodils dying back, but now there is a lovely patch of forget-me-nots in bloom.  Going under the trees I am thinking of the speckled wood butterflies that are often seen here in the summer and autumn, but now as the sticky buds of the horse-chestnut are opening, there is just a chance of a glimpse of a bright yellow brimstone butterfly ahead in that sunny patch (can you see it?) just as the path divides, with a narrow worn way up to Russell Avenue and Drive to the left, but we are going straight ahead, up the main driveway.
Let's stay on the road, rather than enter the nature reserve, though it is tempting, and brings memories of blackberry picking, ponies, thickets full of hidden songbirds, dog-walkers and butterfly-covered wild flowers.  No, let's press on past the rough ground to our left where dead nettles are flowering and poking out of the clumps of grass.  As the road rises look to your right and see the teasels against the sky.  They are sheltered by the stone wall, but from this angle they look amazing against the blue.  Thank goodness it is a sunny day and not a cloud in the sky.  As we slip down the hill towards the valley of South Barn, notice the blackthorn (actually you can't miss it), it is opening, but much is still in bud.  It will be full white in a few days.  What a day to come on.
Stand and listen.  There is a donkey in the field beside us, seagulls and crows are overhead, a tractor is chugging somewhere in the distance.  We reach the gate.  Well, shall we open it, or will we take the stile?  Two big steps and without touching anything for support, or, lifting a lightly rusted chain over a metal bollard and the gate swings easily.  Up the hill and, keeping well away from the family coming the opposite way, we clomp our way in the longer grass full of lesser celandines, and wonderful views.
A kissing gate at the top, then we bear left.  Do you remember the way?  We are into meadowland now heading for a narrow blackthorn-lined path, packed with sloes in the autumn (and muddy then too) and single-file, once the way is clear from the other end, we reach a crossing in the path.  We shall go straight on, if that is alright with you? I know it is tempting to turn either way, but there is only one more field until we see the lighthouse at Anvil Point, and glimpse the sea.  Now we are in skylark country; cowslip meadows.  Shall we see a first swallow of the spring?  Not today.  Sorry.
This is a special place.  I know that you are here and can see it all, but a robin has accompanied us now and I don't want you to miss that flickering flight and song.  We shall linger a while.
The coastal paths have a few stragglers here and there, all of us keeping our distance and thinking our own thoughts.  Music is running through my head.  Maybe its should be a hymn of praise, or a John Donne poem, this being his day today, but actually its a bit of John Denver, "It's five o'clock this morning and the sun is on the rise….."  
We go left and down through the woods to Durlston Castle.  No coffee stop today, we press on down the newly opened and partially completed carriage-way, the new stone walls and the quarry dust track are smart and inviting.  They will soon weather in.  I think that we shall go back via Bon Accord Road, past the hospital and down Queen's Road to Church Hill and St Mary's.  I hope that you enjoyed it.  The clock chimes, it has been just over an hour.  Thank you for coming.
John Mann