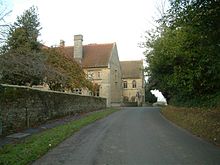 I visited Cuddesdon last week as part of the stages of preparation for Solveig, our soon-to-be-curate, to be ordained deacon less than five weeks from now. The College is just outside Oxford on the edge of a pretty village which it has dominated since 1854.  The initial impressions are of mostly Victorian buildings, a sweeping lawn complete with vast horse chestnut tree (at its magnificent best at the moment, with masses of Christmas-Tree-like pink blossoms) and the sound of dozens of house martins, which are nesting under the eaves of the main building.
Parking the car was a bit of a fiddle, but I found a space, and, with welcome pack in hand containing key-fob and timetable for the two days, I was led to my room, which was situated in one of the older buildings.  Quiet, almost monastic in imagination; high windowed, ancient ironwork and solid door, the colour-coded, semi-modern mixer-tap on the corner wash-basin was the most incongruous feature.  Today's heritage ways would have them replace it with heavy brass individual pieces with H and C inset on each.
The reception/bar area spilled out of another 19th Century pile onto the afore-mentioned lawns, with children playing and the class of 2019 relaxing in post-dissertation-deadline-just-hit ease.  Though still late spring, it felt like early summer in England, the sun bright across the fields, the birds whizzing to and fro.  Factor out the parked cars and the place oozes pre-internal-combustion-engine bliss. 
The serious matter that brought me and other training incumbents from as far afield as Manchester, Peterborough, Somerset and Swanage, was dealt with in a college that is very much of the twenty-first century.  A Church adapting for the demands and challenges of the third decade, at the same time as preparing its students for the real world of parish ministry, is clearly here to be found.  Those families with children mixing across the college community will soon find themselves in new places, and a parent with a new role in a church eager to see their new curate and get to know them.  Many things new, in fact.
We gathered in the local parish church for the Eucharist at the end of the first afternoon.  Joanna, the preacher and member of staff spoke of the transitions that we make, and of the vine that reaches and touches, but not necessarily tidily.  We sung with reassuring gusto some familiar, and some less familiar, but easy to pick up, hymns and songs, then spilled out into the early evening  sunshine.  Later, the day ended with a visit to the college chapel for sung compline, but that chapel needs a blog on its own.  I'll do it on Friday!
John Mann