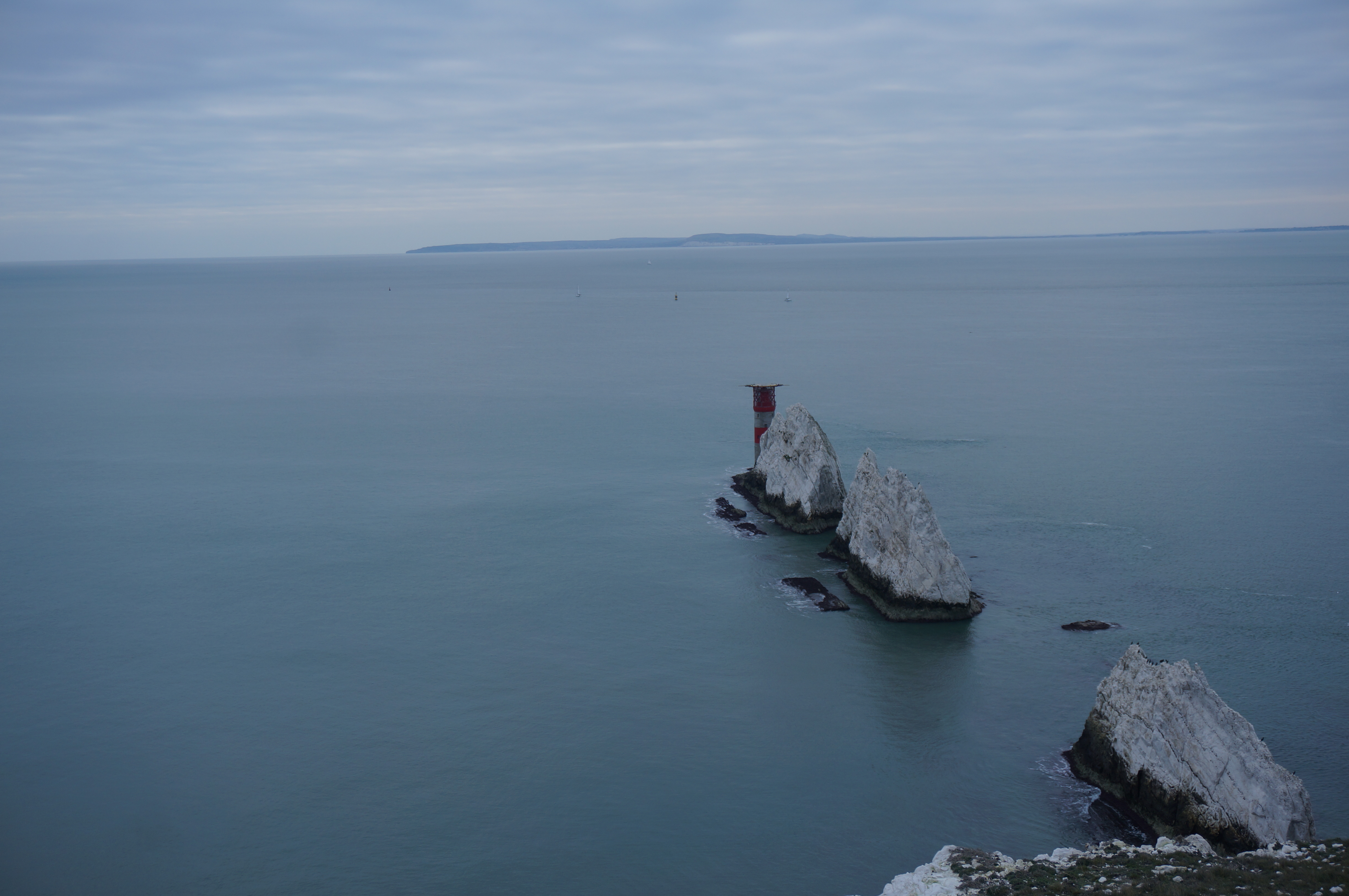 ---
48 hours on the Isle of Wight has been a lovely break and we were discovering things all the way, as neither Helen nor I had been to the island before.  First stop had to be at the Needles to view Swanage from afar, as we, like everyone else in the town, views things the other way most days when down by the sea.  It was a little hazy, as the photograph shows, but the white cliffs from Ballard Point to the Old Harry Rocks show up better than Swanage town itself, which is lost against the higher ground behind.  The Needles are an impressive sight, there is no doubt, and the coastal path right along the southern edge of the Isle of Wight gives magnificent views.  
We did visit several churches over the couple of days including that at Chale.  This is a lovely church, and, like others we entered, had the remnants of Christmas decorations in the windows, and arranged on furnishings and other surfaces.  The grave of Gerard Trower (1860-1928), along with other rectors' burials, lies beside the path as one approaches the church door.  Though born in Yorkshire, he managed, through an extraordinary career, to be a bishop first in South Africa and then Australia before resigning to become rector of Chale for a short while before his death.
Further along the coast is the lovely twelfth century church of St Lawrence, where many a person would need to stoop to enter its low door; the tiny sanctuary is entered from one end of the communion rail and the pews are arranged against the north wall, and the aisle with pegs above the windows for wet coats along the south wall.  The windows were full of candles, just burnt a service long - we reckoned - but their Christmas service(s) may have been entirely lit by candlelight. 
Quarr Abbey, a Benedictine community just beyond Ryde has a lofty brick-built chapel; the atmosphere still, silent and low-lit from the high and meagre windows, but in the shadows as one looked towards the distant altar, it seems to echo the monks at prayer, seven times a day.  The Nativity scene (or should I say scenes, as there are fields of shepherds and some sand covered ground for the wise men to gather, pillars and brick houses, angels and animals) is like none other that I have seen:  Mary and Joseph move, as does the baby Jesus, and in another corner a blacksmith re-shoes a donkey with a tap, tap of moving hammer and hoof.
The light was full red in the sky as we turned westward to our night-time destination of Yarmouth; through Newport and onwards, the usual spread of out of town stores and gleaming lights created an unreal mix of nature's glory and humanity's poor attempt to dispel darkness.  We ate our meal that night to the sound of guitars, a tin whistle and bodhran drum attempting "The Star of County Down" and "When Irish Eyes are Shining".  All rather surreal really…
John Mann