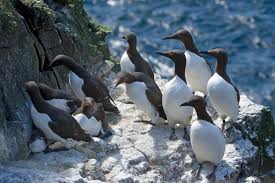 ---
In the mist of early morning, with the sea calm and the cool sea breeze yesterday, Helen and I were walking round Anvil Point and on to Durlston Castle, wondering what the sunrise would look like over such placid water.  There was not a chance, of course, with the view obscured in the mist beyond about a couple of hundred metres.  The sighting of that distance was enough, however, to glimpse something that we haven't seen for a few months - guillemots.  About seventy of them, whirling along the cliffs, settling then taking off out to sea once again.
The December passing visit of the guillemots is a well-known phenomenon.  James Fisher in his classic New Naturalist volume SEA-BIRDS (1954) p.270 writes:
"The first massing of the guillemots on certain favourite cliffs and tops of isolated stacks takes place in England, Wales and Ireland in December, and, in Scotland and farther north, in January […] These early visits are few and irregular; they take place at dawn and last only three or four hours.  They may take place on two or three succeeding days, and almost always during fairly calm weather."
We were lucky to catch everything just right - the calm sea, the dawn, the two or three days of December that the guillemots touch land - before we see them returning to breed in the Spring.  Mind you, in this beautiful corner of Dorset there is always the unexpected to be expected.  It is that sort of place.
John Mann