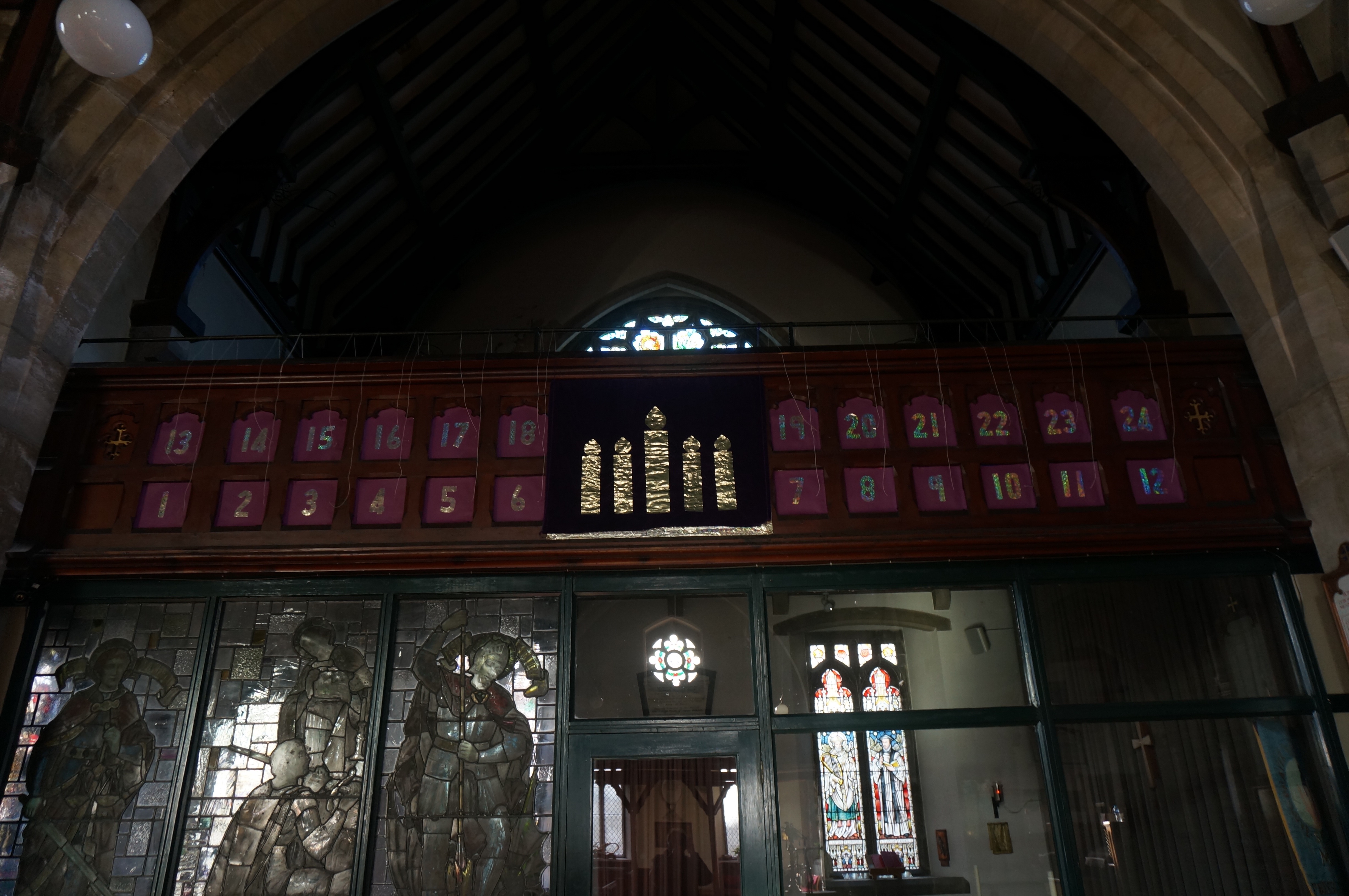 The Advent Calendar on the north gallery of St Mary's Church

---
St Andrew's Day and almost Advent; the Studland Churchyard shed, demolished by a fallen tree in a recent storm, is to be replaced today, and it is the calm before a storm of a different kind, as clogged diaries herald a busy few weeks ahead.
Advent Calendars of all shapes and descriptions are appearing here and there, with St Mary's opting for a daily one this year; so tomorrow the children at Explore in the morning will open the first door, then on Sunday the unveiling will be in the 10.30 a.m.service. Monday's might be opened by the clergy - together for their monthly meeting - or possibly the count team from the office; Tuesday, and the fourth door will be seen to at All Things Bright and Beautiful, and on Wednesday at the mid-week Eucharist - and so on. I have been given a key to the pictures…. I know; that's cheating.
Walking from the rectory front door to the gate means passing the viburnum, in full flower, and a magnificent display of winter jasmine hanging over the stone wall. Faintly scented and bright, they have lifted the late November gloom on a number of occasions recently, as days have become dark under the cloud-cover by early afternoon. The garden cries out for attention and maybe it will get some today, the forecast being better than earlier in the week.
There is so much to look forward to in the coming days, with school and community events, charity and church groups running this and that, and many Advent and Christmas services planned, with choirs practising hard. Tomorrow the Belvederes have their concert, and next Saturday it is the Messiah. Can it be that there is an evening with nothing on?
John Mann