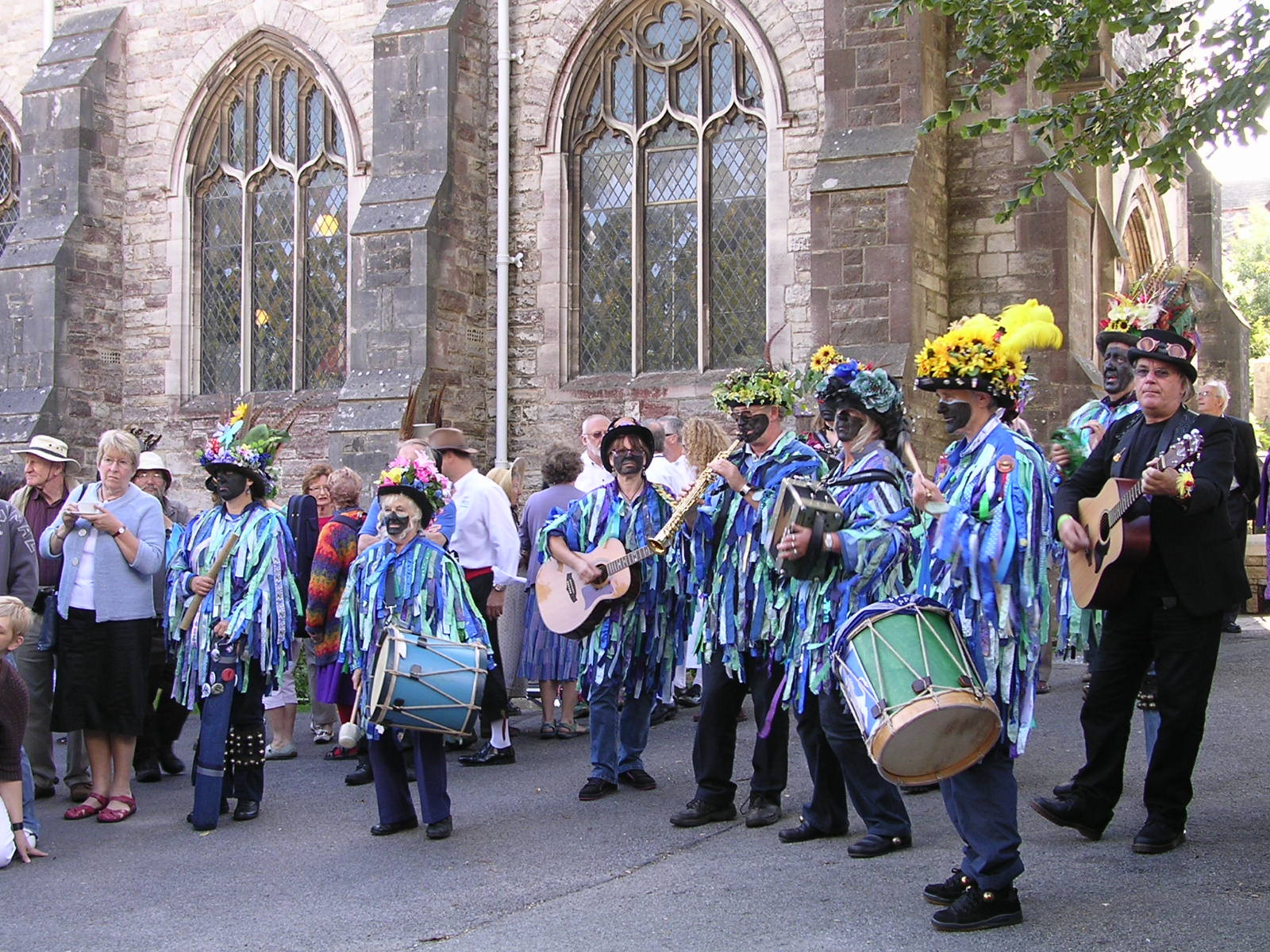 Leaving Church after the Folk Festival Service

---
Anniversaries have a deep hold on many of us. Memories both sad and happy flood back when a date appears on the calendar that is of significance. One way or another we mark them publicly, or silently remember, quietly alone. In the past week I have received an invitation to a 60th birthday party, an e mail from a friend in Ireland reminding me of the anniversary of my installation date at Belfast Cathedral, which occurred at the end of August, a congratulatory note from someone remembering that we moved to Swanage about now last year, and on Monday at the monthly clergy staff meeting, I mentioned to everyone, Peter Burtwell's 60th anniversary of his ordination to the priesthood, which we are to celebrate at Choral Evensong in St Mary's on 16th September.
The Folk Festival, which is coming up this weekend, will mark the watershed of the year for me in Swanage as we just missed it last year, arriving the day after it was over. I recall at the time the encouragement that Helen and I received, from those anticipating our arrival, to make it over in time for it, even just to slip into the congregation at the Folk Festival Service to experience its particular character, and enjoy the happiness of the occasion, but we couldn't quite make it. So anniversary and interest in this particular event have come together, as I think about a sermon and look at the order of service.
A year from one anniversary to another for any event, whether one of life's milestones or much more minor reasons for celebration or reflection, seems to go so quickly. Churches are, amongst other things, repositories of memory. Of course, we tell ourselves all of the time to live in the present and so we do: planning for the future, arranging for new initiatives and making anniversaries a springboard for what is to come. This is particularly the case in the Christian Year in the season of Advent which energises us for Christmas and onward, but through the period of harvest and remembrance there is a reflective, thanksgiving time. That period we are approaching now and it too is important, for it helps us to see what we have, keeps us mindful of what we may at other times take for granted, and encourages us to be thankful and open-hearted in our sharing and generous in our giving.
John Mann