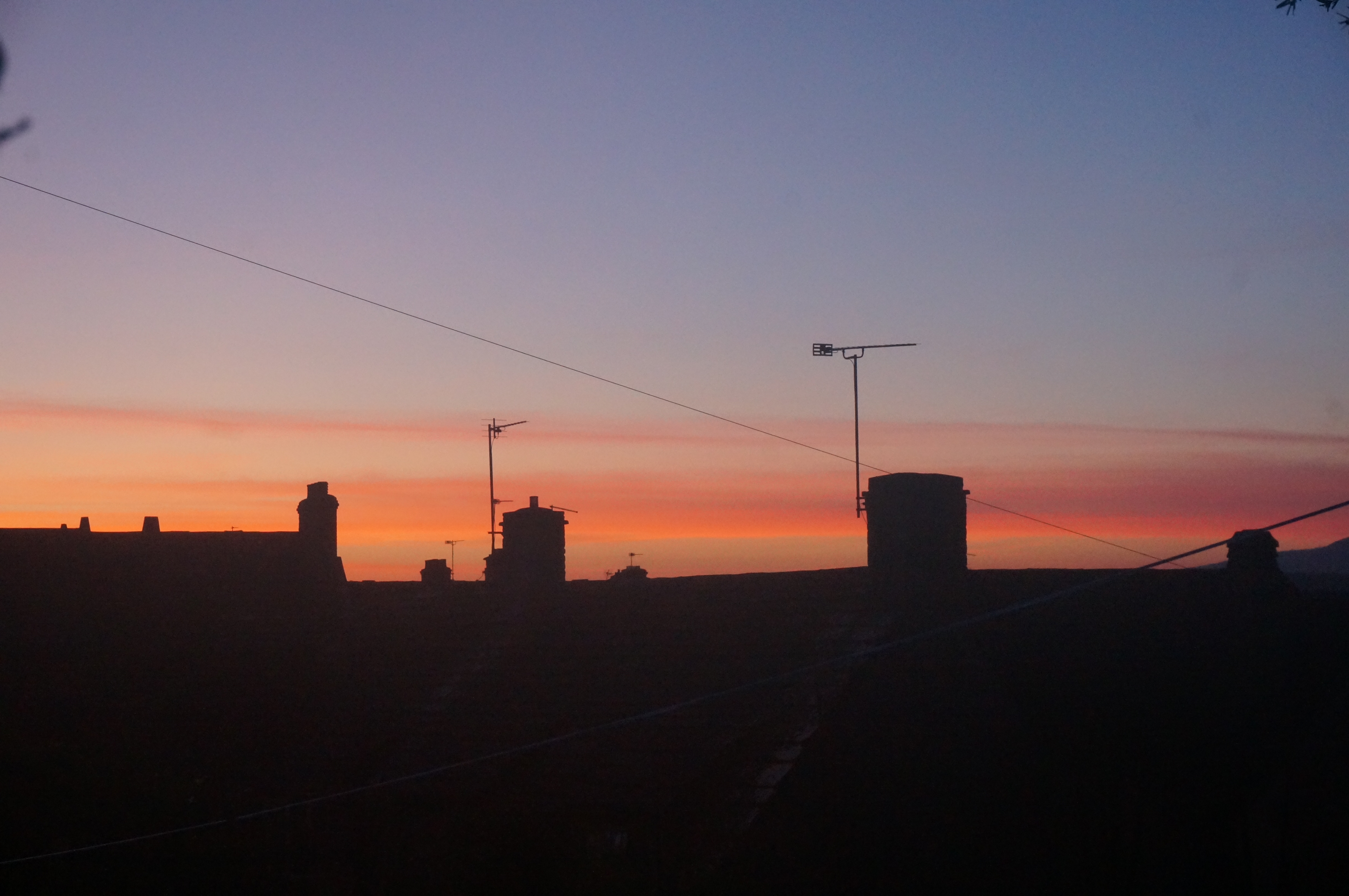 Sunset in Swanage last night

---
It is an irony not lost on us, that in the face of the worst health crisis for the country in living memory we are experiencing such beautiful Spring days.  I woke at 2.30 a.m. today and was conscious of my heart beating, Helen breathing beside me, and the sound of the sea, with no other noise apparent.  I thought, within a few hours, when light comes, and the bats that I saw flitting in the garden at sunset last night have gone to roost, there will be the sound of seagulls and pigeons and the dawn chorus of songbirds.  But, in the silence of the night, it was just the sea; loud and crashing on the beach.  I could see it in my mind's eye.
Yesterday, I drove to the crematorium for a service.  Just the five of us with the funeral director, all distancing, and the prayers flowed and the ancient readings told of the truths of our faith and the reassurance of closeness.  I chose the twenty-third psalm and the closing five verses of Romans chapter 8.  Nothing can separate us, as Paul says, emphasising with examples of those things that can divide and destroy, yet cannot in the love of Christ Jesus.
Driving to and from the crematorium, past sunny banks of celandines, daisies and dandelions, the first brimstone butterflies shone in the light, with the occasional dark fluttering of an out-of-hibernation peacock.  The roads were quite busy, though not as clogged as usual, and everyone seemed to be in a hurry.  Maybe we all are.  In a hurry to ensure that we are doing all we can, whilst being told we must do as little as possible, to allow those who must work to keep us safe and well, to be kept as safe and well, as they can be, themselves.  We continue to pray daily for them all.
In the late afternoon Helen and I took our daily exercise up Townsend Road and through the fields to the coastal path.  We met a few others on their way back; some walking, some running, and a lost dog who had adopted a jogger.  Then we were alone.  As we trod the fields that in a short time will be clothed in cowslips, we paused at the sound of the skylarks.  The sea glistened in the distance, the sun still shone at an acute angle throwing our shadows twenty feet and more before us, as we turned onto the coast path.  It was sublimely beautiful.  
John Mann