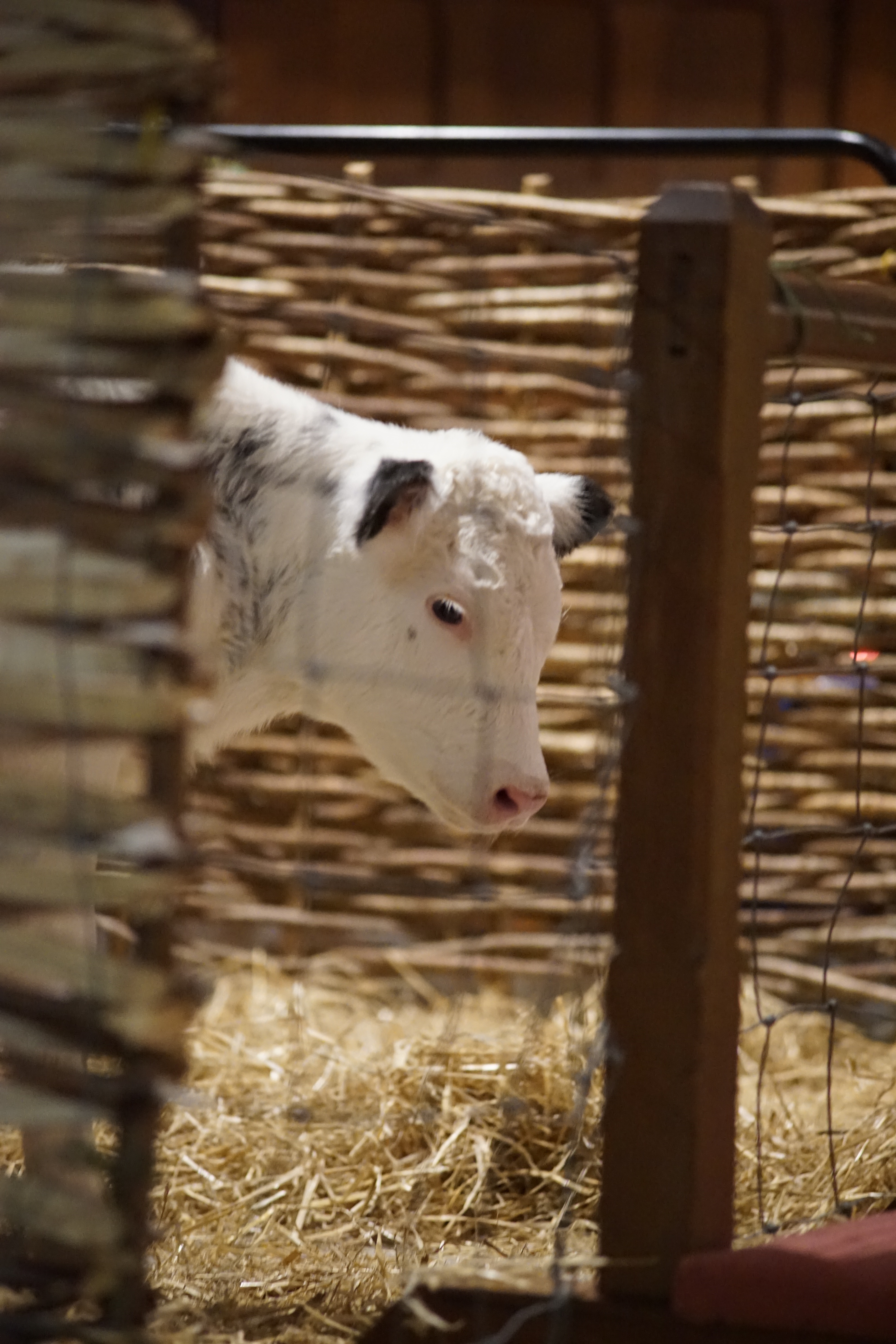 A calf in the stall in St Mary's last Christmas Eve

---
The appeal of the animals at the crib service in St Mary's is a great draw for the children, and we are grateful to Nick Viney and others who help to bring them and look after them there.   We are also deeply appreciative of the team that organise the costumes for the children and prepare the way for them to take part in the tableau at the front.  Without this gift of time and effort, on Christmas Eve, the crib service wouldn't be the success that it is.
Animals bring to the stable a reminder of the normality of the scene, into which God is working the miracle of the Incarnation.   So we hear of preachers concentrating on the muck and the smell of the stable rather than the sweet hay in the manger and the pure white swaddling clothes.  Dirt and purity meet as do the mixed up reactions to the birth of Jesus from shepherds to wise men to Herod.  There are emotions across the spectrum from jealousy to awe produced by those who sought out the child who was also king.  
I imagine, as we approach the end of one momentous year and look towards another, with all its uncertainty, and yet also hopes and dreams for a better future, that the kind of emotions stirred by the birth of Christ are quite recognisable in our world today.  Where we place our thoughts and efforts; how we pray for things to improve and work out our prayers in action, both locally and globally, is somehow tied up in that stable scene of miracle, and yet of normality too.  We have a few days to go until Christmas.  Advent Calendars are looking nearly done; our Advent candle has about two inches to burn; the service sheets are piled in office and vestry; sermon preparation is in its final stages; decorations will soon be complete.  Then comes the wonder of the moment and the chance, through all the things in life that may drag us down and cast shadows, to hear of the light that is coming into the world; indeed is here already.  God's Son, born of Mary; the one who came to bring healing to nations, and to each and every human heart.
John Mann