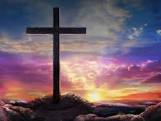 ---
John 13: 21-32
This morning we read from today's Gospel of the betrayer of Jesus, and at Morning Prayer from Luke 22: 54-end, of the denial of Christ by Peter in the courtyard of the high priest.  It is a day that starts with the frailty of humanity.  The prayer following the morning psalm plays on this theme too:
Have pity on our frailty, O God,
and in the hour of our death
cast us not away as clothing that is worn,
for you are our eternal refuge;
through Jesus Christ our Lord.
On the eve of Maundy Thursday and Good Friday, the lectionary is bound to lead us in this direction, and bring us to consider how we can meet the demands of our own day, whilst acknowledging that we are weak and vulnerable.  St Paul tackled this kind of thinking, pointing out that it is when we lose arrogance in our own ability and strength that we are, in fact, stronger and more able for the work of Christ.
As we look to the Cross in these days, let me outline how this very different Holy Week is approaching its climax, with the liturgy that we have to offer on line.  Today, I will put on this website a Maundy Thursday service, so it is ready to be used tomorrow.  It is designed as an evening service as the light is fading.  We would normally have a service in St Mary's, of which our on-line version is very much shortened, at 7.30 p.m.  So, if you want to join with others reading this liturgy, I suggest that you start at 7.30 p.m.  It will last less than half an hour, so we should be ready to applaud the work of NHS staff at 8.00 p.m.
On Good Friday, David Nunn regularly contributes a play or film for Swanage Churches Together, normally in the Methodist Church at 10.30 a.m.  Not being able to do that this year, he has provided us with a link to an audio play for Good Friday.  David has suggested that we may like to listen to this at 10.30 a.m. on Good Friday, to be doing it together.  I will provide that link on the website during the course of the day tomorrow, or first thing on Friday morning.
At 12.00 noon on Good Friday, in St Mary's, there is in normal times, the beginning of the Three Hour Service of meditation on Christ's seven words from the Cross.  Simon and I have discussed how we might manage this under the present circumstances, and we are opting for a similar structure with hymns and short homilies on the Words from the Cross in between.  I imagine it will last a little over an hour, depending on what speed we read the little sermonette between each hymn.  Simon has recorded these for us in a similar way to our Sunday liturgies.  Once again, if you want to feel that you are following the service at the same time as others, I suggest we gather around our computers and iPads at 12.00 noon.
These three opportunities for worship, prayer and reflection on the website, can, of course, be used at any stage, not just at the times suggested. 
May I wish you all a holy and blessed Maundy Thursday and Good Friday.
John Mann
Please do now listen to Simon's organ piece for reflection today:
David Nunn's short Jerusalem film for today can be accessed here:
http://www.swanageteam.com/news-events/david-nunns-second-short-jerusalem-film/