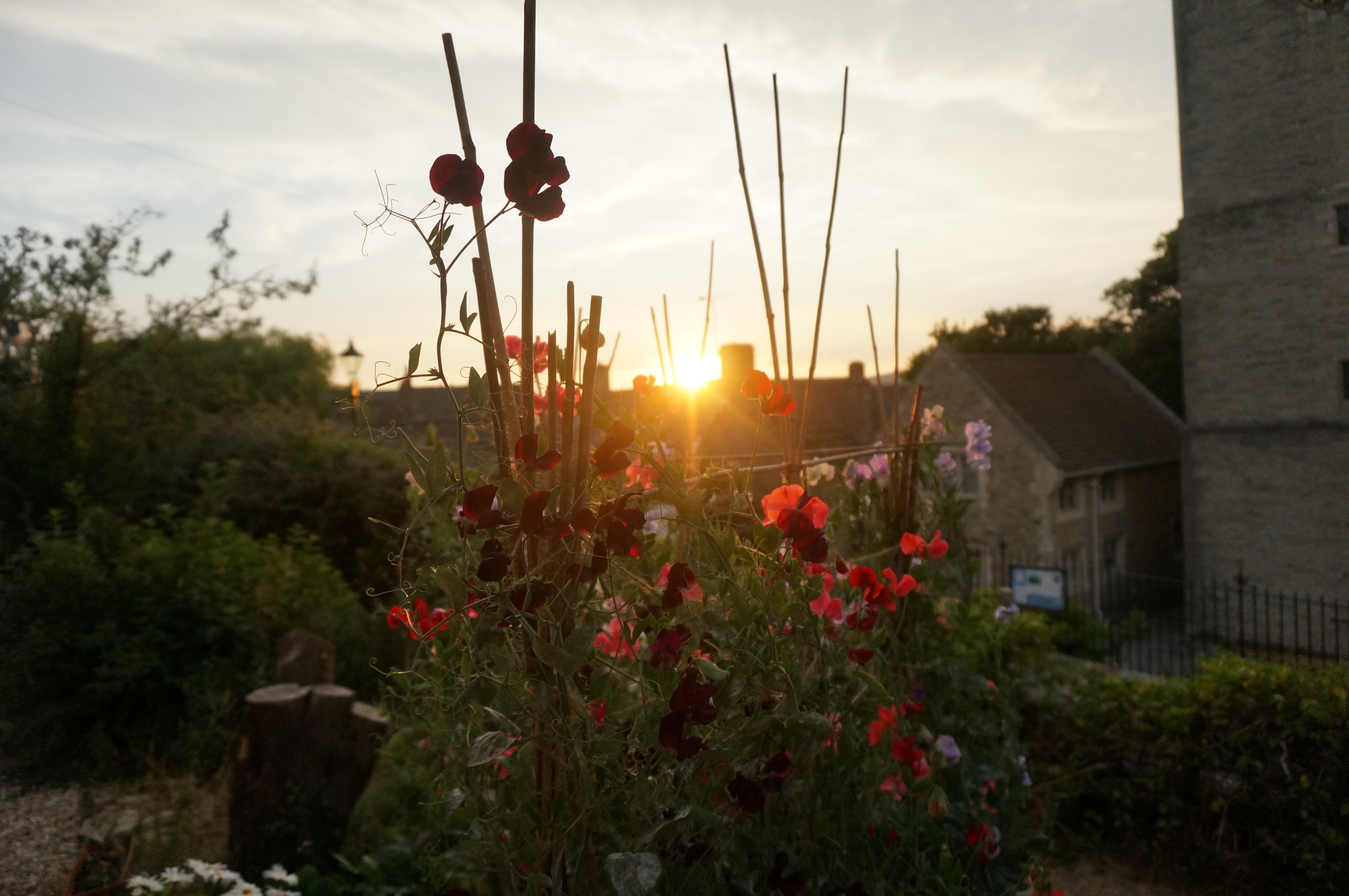 Sunset as seen from the rectory garden

---
Carnival Week in Swanage, we had been told by everyone, was like no other few days of the year in the town, and so it is proving to be. On Wednesday evening just past, Helen and I were invited, very kindly indeed, to view the midweek firework display, and, having experienced a convivial meal in an apartment with a balcony overlooking the sea, we saw them all. It was a fine spot to appreciate the spectacle against the panorama of the bay and town, having already watched the glow of the sun gradually disappearing from Peveril Point.
I was dwelling yesterday on a word that St Paul uses in his second letter to the Corinthians, that is going to appear on Sunday night, as we transfer the Feast of the Transfiguration forward to its eve. He is talking about looking at or 'contemplating' Christ and being transformed, but the word can also mean 'reflecting', as in a mirror. I've been teasing out a sermon on this word ready for Evensong, and, consequently, thinking about how light, and in this case the light that is in Jesus, especially as he is transfigured before a chosen few on the mountaintop, affects what we see and how we see.
As the sun goes down each evening behind Ballard Down, the last rays of it catch the top of the sweet peas and the glow shines both on the petals of the flowers and through them too, whilst the sun itself is almost dazzling in those last few moments before it disappears. Then we enjoy a couple of hours of the sky changing gradually in the west as the earth turns away from its source of energy and hence life and light, the sun.
This wasn't all I was thinking last night, of course, eating our evening meal outside, as Helen and I chatted over the day that had been, and what there was in the garden to do. We answered our own question as to "Where are the swifts?" by raising of our eyes to the peerless blue sky and seeing (maybe as many as a hundred) swifts high in the air above us, like bees before a hive that is not their own; restless, in constant movement. Blackbirds were rustling in the bushes and the wrens zipped back and forth. A few late-flying butterflies pursued each other, or settled with the bees on the lavender. The seagulls remain the noisiest of the birds.
John Mann