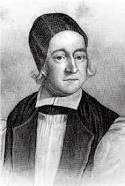 ---
Today, the Church's calendar remembers Bishop Thomas Ken (1637-1711) a man of integrity and prayer who wrote, amongst others, three hymns for the times of the day, the evening one of which is amongst my very favourite hymns.  They are:
"Awake, my soul, and with the sun thy daily stage of duty run;" - for the morning
"All praise to thee, my God, this night, for all the blessings of the light;" - for the evening
and
"Lord, now my Sleep does me forsake," - a hymn for midnight
They were written for use at Winchester College, whilst Ken was a teacher and chaplain.  The morning and evening hymns are still in regular use, and can be found in most hymnals, but that for midnight has disappeared.  It is in 13 stanzas, and like those for morning and evening can be sung to Tallis' Canon.  The first two stanzas of the midnight hymn give a flavour of the whole (Incidentally, I like the way that the word 'Sleep' gets a capital letter!):
Lord, now my Sleep does me forsake, 
The sole possession of me take, 
Let no vain fancy me illude, 
No one impure desire intrude. 
Blest Angels! while we silent lie, 
You Hallelujahs sing on high, 
You, ever wakeful near the Throne, 
Prostrate, adore the Three in One. 
For those who are eager to mark parts of their day with hymn singing, and especially those wakeful through the night, can I recommend Thomas Ken's beautiful hymns as prayers that need only the one lovely Tallis tune.  Once in your head, you have it all day - and through the night as well!
John Mann