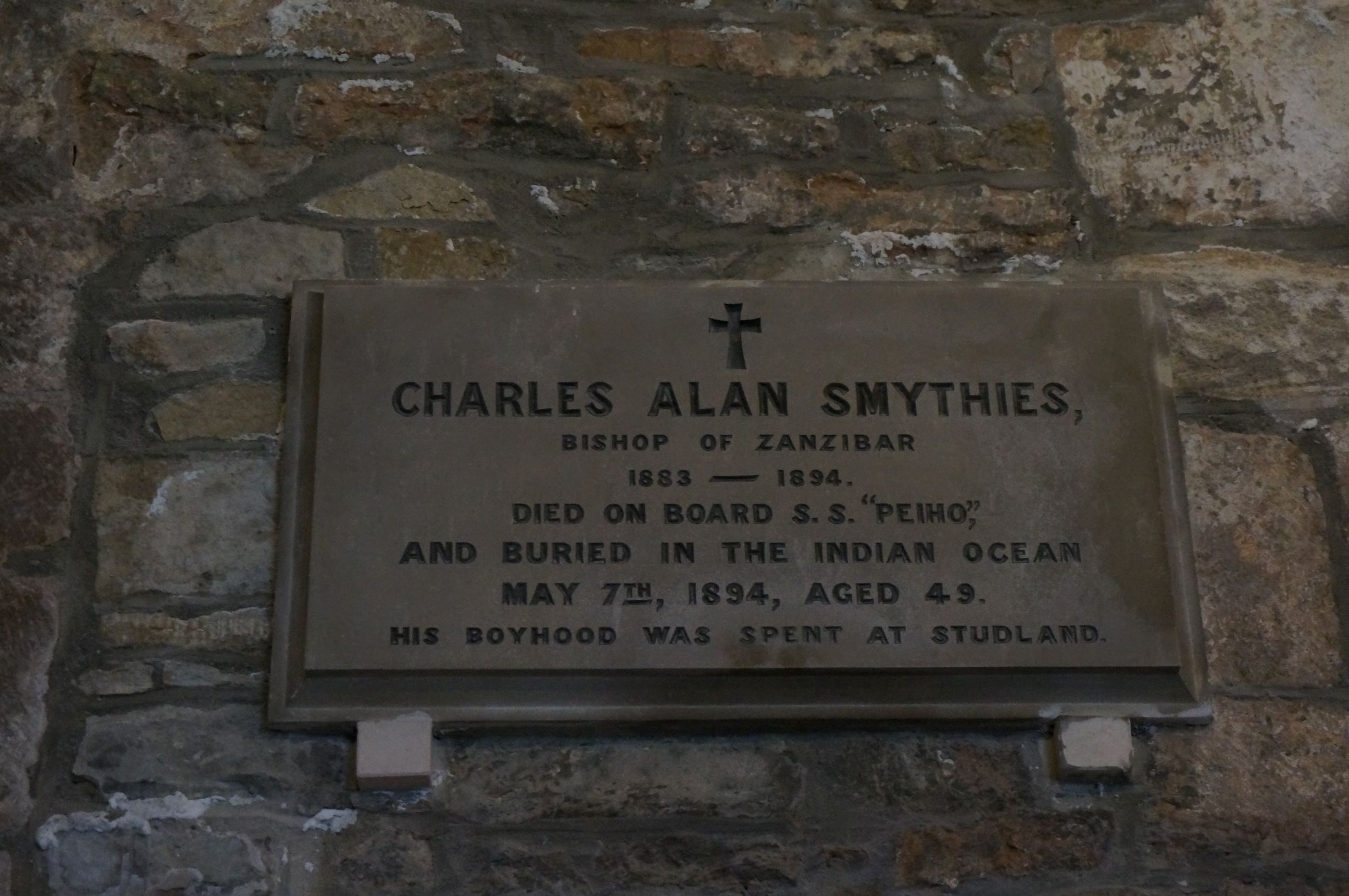 The plaque in St Nicholas' Church

---
Last Sunday morning I was sitting in the small clergy stall at the back of the choir of St Nicholas' Church, Studland, which is a very comfortable seat, albeit somewhat hidden from most of the congregation.  That's why, when conducting worship, the priest takes it from the rather fine modern lectern near the pulpit.  However, at the 10.00 a.m. service on Sunday, I was sitting in the stall, as Tony was presiding and I was preaching, so I could remain in relative obscurity until the Gospel brought me out!
The reason why I mention this is because, when sitting in this stall, one faces two really quite interesting plaques on the opposite wall - just above the organist's head.  The person I have my eye on is Charles Alan Smythies (1844–1894), bishop of Zanzibar and missionary bishop of East Africa He was born in London on 6 Aug. 1844, a graduate of Trinity College, Cambridge and was ordained in 1869.  After curacies and an incumbency in Cardiff he was made, but declined, the offer of the bishopric of the universities mission to Central Africa.  
A year of fruitless searching later, he was approached once more for this position and eventually took on what has been described as "this perilous charge".  He was consecrated bishop at St. Paul's Cathedral on St. Andrew's day1883.  The Diocese was huge: 30,000 square miles.  He travelled to each part of it, visiting many areas every year, some once every two years.  He sought to both encourage vocations in the local Christian communities and to strengthen and support the Church in Zanzibar, being careful to avoid exporting, as far as possible, his British culture with the Christianity he taught, and encouraged others to teach.  Most of his journeys were undertaken with scant regard to his own safety and no white companions.
Eventually, his health broke down; but, in spite of physical weakness, he set out in October 1893 upon a long tour through the villages in the midst of his diocese. He was struck down with a severe attack of Malaria, and although he found his way back to Zanzibar and struggled on with his work for a while, he failed to recover. He decided that he must return to England. His final hours are recorded thus: "On 5th May 1894 he was carried on board the French steamer Peiho, but on the second day at sea he died, and was buried at sundown at a point in mid-ocean halfway between Zanzibar and Aden."
John Mann
PS I am grateful to have been able to pick up all of this information by a search online!