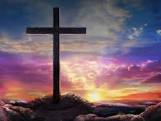 ---
Questions are asked every Good Friday, from those at the mock trials of Jesus to that from one man on his cross to another, "Are you the Christ?"  Today we have our own questions, as we read the BBC headline this morning; "Easter can't be normal, Briton's told".
The "When?" and the "How?" and all the other ways in which we try to reason within ourselves as to what the future holds, take us to websites, newspapers and broadcasts, social media and chitchat, and what they hold in terms of wisdom, to answer our concerns and help us see the way forward.  We hold too, the consciousness that the present situation is affecting people, both in our own country and across the world, to significantly different degrees, depending on financial and health ability to manage the threat, makes our questioning all the more insistent.  
With these thoughts that play on our minds, while days of sunshine and birdsong and every beauty of the countryside surround us, we arrive on this day, Good Friday.  And, so we walk the Via Dolorosa, the Way of the Cross, and with the women and John and the crowds gathered, see Christ, in our mind's eye, nailed to the Cross and left to die.
Questions around suffering are not something that we have an answer to.  We speak of those who cannot speak and of those whose pain is beyond bearing, both mentally and physically, but we open our minds to these thoughts and the distress they bring before Christ, and he crucified and forsaken.  
The fact that we cannot know, does not mean that we cannot say anything or pray anything.  Our Lord's suffering gives us understanding and experience of this mystery.  There is a very special sense of unity in this thought too, for at the foot of the Cross as in the presence of any human suffering, we are as one.  So it is, that our hearts are turned to God, and they are turned to each other.   Here we find what love means.  Here we know its effect.  Here we dwell together and accept in open hands, the mercy of our Saviour, who this day died for us.
John Mann