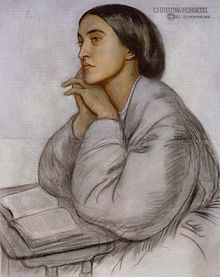 Christina Rossetti
5 December 1830 – 29 December 1894
I imagine that the nineteenth century poet Christina Rossetti, who is commemorated on this day in the Church of England, is thought of by most of us simply as the author of, "In the bleak mid-winter", surely one of the best loved of all Christmas carols, to either of the beautiful tunes to which it is sung.  She wrote another too: "Love came down at Christmas".   However, as we can imagine, she wrote a great deal more which has been influential for a number of famous writers, including apparently Walter de la Mare, Virginia Woolf and Philip Larkin.
Walter de la Mare is said to have described her poetry as being, 'numinous', and I suppose thinking of the effect that the singing of, "In the bleak mid-winter' has on a congregation emotionally sensitive to the reality of the Incarnation, one can see exactly what he means.
However, as with Thomas Hardy, one needs to be ready for the challenge of her honestly spoken thoughts which treat human existence very seriously, and, as in her poem, "May", which begins with a bright and breezy day and with all the anticipation of late Spring, ends with the passing away of all things.  Living with that reality, in the late nineteenth century, was nothing new.  I read a few days ago a poem by the contemporary poet, David Scott, dedicated to Archibald Tait, one time Dean of Carlisle, who lost five daughters to scarlet fever in one month in 1856. Such was a reality of life in Victorian England.
But I think I will end this blog, as I began it, with Christina Rossetti's, "In the bleak mid-winter", for surely, its honesty about what we have to give, arises from an inner joy with what we have of love, and an inner reassurance and thanksgiving, which is heightened by the transience of human existence, as with many things beautiful and hopeful - including the month of May, which for a brief time, soon will be ours once more.
John Mann