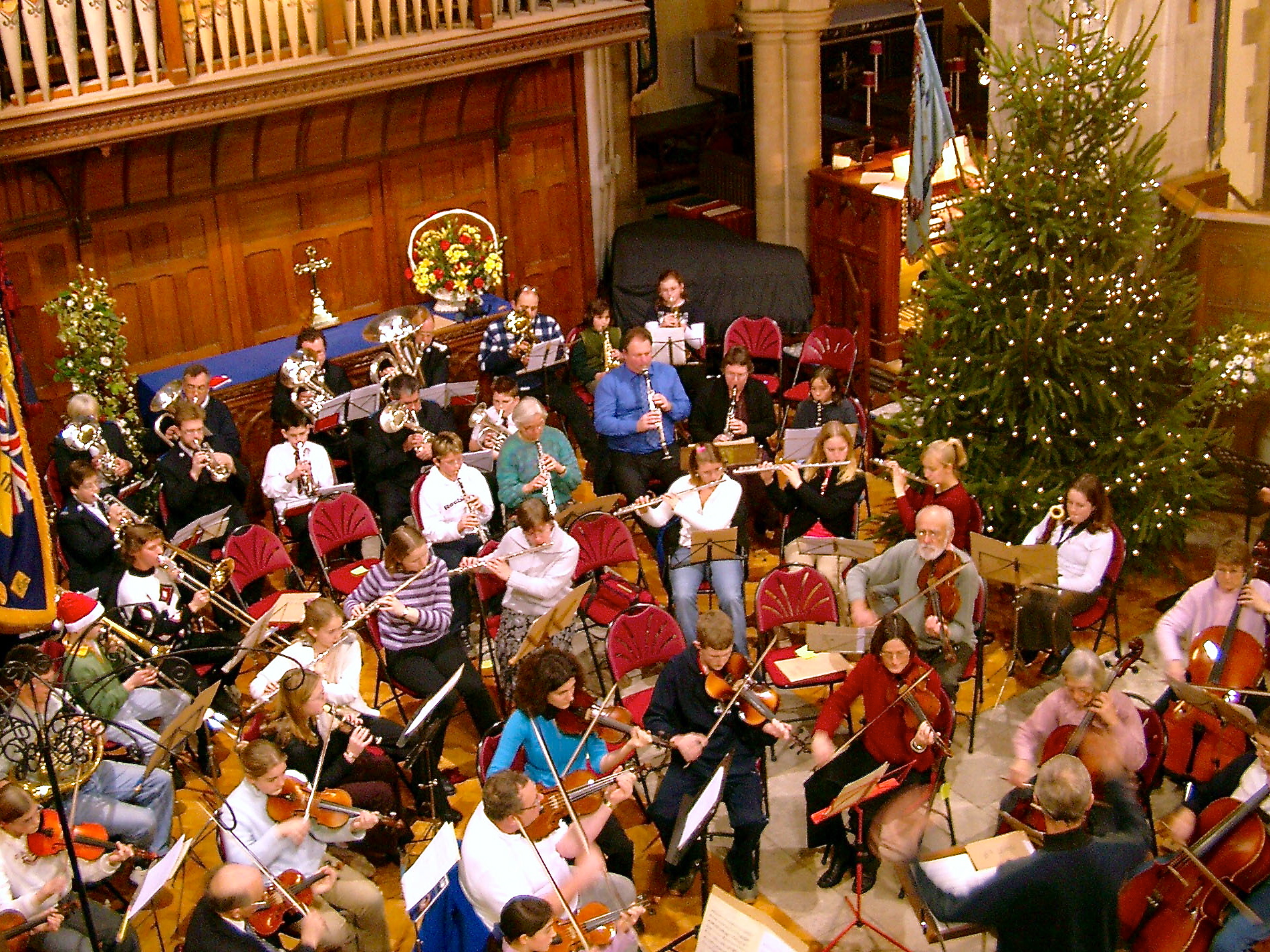 ---
A week today is Christmas Day, and the time is here to give an overview of what Christmas is looking like in our churches this year.  Every service is being affected by the restrictions in place to keep us safe during the pandemic, and hard decisions have been taken - none of them lightly.
In terms of actual services in the churches, as opposed to on-line worship, St Mary's was always going to be able to do more than the other churches, as its sheer size makes that possible.  Having the choir singing is a considerable bonus.  So let us see what we are managing in St Mary's first:
Starting this Sunday, 20th December, the morning services at 8.00 am and 10.30 am, for the Fourth Sunday in Advent, will be as usual, and no prior registration is necessary.  At 6.30 pm the Town Carol Service is to take place with the leaders of other the churches present, and the mayor is to give a Christmas message to Swanage.  This is "ticket only", but available to see live-streamed (please find the link on the homepage of this website).  Christmas Eve has a crib service for young families at 4.00 pm and a carol service run twice: at 5.30 pm and 6.30 pm.  All three of these services require prior registration, but as I write, all still have space (please contact Karon at the parish office to register).  The services of Holy Communion, at 11.30 pm on Christmas Eve and at 8.00 am and 10.30 am on Christmas Day do not require pre-registration.  So, as many services as usual are taking place, but with greatly reduced numbers.
All Saints' are holding a carol service tomorrow afternoon (Saturday) at 4.30 pm.  Registration is required.  Also, a 10.30 am service on Sunday and on Christmas Day, both requiring pre-registration.  Whilst All Saints' cannot contain too many people socially distanced, these services have the advantage of being live-streamed.
St Mark's has a Christmas Service of the Word on Christmas Day, and is planning an on-line carol service, it has a service this coming Sunday as well (again a Service of the Word) both services being at 10.00 am.  
St Nicholas' has a 10.00 am Service of the Word this coming Sunday and a "Christmas Celebration" Service of the Word at 11.30 pm on Christmas Eve.  The Family Eucharist is to take place on Christmas Day at 10.00 am.  
It is important to check which services require prior booking, and which you may simply arrive for as in normal times. Please see the advertising flyer for this detail http://www.swanageteam.com/news-events/arrangements-for-christmas-services/
In a nutshell, if you wish to receive Holy Communion at Christmas, you will need to come to St Mary's, unless you are a member of St Nicholas', in which case you will need to reserve a place for Christmas Day at 10.00 am.  If you wish to be at an actual service in Church on Sunday 27th December, then you will have to go to St Mary's at 8.00 am or 10.30 am
I would emphasise just how hard many people have been working under extraordinary conditions to arrange and facilitate what is being managed, including Karon in the parish office, the number of orders of service of which she is producing is beyond anything that we have ever tackled before.  And, then there are the cleaners in each of the churches.  Consider Christmas Eve alone for St Mary's - I reckon that the whole church, including potentially the galleries will need to be cleaned five times - the last one at probably 1.00 am on Christmas Day, after the midnight service.  
But we have all four churches open and I am deeply thankful for those who expending time and a great deal of energy to make this happen - and happen safely - for as many people as possible - and I include in that the streaming team from All Saints' which is taking on the Town Carol Service - and the musicians and choir of St Mary's that are providing all they can by way of live music for Christmas.
This is a Christmas that we shall not forget - but, at heart, it remains the same as ever: a celebration of a very special birth in a world desperate for change and new hope.  May light shine in the darkness - and may we do our part to help others see it.
John Mann