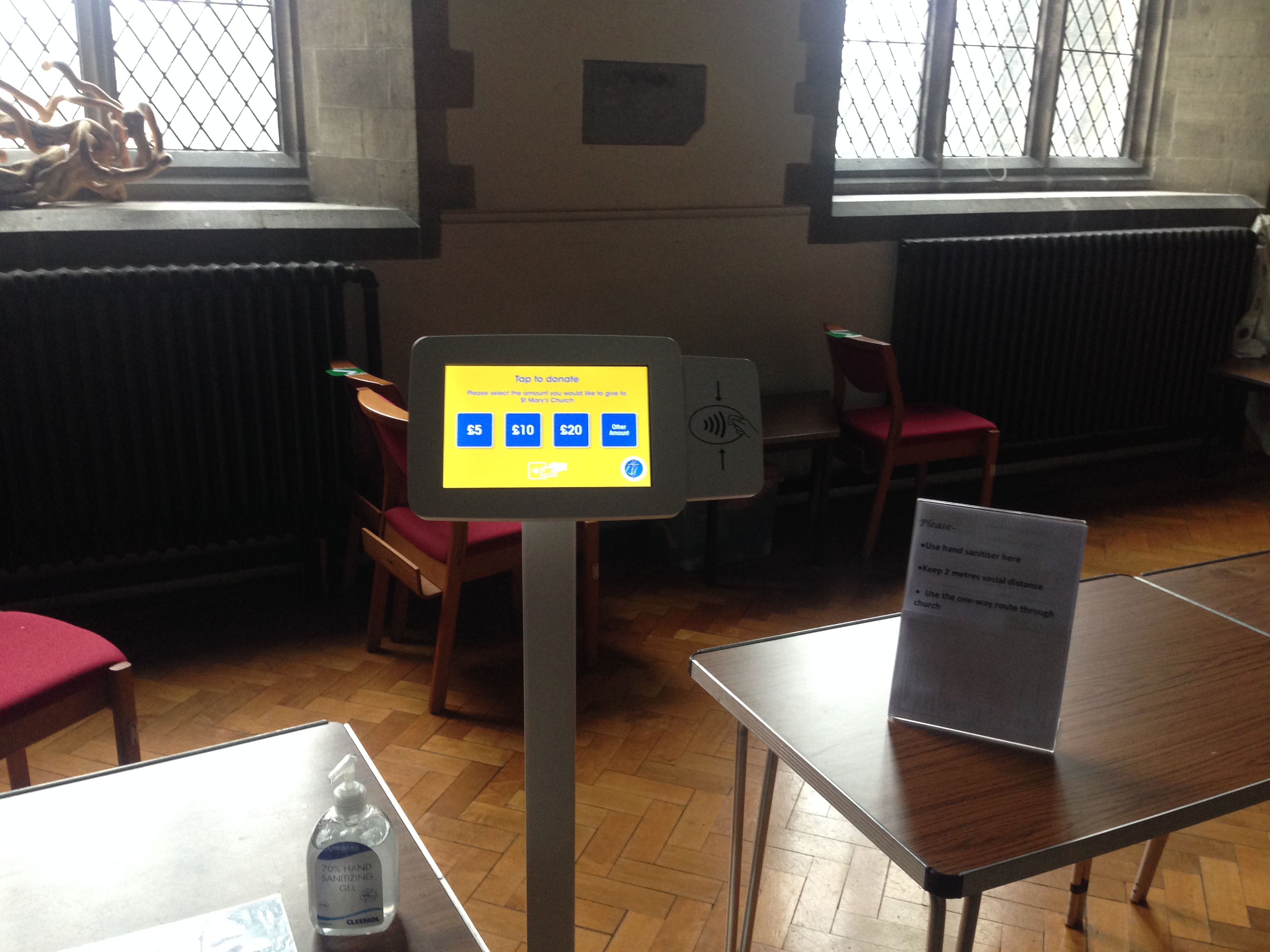 ---
The contactless donation devices have been delivered, unpacked, and the St Mary's machine is in place and working.  A few people have tried it out and the operation is going well.  Such is the speed and efficiency of modern technology, the donations are logged and the record of them is accessible via Mel's computer in the office before one can run up the stairs in St Mary's rooms.
We may need to place the stand in a slightly different position, but as it relies on a power source we need to be careful about a trailing cable.  The other device, which is for use in All Saints' is a table-top version, and so can be lifted in and out of the vestry when required.  This has yet to be activated, though we are anticipating that being done tomorrow.
In these days, when the amount of cash use has dramatically decreased, the opportunity to donate by a simple tap with a plastic card - so painless, so easy - has been seen to be the way forward for churches, as the slot in the wall for coins has gradually become redundant.  
For my own part, I am pleased that the advent of these new machines comes at a time when most of us are used to their universal presence in shops and places of entertainment, and even their look is not hard on the eye in an old building.  As I mentioned in an earlier blog, we shall know when they have paid for themselves, though I expect it will be the Summer, and a return of visitors in numbers, before their real benefit will be noticed.
Anyway, I would recommend a personal trial, anytime that you are passing.  Use the hand sanitiser, touch the screen for the amount you wish to give, tap the card on the reader, and that is it.  If you wish to gift-aid the donation, it is a matter of following a few easy steps.  All done - as they say!
John Mann
---