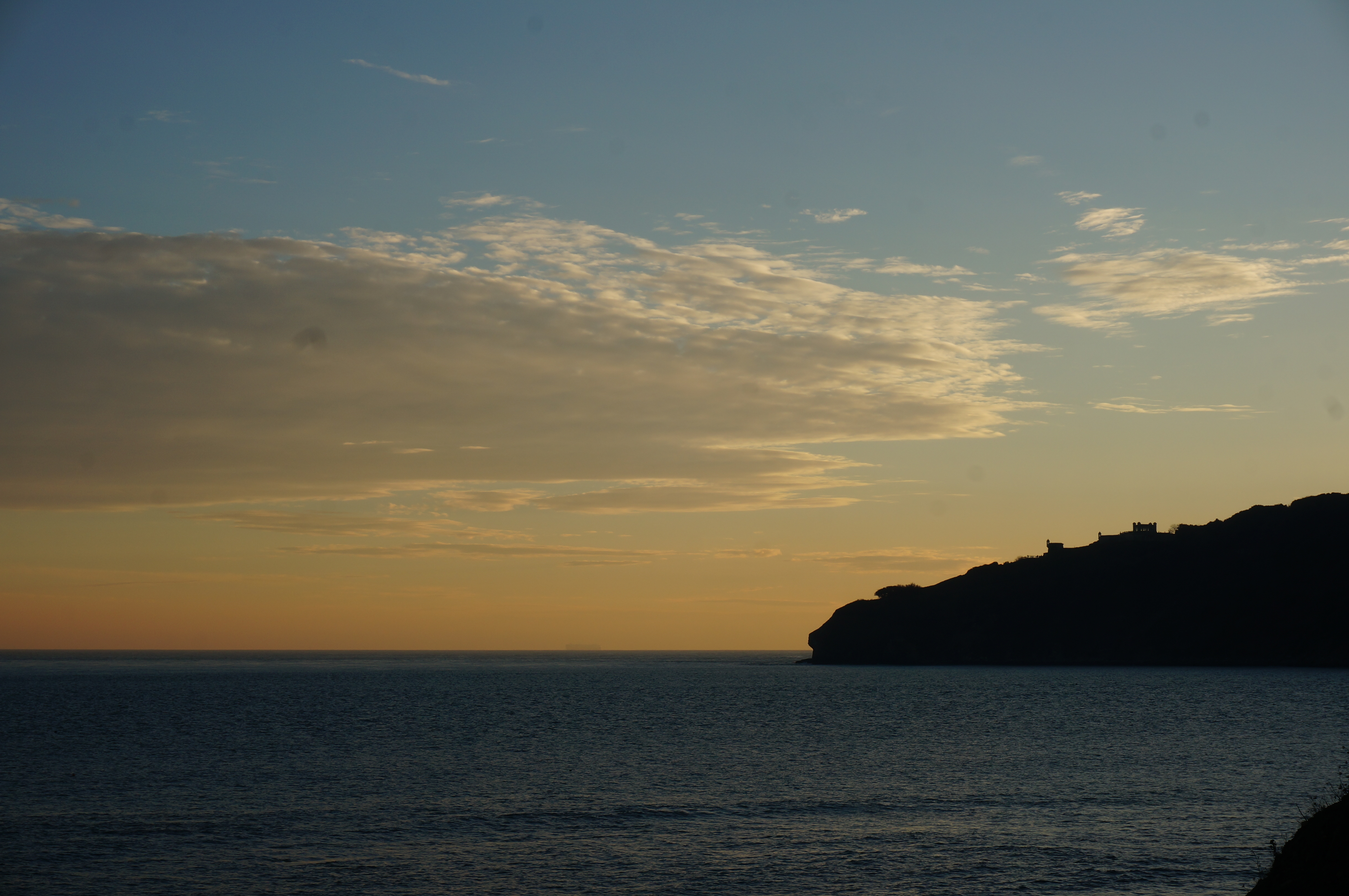 Durlston Head from Peveril Point

---
Walking around Peveril Point at the end of the afternoon yesterday, as were many other people in Swanage, the light was stunning in all directions.  The sun was going down, and, looking from this headland towards where one could imagine someone on the Priest's Way was standing, that person would have been in its full gaze, as it would have been in ours if the rise in the ground had not been in the way.  Durlston Castle and the bluff of the familiar headland looked black against the brightness of the light behind it. Glancing the other way, Old Harry was catching the brightest of the dying light; the white cliffs gleaming in the winter sunshine.  Further round again above Ballard Down, and far into the distance of Poole and Bournemouth, a pinky soft-focus gave warmth and comfort, mesmerising, like the fading embers of a December bonfire watched until darkness had fallen.  
The town was starting to fade beneath the distracting glow of the sky all round, as in the foreground, lobster pots were reached with confident strokes of oars rowed many times over the same stretch of sea.  Some seabirds were bobbing on the water, others lazily, or so it seemed, swept by or settled on the newly painted pier, or patrolled the lifeboat slipway rails.  A dredger left Poole harbour, as if to say, "on such a night, let's launch ourselves to new work, for a new day", whilst far out, a bulk carrier made its way westward to who knows where, all under the eyes of a coastal watch not resting whilst the light held. 
2018 too is coming to its end, and, staring each way, and stretching sight beyond ourselves, the light of yesterday's late afternoon sunset is reminiscent of the aspirations of a turning year; things looking different according to perception or the light falling upon them; some fading, some glowing; shadow and brightness, but nothing still.  Change is indeed so much part of life that we know it will come, but standing in awe at the experience of the providence of God, we are taken through these days of Christmas, even as we bring to mind the Holy Innocents of long ago, as on this day they are remembered in sorrow, and so too we recall the thousands who suffer such fate today.  The world indeed is - to borrow W.B. Yeats' description of Ireland emerging from the 1916 Easter Rising - "A terrible beauty".  Holding such together is poignant beyond description.  We can pause and consider the fulness of all things, and the responsibility we all have to follow where we are led - but ultimately, and crucially, choose carefully where and what we worship.
John Mann