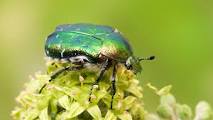 ---
On Anvil Point on Friday in the sunshine of the early evening, a rose chafer Cetonia aurata buzzed amongst the thrift, its green metallic sheen and impressive size caught our eyes, and sent me scurrying once at home for my two volumes of Beetles of the British Isles by E.F. Linssen, published by Warne in 1959 and still one of the standard works on the subject.  Linssen writes, "C. aurata is well known to the gardener who sometimes sees it lying in one of his favourite blooms, for it is the Rose Chafer, or Rose Beetle" (Series II p.127).  He goes on to quote from an unreferenced poem, of it being, "Emparadised in beauty on a Rose".  I like old-fashioned nature books that use this kind of description.
The other book I sought, and couldn't find, though I know it is on a shelf somewhere, was Gerald Durrell's My Family and other Animals, in which this beetle appears, in the account of the rose beetle man, with numbers of these attached to threads of cotton, mesmerising the young Durrell as a child in Corfu. It was not long ago, Helen and I watched the film of the book once again, and I recall that part very well, where the connection between the old man and the boy was quickly cemented with the interest in animals being what brought it about.
Linssen in his book describes the Rose Chafer as, "bright and shiny golden green in colour be speckled with some white markings, and accentuated by the contrasting darkness of the legs and the black antennae."  To be honest, the one we saw, was moving sufficiently quickly that we had no chance of picking out this detail.  But, as often happens on the country walk, something in the wonder of God's creation just pops up and grabs us with its beauty, and helps us to appreciate ever more, day by day, what we must work hard never to lose for generations still to come.
John Mann