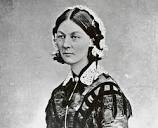 ---
Today we commemorate the 200th birthday of Florence Nightingale, born on 12th May, 1820. She was a most remarkable person and, whilst affectionately known as "Lady with the Lamp", as she walked around her wards at night, it was her insight, and incisive action and words, that made her the founder of modern nursing. During the Crimean War, Florence Nightingale offered to go out and organise nursing in Scutari with a team of thirty-eight nurses.  She arrived in time to receive the wounded from the Battle of Inkermann.  Within a short while she was caring for 10,000 sick soldiers. 
While tending to these men, she made the case for hygiene as a vital component in treatment.  Hospital sanitation, she demonstrated, was of crucial importance.  She used a variation of the pie chart, entitled a, "Diagram of the Causes of Mortality in the Army in the East", to show that more soldiers died from infections than from injuries.  In a lovely quote, that could be contemporary in its reference to the importance of statistical information being in visual form, she said, this will, "affect through the eyes what we may fail to convey to the brains of the public through their word-proof ears".
The Isle of Man has chosen to produce a set of postage stamps to commemorate the importance of nursing in this year, that the W.H.O. has designated as the Year of the Nurse and the Midwife 2020.  Probably some other countries have as well.  It seems particularly apposite that nurses should be remembered today on this anniversary of Florence Nightingale's birth.  May her legacy continue to honoured in the years to come, and our nurses and midwives be recognised for all they do, amongst all the other health professionals, who are coping with the current crisis in addition to everything that their work demands in normal times.
John Mann