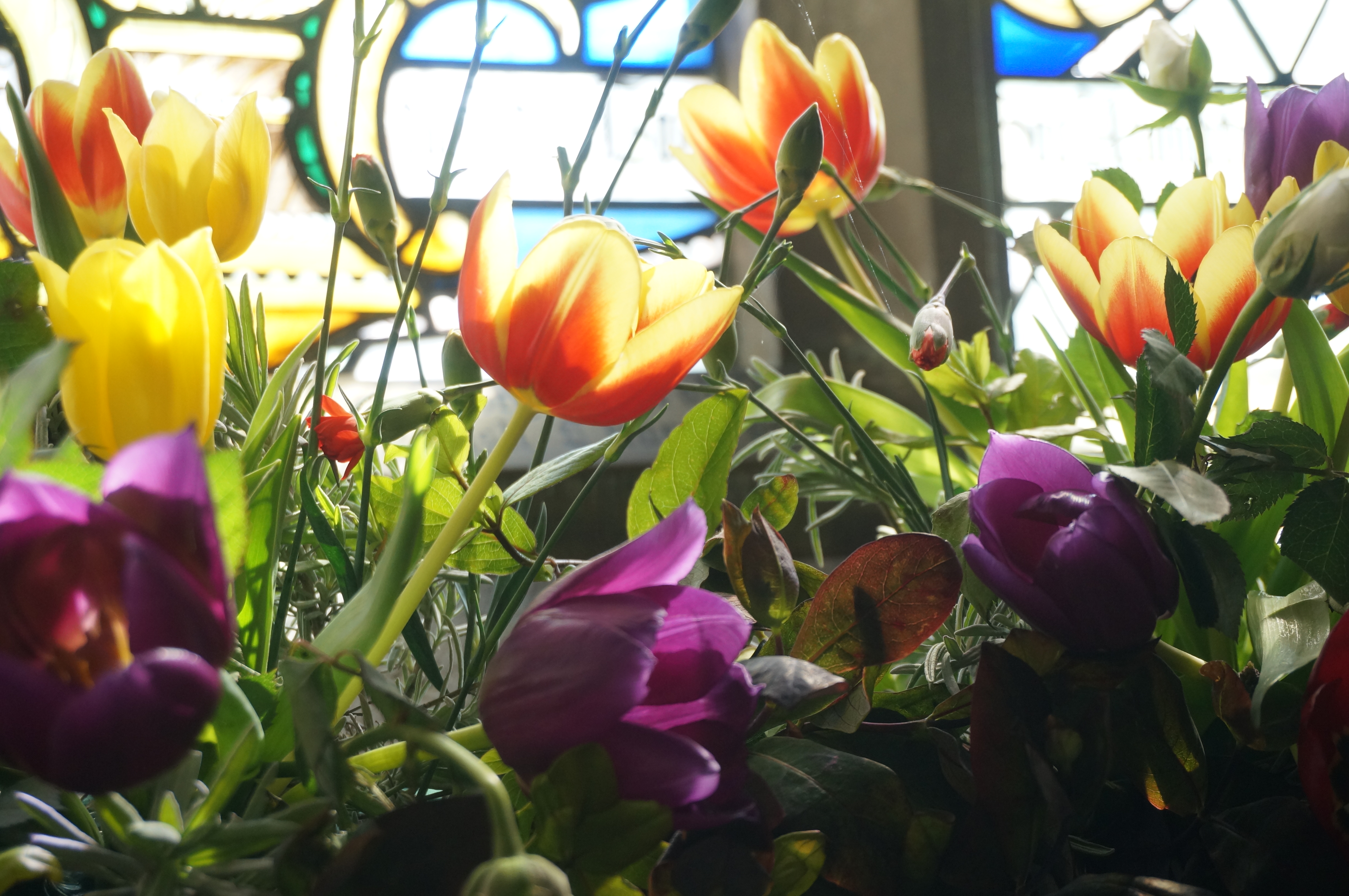 ---
The Easter weekend was so sunny and warm it was hardly surprising that the town and sea-front were buzzing with visitors until about lunchtime yesterday, when, between sea-mist cooling the air and filtering the sun's rays, and holiday-makers joining the congested roads, Swanage emptied out and the few remaining families gathered in isolated games of beach cricket or volley-ball - now that there was room.  Abandoned sand castles look forlorn awaiting the levelling of the sea as damp children left sandy footmarks en route to the car. 
The churches are quiet too.  St Mary's, with the faint odour of incense still in the cool air, and which bore the strains of Easter praise from the glories of Schubert's Mass setting at the Eucharist to the banging of the children's tambourines, cymbals and drums accompanying "Thine be the glory", has calmed from the excitement and glory of resurrection Alleluias, and I am sure that all the others are still too - with the steady breath of wonder at the mystery and miracle; the simple lighting of a candle; the comfort of the individual prayer - replacing the joyous noise of happy singing.
The children rolled eggs down Church Hill after the morning service on Sunday.  They were decorated with paint and feathers and sparkling bits of tape and stickers.  Down they went gathering speed, some getting caught, most cracking and knocking against the stones and gratings on the way.  The rolling of the stone away from the tomb was symbolically thought of with a lot of laughter and smiles, fun at the quirky and shining eggs. And why not?  It was a happy, happy day.
Across the world Easter was celebrated in different ways, but this year our hearts went out particularly, and in anguish, to the people of Sri Lanka at the atrocities of the bombs there on Sunday.  As the Eastern Church celebrated Palm Sunday and the Western Church the Resurrection, so terrorists took life and maimed the innocent worshipper and holiday-maker.  As with the murderous attack on the mosque in Christchurch not long ago, so its seems that people at prayer are a target for those who would kill.  
We are reading the Song of Songs at morning prayer this week.  Today it was a beautiful section of chapter 2 (in fact it is all beautiful…).  It runs:
"The flowers appear on the earth,
the time of singing has come,
and the voice of the turtledove 
is heard in our land…
Arise, my love, my fair one,
and come away…..
….. let me see your face,
let me hear your voice….."
There is so much loveliness and beauty in the world, but so much contention, hatred and injustice too.  As Peter Burtwell reminded us in our prayers today, even as we rejoice at the resurrection, let us not forget that it came after Good Friday and the crucifixion of our Lord.
John Mann