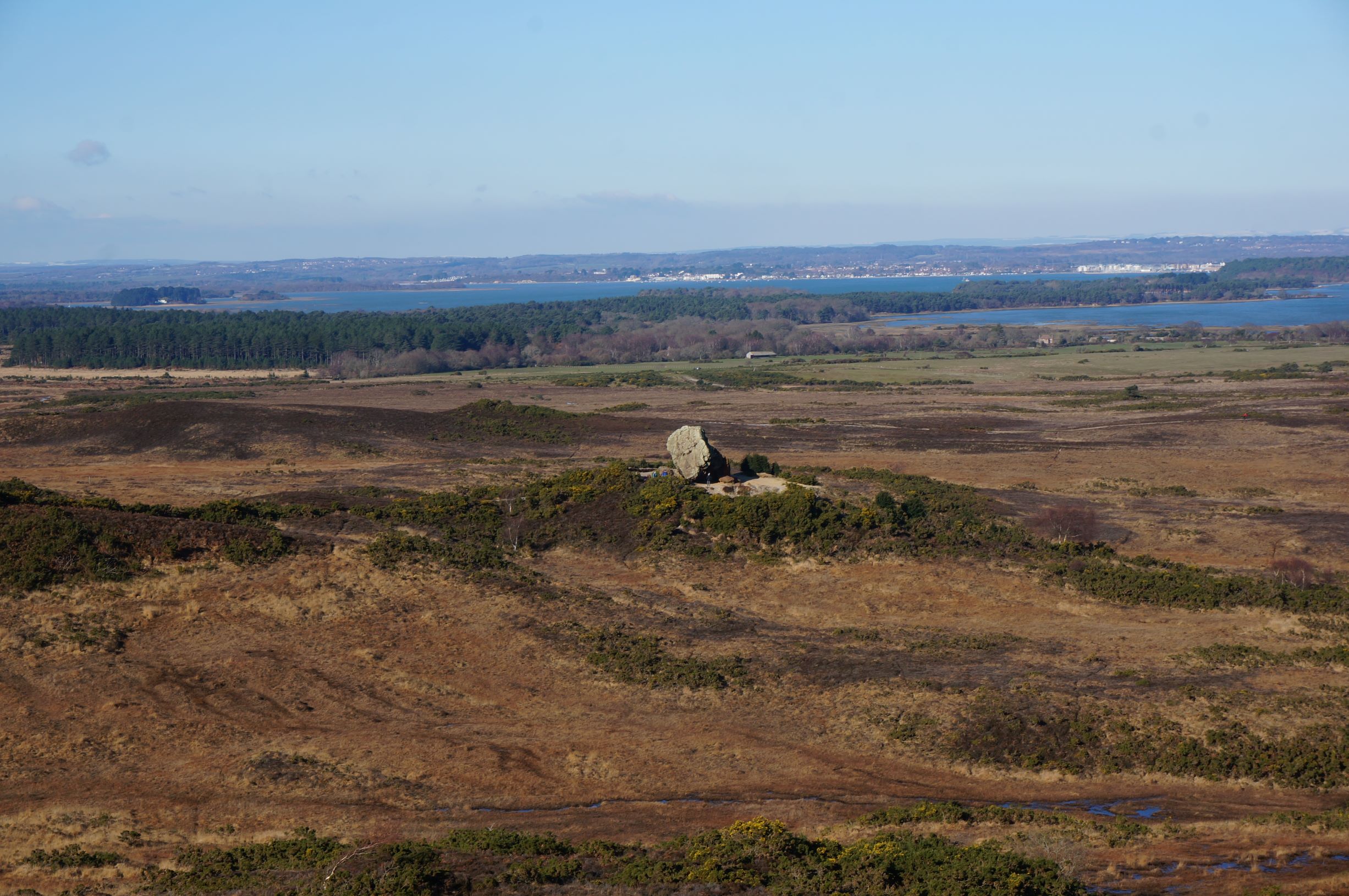 Agglestone Rock from across the heath

---
Last Saturday, and a day off, began with coffee in the Java Coffee Shop in Swanage and the temptations that come with that indulgence, as I succumbed to a very fine rock cake, full of spice and fruit.  This set me up for a walk.  Helen and I - after the excellent suggestion in current issue of the Studland Parish magazine - went to Godlingston Heath and the path to see the Agglestone Rock.
We parked by the village hall and took the path past the children's play area towards the heath, avoiding the deep mud of the bridleway and taking the parallel footpaths, so essentially kept separate or the route would soon be virtually impassable.  Just now, being well-shod is important, nevertheless.  Taking the first path onto the heath through the gate, marked with a red sign indicating the fire-fighters' access way, we climbed the gentle hill that provides such spectacular views in a panorama from Brownsea Island right round to the Isle of Wight and beyond.
The weather was perfect: clear skies, little breeze, sunshine and a sparkling sea, whilst the foreground was covered in heather and the ever-flowering gorse. Standing on the ridge above and across a damp dip, which even in boots I wouldn't wish to attempt, the Agglestone Rock sat in spectacular isolation.  From our height we could pick a dry route around to the next ridge, taking the track bordering the golf course, and so down to the rock itself.
H.J. Massingham wrote of this sight in his book Downland Man, nearly a hundred years ago:  " A musing stroll across the heath from Studland, brings you to the Aggllestone, the holy stone (Helig - Anglo-Saxon for holy) hurled by the devil on to the crest of a hillock rising above the peaty waste." Such was our view on Saturday.
Close up the size of the stone is certainly impressive, and countless people have added their initials to mark their presence over many years.  People climb it too, that's quite obvious, but for all the wear and tear to rock and sandy heathland around it there is no doubt it's worth walking to see.
On the way back, on the lower path, through boggy areas, over board-walks and past crystal clear ponds and slow-flowing streams, we peered here and there for early frogspawn, but nothing yet, and fell into conversation with a fellow walker whose outlook on life may best be described as rustic.  Let us return to woodland and free-range animals and become hunter-gatherers once more.  The heath could get into one's head that modern life and conventions are driving us from the earthy basis of our existence, and our present ills result, but we were glad to make it back to our warm kitchen and a late lunch of bread and cheese and a welcome mug of tea.
John Mann