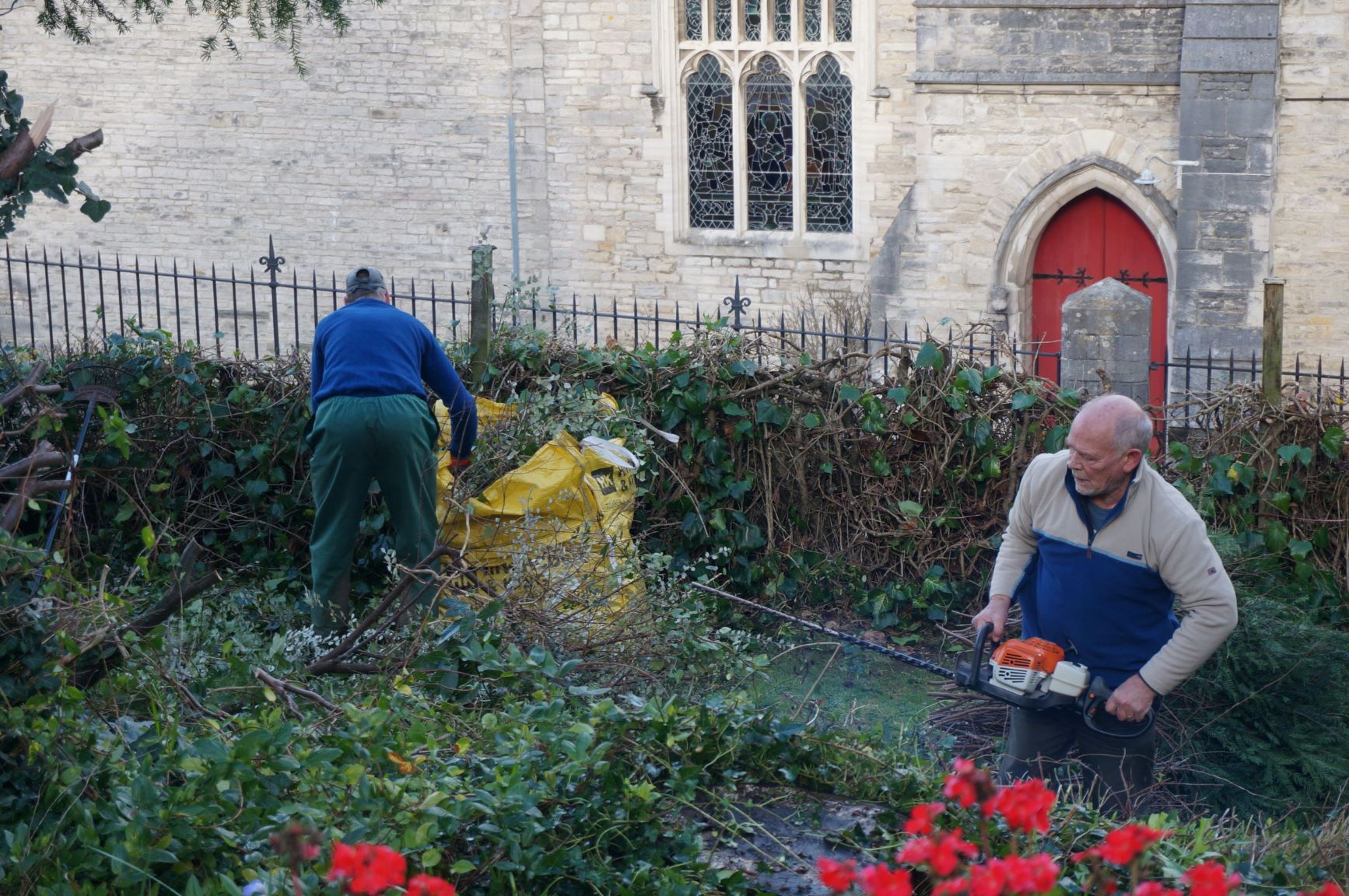 Fresh Prospects at work this morning!

---
Helen and I were at Wareham market last Saturday buying Seville oranges for the latest batch of her marmalade.  The smell in the rectory on the days that it is made is comforting, and a reassurance that January is not passing by without this annual rite of production.  
Chat is always good at the market, even as the rain tippled down, and the queue carefully avoided the place where a tarpaulin discharged a fairly hefty trickle, at head height, just beside the place to pay.  But the search for market-stall bargains was a adept as ever:  "How do you tell whether one lemon is better than another?" called out one customer faced with a pile of the fruit.  "Weigh it in your hand", suggested Helen, "the juicy ones are heavier", as she picked six clementines with leaves attached.  "I always pick them with the leaves on too!", said another woman, entering into the spirit of the morning's damp but pleasurable market-trading, turning over a large quince, and contemplating the three for a pound grapefruit.  
The essence of a rainy day follows one into the coffee shop too, spreading its leisureliness past wet umbrellas and to the long-sitting tables, from where, venturing out again, seems an idea best forgotten.  So an elderly couple, well-established in a quiet corner, unpack the Daily Mail, he with the political comment, she with the supplement; little is said, little is needed.  Four more dripping objects appear; damp layers removed, their regular coffee order is quickly dispatched to the counter, as we slipped on past the now familiar routine and the coffee-maker's hand grabs the filter from the machine; then its: bash-empty, fill, press-down and twist-to-lock-in-place preparation for the next espresso or some watered-down derivative. 
So January ticks away and the Week of Prayer for Christian Unity arrives with thoughts - in the past two days in Swanage - of Besom and the Foodbank, as representatives of these organisations led our lunchtime prayers yesterday and today.  We remind ourselves of the potential complacency that takes for granted the ability to buy what we want, just when we want it, whether it's a cauliflower from a field nearby or coffee from across the world.  
Before going to lunchtime prayers today in St Edward's RC Church, four of us tackled the tangle of ivy over the rectory wall and cut back overgrown cotoneaster and honeysuckle.  Thank you to Andrew Fleming and to Nick and Rod for the help.  Fresh Prospects is another great group in Swanage that seeks to help others.  It is to organise the prayers on Friday this week.  Sadly, I can't be there, but I know that those that lead the reflection on that day will be just as challenging as our speakers yesterday and today.  We are indebted to you all.
John Mann