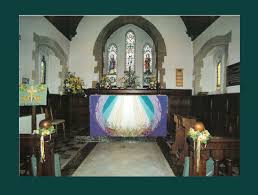 Inside of Bemerton Church

---
Today we commemorate the life of one of the famous priest-poets of the Anglican Communion, namely George Herbert.  He died on this day in the year 1633 at a very young age (he was not quite 40), having served not long as incumbent of the parish of Bemerton, just outside Salisbury.  Although from an aristocratic family and having scholarly success, not to mention social status achieved as a result of both of these advantages, he chose, ultimately to devote his life to being a priest in a small country church.  His reflections on the life of a priest are still read, entitled: A Priest to the Temple or The Country Parson.
However, it is his poetry, and particularly that which has become converted into hymns, that his work is most familiar to many of us today, especially:  "King of Glory, King of Peace, I will love thee"; and "Let all the world in every corner sing. My God and King." 
But it is the poem, "Love III", that is, memorably, George Herbert to me:
Love bade me welcome: yet my soul drew back, 
Guilty of dust and sin.
But quick-ey'd Love, observing me grow slack 
From my first entrance in,
Drew nearer to me, sweetly questioning, 
If I lack'd any thing.
A guest, I answer'd, worthy to be here; 
Love said, you shall be he.
I the unkind, ungrateful? Ah my dear, 
I cannot look on thee.
Love took my hand, and smiling did reply, 
Who made the eyes but I?
Truth Lord, but I marr'd them: let my shame 
Go where it doth deserve.
And know you not, says Love, who bore the blame? 
My dear, then I will serve.
You must sit down, says Love, and taste my meat: 
So I did sit and eat.
It is quite Lenten too. In fact it is very suitable that Herbert's day should fall after Ash Wednesday this year.
John Mann