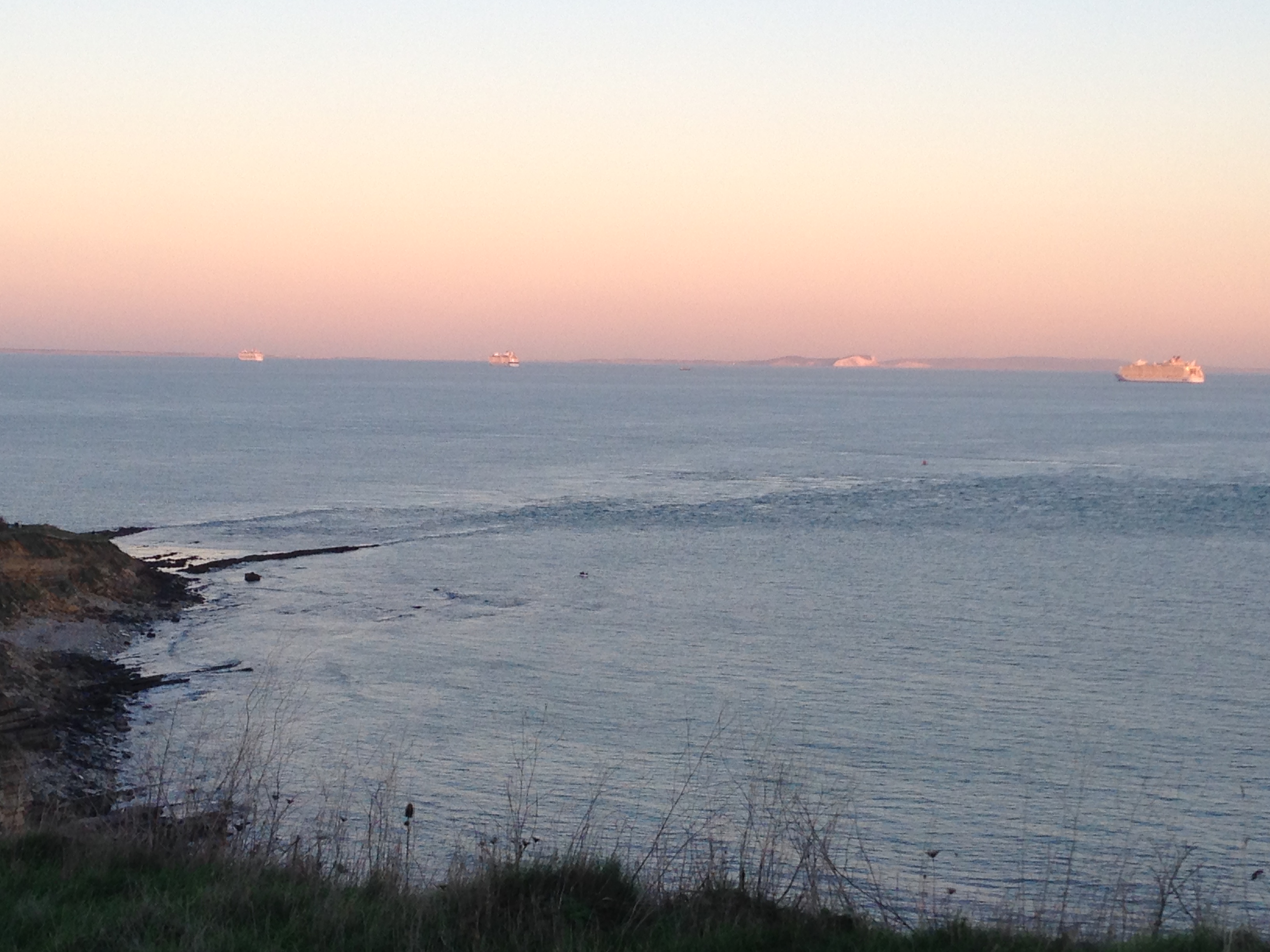 ---
The predicted warmer weather followed by a cold snap over the Easter weekend looks to be less extreme in Swanage than in some other places.  It did not get as hot last Tuesday (for example) as it did in London, but we are not heading for sub-zero temperatures and snow either, though it is going to be cold for Easter.
Living by the sea always has its compensations, and the filming of the TBNUK programmes brought envious glances from the production crew, down from the confines of London to the free air and vast scenes of our coastline.  The Scripture readers for all three programmes were recorded during one particularly cold afternoon.  The wind was whistling along the coast path, where they were filming, and it was hard trying to get a sheltered corner.  Besides, they really wanted a seascape in the background, which made an attempt at shelter even more problematic.  The readers were very uncomplaining!
On this Good Friday, as we gather in Church to meditate upon Christ's Seven Words from the Cross, we naturally assume that the weather would have been hot, and the sun beating mercilessly down as our Lord carried his Cross to Golgotha, and there was crucified.  Having walked the Via Dolorosa on a number of occasions, I recall stepping out upon it (at much like this time of the year) on one particularly cold and windy day.  Mostly the assumption of heat and sun is accurate, but there can also be rain.
This thought simply serves to demonstrate that the assumptions that we may hold about much of the Passion story, though in all likelihood being as accurate as we are able to imagine, bring plenty of opportunities for consideration and meditation.  The timings are not entirely parallel across the four evangelists and neither are the order of the events.  What I find to be more striking than this is the theological emphasis of the accounts.  I am always drawn more to John's telling of the crucifixion.  I cannot help myself.  But it does colour my understanding of the Passion, for in the Fourth Gospel, Jesus is in control of the situation throughout, though the agony of what is happening is, at the same time, quite clear.
In John, Pilate says to Jesus, "You will not speak to me?  Do you not know that I have power to release you, and power to crucify you?"   Jesus answered him, "You would have no power over me unless it had been given you from above…."   In John's account, Jesus carries his own cross, and even from it, having been crucified, his words may be taken as measured and even commanding  - I understand them that way - and even his death is spoken of as though he chose his moment for it to happen, as John's description runs: "he bowed his head and gave up his spirit."  The Jesus of the Fourth Gospel's crucifixion account is open-eyed and aware and embracing of the world he loves, even, perhaps especially, in its suffering and pain.  
I think that I shall try this day not to allow John to dominate my mind once the first two words have been spoken from Luke, regarding the soldiers and the penitent thief.  More than twenty times I have preached the Three Hours on the Seven Words from the Cross.  Many lifetimes cannot contain the whole impact of their teaching.
John Mann