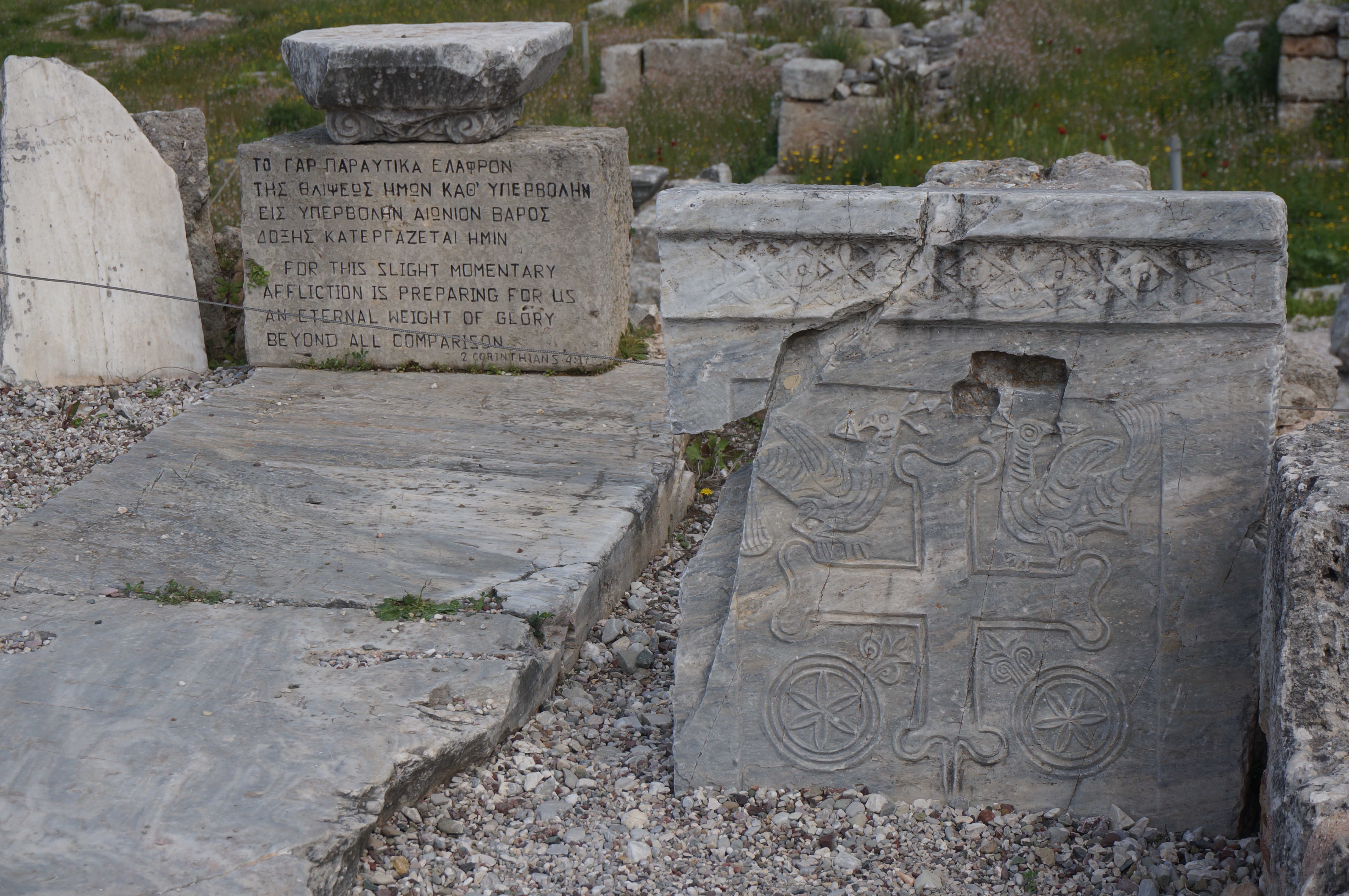 An ancient Cross at Corinth at the site of an early church.

---
Last night we left St Mary's Church having experienced about two minutes of complete darkness after the Maundy Thursday evening Eucharist, the washing of one another's feet, and the stripping of the altars to the plainsong of Psalm 22. The churches will be plain today, and we shall give time to prayer and pondering on the Cross: 9.30 a.m. in St Mark's; 12.00 noon to 3.00 p.m. in St Mary's; 6.30 p.m. in St Nicholas' with children's activities from 10.00 a.m. in St Mary's. There are Churches Together events too (see news and events on this website).
For the first time for some years our team of churches in Swanage and Studland are holding an Easter Vigil tomorrow, and, as quite a few people may not have been at this form of service before, I'll give you some idea as to what to expect.
The service leads us through the days of creation described in Genesis, past the walled up Red Sea as the children of Israel escape from slavery, into the waters of baptism and new birth, and up to the resurrection of Christ and the re-creation and life which is his free and loving gift to all of us. It is a path from darkness to light, and we re-live it by kindling a new fire outside St Mary's Church and carrying our new Easter candle out to it. It is lit and blessed, taken from the fire in procession, leading us into a dark church; gradually candles are lit and lights are turned on as the story is told in word and song and prayer.
The ceremony includes the renewal of our baptism promises and the joyful proclamation of our Lord's resurrection during the darkness of the hours through which it happened. As dawn will break on Easter Day, so the miracle has been experienced and proclaimed. We start the service at 8.00 p.m. as darkness falls on the eve of Easter.
John Mann