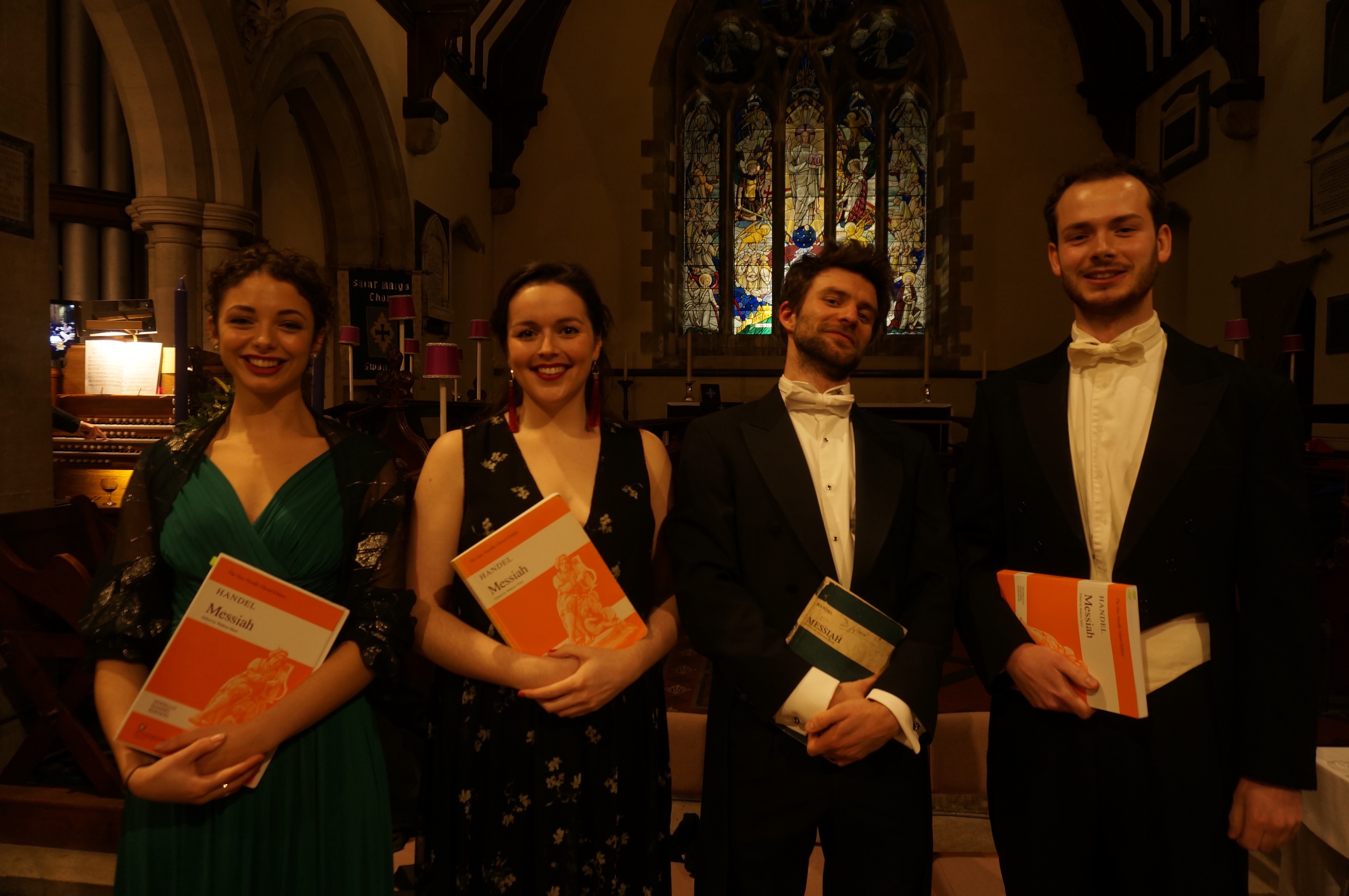 Isabelle Atkinson, Bernadette Johns, Tim Kingston and James Atkinson - soloists

---
The performance of Handel's Messiah last Saturday evening in St Mary's Church is undoubtably going to remain memorable for many of the people there, if the reaction over the days since is anything to go by. The Purbeck Arts Choir and Orchestra, with the Purbeck Youth Choir, directed by Jay Buckle and with Brian Howells leading the orchestra, produced a stunning concert, which held the audience riveted. Particularly in the second half, following the interval, there was a palpable sense of that right degree of tension that spells alertness - and anticipation of each note as it was played or sung. In other words, the whole audience was fully engaged, and one could feel it. 
This is a considerable achievement for a town of less than 10,000 souls, especially considering that this was the third choral concert on consecutive Saturday nights to be held in St Mary's, all by local choirs and musicians, each superb in its own way. This relies, as we know, not only on a large number of enthusiastic singers and instrumentalists, but equally on the inspiration and skill of Jay Buckle - on this occasion - and the other choir directors that we know well, and respect so highly.
One should add that the soloists for the Messiah were from outside the town. They produced some beautiful singing, and managed the steps up and down from the pulpit, without, in the case of the women, tripping over the hem of their long dresses. At times the change over is quite rapid, but it never appeared to be hurried. The solo passages, so vital to the piece, brought the story of Christ's life alive through the familiar words and music.
There were some particularly spine-tingling moments - especially for me, was James Atkinson's rendering of For behold, darkness shall cover the earth and the following Air, The people that walked in darkness. The mezzo-soprano has a great deal to sing in a performance of the Messiah, and Bernadette Johns did not disappoint us, singing some beautifully articulated passages that one just wanted to go on and on. The other two soloists, tenor Tim Kingston and soprano, Isabelle Atkinson (who has to sit through much of it until making an entrance) were wonderful too.
Can we not have this every year? Says he, who just sat and enjoyed every moment of it….
John Mann