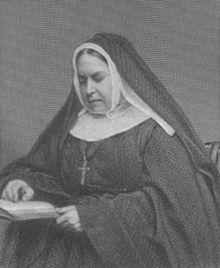 Harriet Monsell as Superior of the Community of St John the Baptist at Clewer

---
There is a strong theme of perseverance in the readings for Morning Prayer today.  From Exodus 4: 27- 6: 1 we read of the Children of Israel, under the oppression of Pharaoh, being refused to lay off their work of making bricks for a few days for a religious ceremony in the wilderness, to be told that, far from having less to do, from now on they could make the same number of bricks but would not be given the straw.  Being asked to make bricks without straw has entered the language as an indication of an expectation that we can do a job without the proper resources.  
Turning to Hebrews 10: 19-25, in the second reading appointed for this morning, the author of the letter is asking his readers to, "encourage one another", "stir up one another", and, "hold fast the confession of our hope without wavering".  
Today in the Church of England calendar we remember a remarkable 19th century woman called Harriet Monsell.  She was born in 1811 in beautiful County Clare in the west of Ireland, and married a young Irish clergyman Charles Monsell in 1839.  He completed his training in Oxford, but died of tuberculosis soon after he was ordained.  She wrote a journal during the last days of his life, saying on the day of his death how she experienced, "I was alone with God".  As she prayed she felt God's call to work for him."  She, as a very energetic and resourceful woman, went to minister in community with others, supporting vulnerable, young single women, at Clewer, near Windsor.
The rest of her life was dedicated to the service of others, and especially in rescuing women from prostitution.  She became a wise counsellor, and was consulted by many people, and was noted for her dynamism; her spiritual strength; but also for her warmth and humour - she was simply deeply loved.  There were numerous religious communities established during the 19th Century, but the Community of John the Baptist in Clewer, where Harriet became the first Superior, grew rapidly under her leadership, and expanded to create many more houses and institutions in other places.  She died on 25th March, Easter Day in 1883, and is commemorated on 26th March, as 25th March is the Feast of the Annunciation.  A most inspirational and amazing woman, who well-illustrates today's theme of perseverance.
John Mann