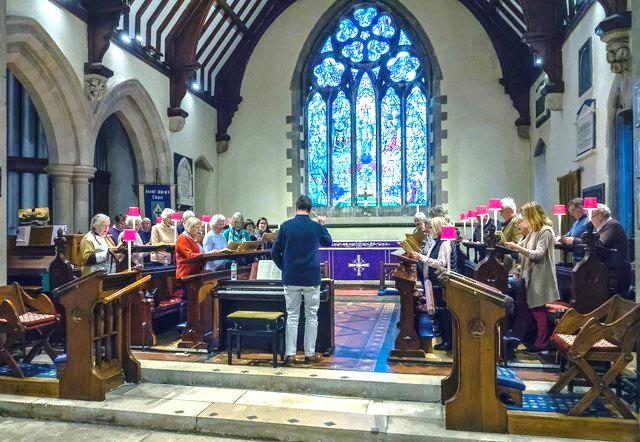 Sadly the choir won't be singing at the moment, but we can make music in our own homes!

---
At Morning Prayer on this day, the Festival of Joseph of Nazareth, I found myself reciting the first twelve verses of Psalm 147, which include the words, "How good it is to make music to our God", and, "Sing to the Lord with thanksgiving; make music to our God upon the lyre."  A conversation with Simon Lole yesterday came to my mind.  We had been discussing how, in the absence of a service in St Mary's, we might still be encouraged to sing and make a merry noise unto the Lord!
What we have decided to try is to enlarge this daily blog each Sunday to include a couple of hymns, relevant to the Sunday, and have the words ready for us all to read on the screen, while (and this is the clever bit!) we click on a link to hear Simon playing the hymn for us.  So, we can sing along to ourselves in the quiet of our homes, whilst other do the same in theirs.  Please do keep checking in to this blog, and especially on Sunday to see if it works!
We are producing notice sheets as well, which should have the weekly reflection on the readings for the day and some information about what is happening, by way of the team notes.  Sadly, at the moment, that may mean a lot of cancelations, but it will also include updates on community and church response to the current crisis and ways in which in may be possible to help, or receive help.    These notices will be available, as they always are, on this website, but can also be found in hard copy in the churches, and may be delivered to you, if you are unable to get out.  
As well as singing on Sunday, you may wish to take part in the action of lighting a candle in a window at home at 7.00 p.m. We are being asked by the Bishop of Salisbury to do this, as he comments:
"Sunday will be a national day of prayer. It is Mothering Sunday, so a good day to give thanks for the source of our life and care of one another.  Wherever you are this Sunday please do join in this day of prayer and action and remember specially those who are sick or anxious and all involved in our Health Service. As one action we are calling on everyone to place a lighted candle in their window at 7.00 p.m, if it is safe to do so, as a sign of solidarity and hope in the light of Christ that can never be extinguished."  
John Mann