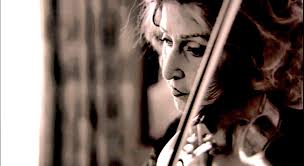 ---
When I read of the death of the violinist Ida Haendel in the Guardian last week (Saturday 4th July - she died on 1st July), I picked up a point, that I suppose is obvious to those who know about these things but hadn't dawned on me, that in the post Second World War years, she was really the only female concert violin soloist around, whilst today it takes thought to come up with more than a couple of men (Joshua Bell, Nigel Kennedy?), whilst the female violinists are numerous: Anne-Sophie Mutter, Alina Ibragimova, Hilary Hahn, Viktoria Mullova, Nicola Benedetti, Jennifer Pike, Janine Jansen, Tamsin Little, Rachel Podger etc.  Looking back through my LPs, from the era before audio cassettes and CDs became the norm, the violinists, with the notable exception of Kyung-Wha Chung, are all male, from Heifetz, Kreisler and father-and-son Oistrakhs to Nathan Milstein and Yehudi Menuhin, Pinchas Zuckerman et al.  
The other thing that caught my eye about Ida Haendel was the description of her playing as having, "a combination of classical rigour and romantic warmth" a mix of "ice and fire" - I rather liked that - and her love of, especially, the Brahms and Sibelius violin concertos.  These are my favourites too.
Donald Tovey, whose Essays in Musical Analysis from the 1930s are still my go-to text (and, I think Tovey would have appreciated Haendel's "ice and fire" too) produces a Biblical image to describe the final section of the Sibelius concerto, as coming together, "like the Vision of Dry Bones, into a broad melody only by way of supreme climax at the end."   His analysis of what the violin is doing technically here is well beyond my understanding, but I get the idea of the gathering up of what has become scattered into a climactic whole, which as Tovey, poetically puts it, "we can safely leave the finale to dance the listener into Finland, or whatever Fairyland Sibelius will have us attain."
As we try our best to bring ourselves into a form of church life that has been missing for some weeks - and there is some way to go yet - I rather take inspiration from the thought of us pulling together the threads of what has unravelled and (mixing all the metaphors from Ezekiel, Tovey, the reviewer of Ida Haendel, and Sibelius) finding a new harmony, and dancing into the future with hope and vision for something new, but with a coming together of things which may be old, and even to our eyes are dead, yet may have new life in God and have the breath of his Spirit upon them.
John Mann