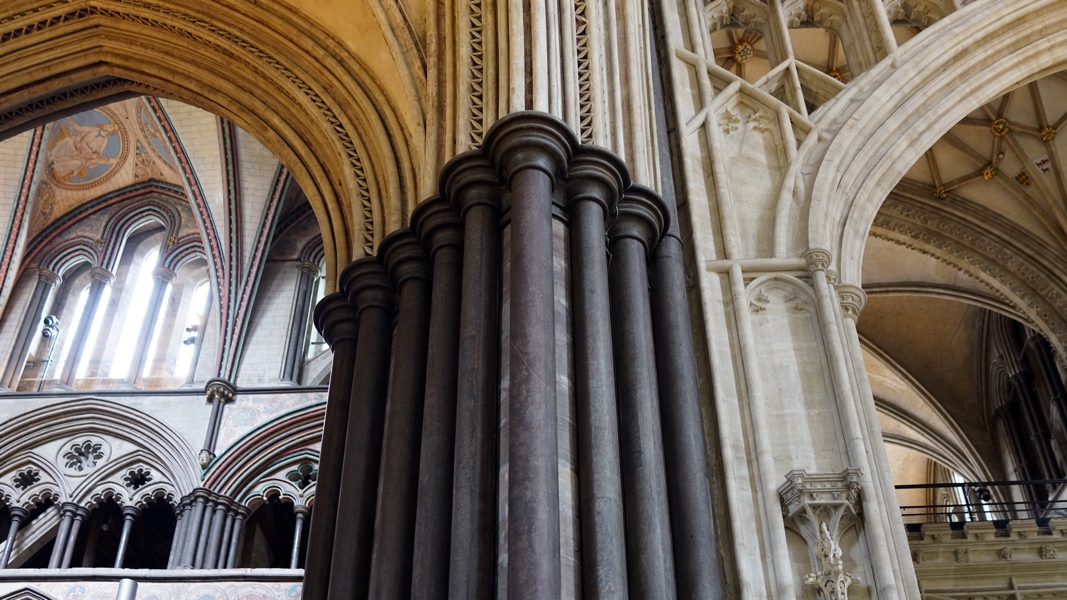 Purbeck marble in Salisbury Cathedral

---
The postmark on a letter arriving at the rectory yesterday reads, "Victorian art critic John Ruskin Born 200 years ago 9 February 2019".  This franking stamp on an envelope run through a machine, no doubt at great speed, in Royal Mail's Swindon Mail Centre, rather belies the careful attention to detail and lavish prose of a man committed to truth and beauty.  My Edwardian copy of his 'selected writings' holds an introduction almost apologetic in outlining its task of editing and selecting from such descriptive work.
Knowing little about Ruskin other than his artistic and architectural interests, I had a little search to see if he said anything about the use of Purbeck marble and came up with this gem of a description of its use in our diocesan cathedral on the website of the Khan Academy: John Ruskin, the Victorian art critic and writer, found the building "profound and gloomy." Indeed, in gray (sic) weather, the monochromatic scheme of Chilmark stone and Purbeck marble is just gray upon gray.
Today in the heavy rain and clouds it may have been a little grey, but the contrast is pretty spectacular too.  I think that Ruskin may have preferred the sunnier stones of Venice.
He warms to Italian scenes in a piece entitled "An English Cathedral and St Mark's", without naming which English Cathedral, with language thus: "Between that grim cathedral of England and this [St Mark's in Venice] what an interval!  There is a type of it in the very birds that haunt them; for, instead of the restless crowd, hoarse-voiced and sable-winged, drifting on the bleak upper air, the St Mark's porches are of full of doves, that nestle among the marble foliage, and mingle the soft iridescence of their living plumes, changing at every motion, with the tints, hardly less lovely, that have stood unchanged for seven hundred years."
Stepping inside, he continues, "Round the domes of its roof the light enters only through narrow apertures like large stars; and here and there a ray or two from some far away casement wanders into the darkness, and casts a narrow phosphoric stream upon the waves of marble that heave and  fall in a thousand colours along the floor." (pages 44 and 45 from Selections from the writings of John Ruskin  London 1907)
Yes, well, so much for our Purbeck's hard won marble being a little gloomy against the sun-kissed Italian variety, but a reminder of Ruskin's amazing descriptions and use of the English language seems good to read today.
John Mann