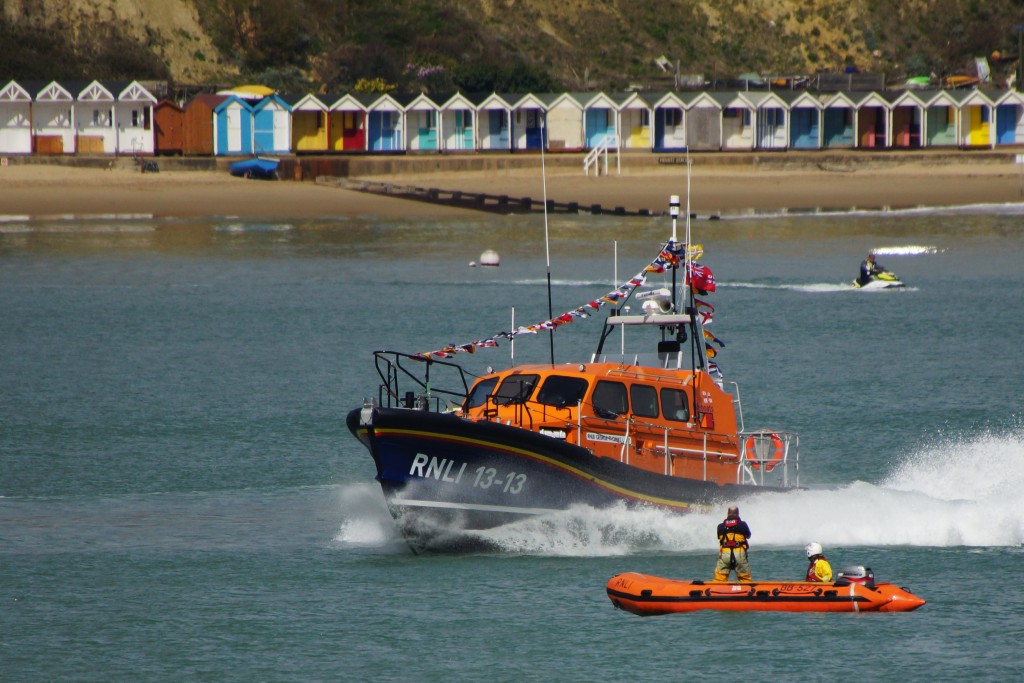 ---
The twenty-first of August - and eleven months in post now - I am still experiencing annual events for the first time. Last week it was Lifeboat Week, concluding, as it does, with the Lifeboat service, this year held at the Lifeboat station and boathouse.
Throughout the week the succession of activities and opportunities for fund-raising etc., with the support of the whole town, produced a real sense of everyone wanting to encourage the crew and organisers and to be excited about it. Perhaps nothing encapsulates the feeling of celebration and focused activity more than the boat-building competition held last Saturday.
The rules are simple and clear. A sheet of plywood and two slim lengths of timber, plus glue and duck tape, hand tools and battery-driven power tools only, with just four hours to complete the boat. Then they are tested for seaworthiness and the race begins. It was all tremendous fun, and the crowds lining the seafront were several deep watching the intrepid constructors-turned-sailors put the craft through their paces.
The fastest vessels were streamlined and very professional-looking, but as far as I could see, they all floated, which when one looked at the flimsy materials four hours earlier, was a considerable achievement in itself. A visitor asked me as we watched the construction phase, "So, how do they choose a winner?" In my ignorance and lack of confidence, my answer was, "I guess they see which floats the longest". Little was I prepared for the serious race that was the real test.
The Lifeboat Service on Sunday evening was serious in another sense, as we remembered all who have and do serve Swanage Lifeboat, the dangers of the sea and the lives saved. We sang to the music of the Salvation Army Band, and Tony Higgins, Chaplain to the Lifeboat, led us all in prayer and hymn. As we drifted home, the band played on further along the quay; the sound of the old songs of praise, thanksgiving and commitment complementing the natural sounds of seagull, waves and children's voices.
John Mann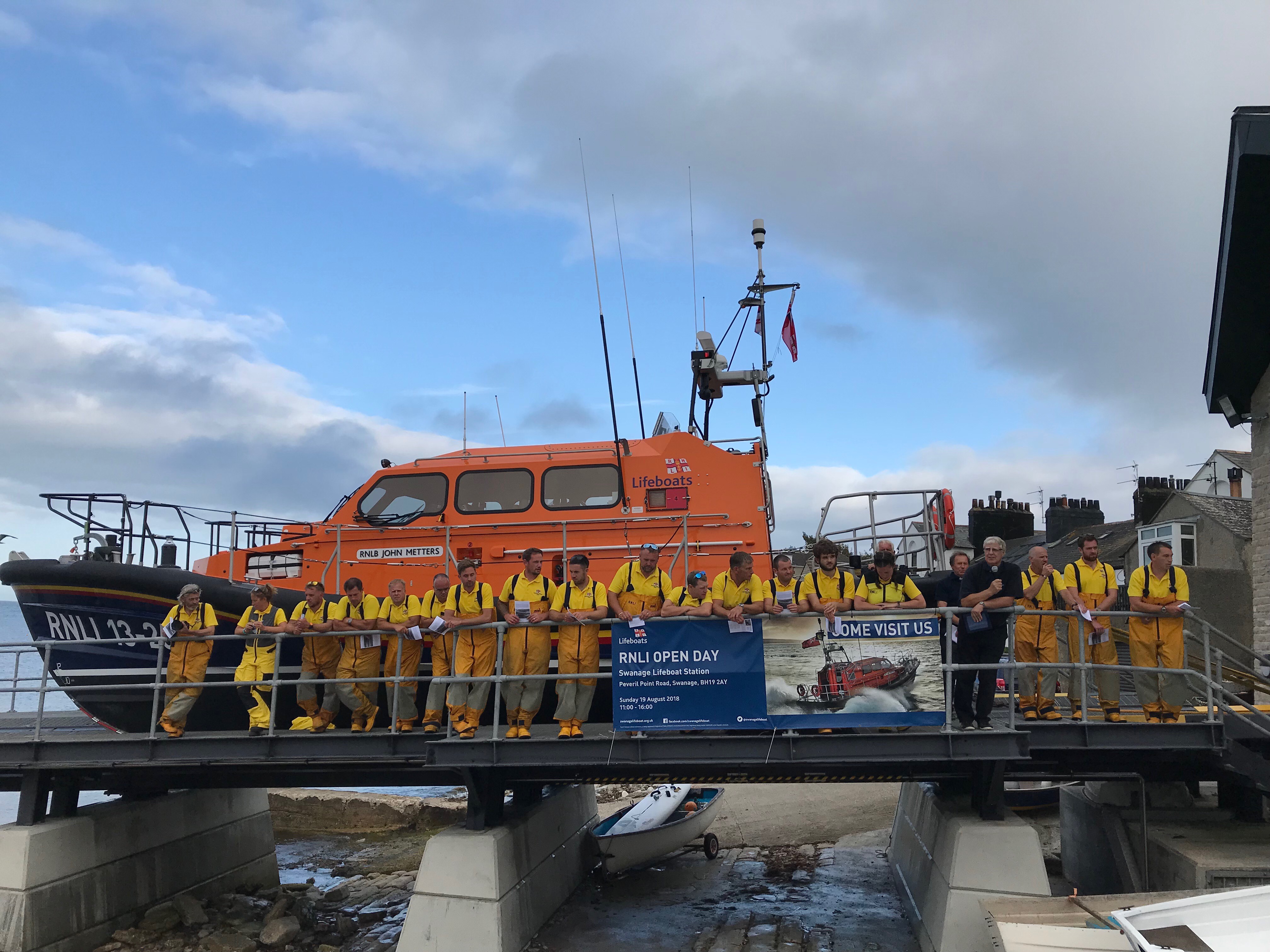 Crew, Mayor and Clergy at the beginning of the Lifeboat service.

---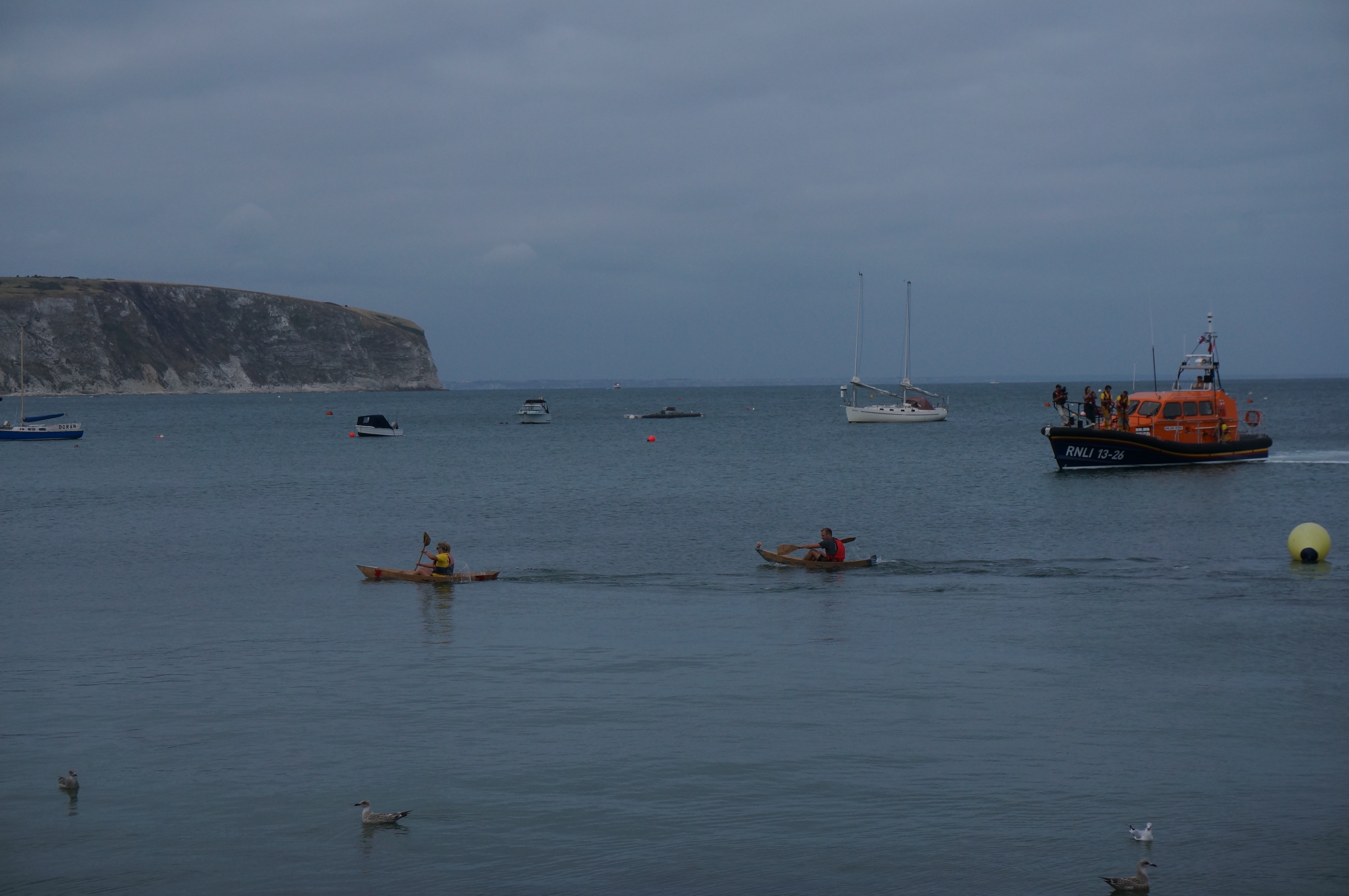 Boats, built in just four hours, race from the stone quay to the Mowlem Theatre and back, as the lifeboat looks on.