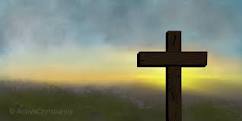 ---
On the eve of Holy Week I am taking to heart some words spoken by Christopher Jamison, president of the English Benedictine congregation, who's been reflecting, as a monk, on the separation and isolation of the current crisis.  He speaks of how we should approach each day, on his webpage alonetogether.org.uk He advises his readers to:
"Begin the day with a positive attitude and gratitude.  Do not begin the day by rehearsing your grievances.  Begin by remembering you are alive and there are good things still.  You may have to do tough things later, but take it one step at a time.  Begin with gratitude; then ask for the grace to face the day and its difficulties.  Then go and address the difficulties."
I have always found the spiritual discipline, or tradition, of approaching each day as a microcosm of one's whole life, a very helpful way of looking at things.  It seems to come natural to start the day fresh and positive and with the openness and freedom of new creation, as life begins; and as you much later, approach the end of the day to seek rest and refreshment, so embracing the hours of sleep, as tiredness and thanksgiving merge in peace.  In between there is activity and the problems and joys of the day are faced.  In this way the hours are valued, and the prayers that the Church designs for the different parts of the day make a lot of sense.
Christopher Jamison speaks of the punctuation of the day with reminders of what needs to be done.  In a monastery these happen because, "people are always ringing bells telling you what to do next."  This rings true - forgive the pun - with what more than one person has been reflecting on this week to me, the setting of little targets, or a daily task.  There is much wisdom coming from our own congregations here in Swanage and Studland, as people dwell on how they are spending their days during these anxious times.
Discipline is ever the accompanier of our devotional life.  Without it we are left adrift to make up our minds what to do when; with it we settle into a structure that benefits us by its constancy and continuance, even in times of dryness and lethargy. 
I have been on the alonetogether.org.uk website and listened to Christopher Jamison.  His words are certainly a resource, like others being offered at this time, to bring us stability and structure even as life is a bit upside down at the moment.  
John Mann