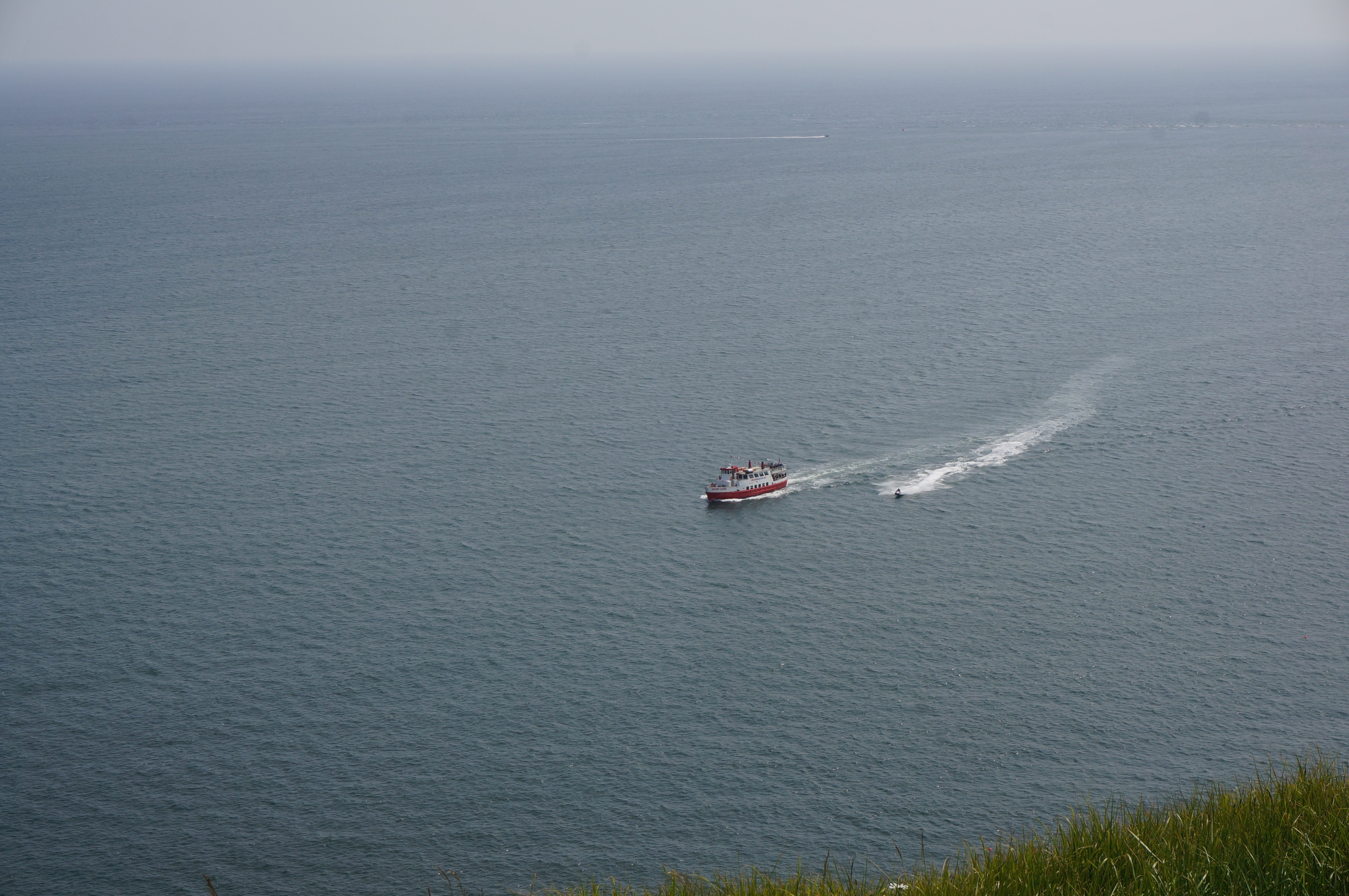 Seeing the Poole Ferry from above, from the coastal path, and other boats like dots on the water

---
Flying over to Belfast yesterday was quite a joy, once we escaped the clutches of Gatwick Airport and the disorientating effects of thousands of people milling "relaxing and shopping" - except it was lunchtime and everyone was looking for food. In fact, thinking about it, people are at the food and drink outlets at anytime of the day in an airport! We were an hour sitting on the tarmac waiting for a slot to take off, but then we could enjoy the distant views down from the sky, over straw-coloured fields broken up with green woods and hot-sparkling vehicles and roads and rivers.
At one point on the flight, as we passed over Merseyside and out over the sea, we saw the vast off-shore wind farm beyond Morecambe Bay below us, as Helen said, "they look like noughts and crosses", and, just then, another Easyjet flight passed us at the same height going the opposite way. The effect of the combined speeds of both aircraft gave the impression of the other plane going like a rocket. Then the Isle of Man came into view and, looking down Helen saw (she was by the window) so many places that are familiar - even our very house! Well that might have involved a little imagination… Scotland was clear on the horizon as well. The sheer majestic stretch of land, sea and sky was magnificent.
It is a thought worth pondering that before balloons and flight, humans could only look down from hills and mountains, and most people had little opportunity to see a bird's eye view of creation. When churches with towers were built in extensive lowland areas it must have been such a revelation to people, living on the flat land with no opportunity to travel, to climb to the top and look out over their homes and farms and see things from above, when the only other buildings that they had were probably single-storied. Now we take being able to see panoramas from elevated places for granted, but every now and then, on a clear day, even the most familiar sights suddenly catch us anew, and we feel the peace of knowing that we are passing through a world much greater than our self-absorbed natures can begin to imagine.
I think that it was Churchill who described T.E. Lawrence as "a dweller upon the mountain tops", by which he meant not just that he lived apart from others, which in a one sense, he did, but also that his perspective was affected by distance and breadth of understanding of humanity's condition.
For many of us, the expectation of imminent change, of one kind or another, is what brings us to that wider vision when time and life's landscape telescope, and what is of immense value to us becomes all that is important. Petty matters we have no time for, and point-scoring and oneupmanship are laughable and irrelevant - well they are anyway - and we find peace also in that mountaintop vision that is filled with glory. Then we face what life has for us to face, knowing, however hard it may be, that there is a God who cares, and walks with us through the foothills and dark valleys, when we cannot see, but follow Newman's 'kindly light' - one step enough for me.
John Mann