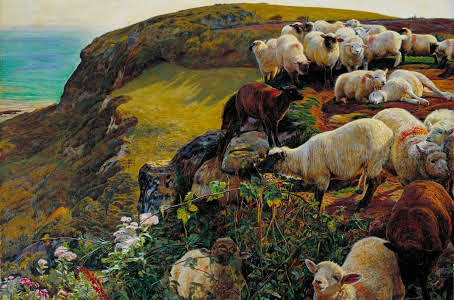 ---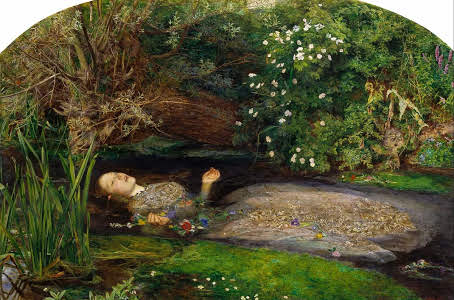 ---
Helen and I have been enjoying the TV programmes for the lockdown on great museums and galleries, called Museums in Quarantine.  The presenter, in each case, chooses a number of objects, normally open to view, but shut now in locked galleries and empty rooms.  One such programme was on treasures in Tate Britain, introduced by Dr James Fox.  Having been to the Tate at the end of January, to see the Blake exhibition, I looked eagerly for other paintings that I had noticed in going round.
Now there are some very famous pictures in the Tate, including John Everett Millais' Ophelia and Holman Hunt's Our English Coast or Strayed Sheep.  What strikes one about either of these Pre-Raphaelite paintings is the colour and light; there is such detail in them that one just wants to look, and then look again, and, in the case of Ophelia, it is the sheer size of the canvas that causes such impact from wherever one stands in the gallery.  When it was first exhibited in 1852 it caused a logjam in the Royal Academy.  
Everyone knows that Lizzie Siddal lay in her amazing, antique dress (bought for £4 in a dirty condition by the artist) in a bath of tepid water for Millais to paint, whilst the surrounding greenery was completed out in the country beside the River Ewell in Surrey.  I had always believed that Lizzie Siddal had died as a result of this, which isn't actually true, but I don't suppose it did her much good. 
As we were led around the Tate in this programme, the presenter spent some time with Hunt's Strayed Sheep.  I learnt so much that I would never have noticed myself. This painting is sumptuous and eye-catching, but he drew out for us the effect of the light, and the attention to detail.  Throughout the programme we had our eyes opened to the treasures within, though like many other things at the moment, it is all viewed through a screen.  
The power of art to take us to a new place when we are jaded and defensive is clearly a large part of the message of this series on museums and galleries, and its effect in opening us up to being a little more vulnerable, is thus seen as extremely important for our well-being.  It is indeed our softening up, our emotional sensitivity, our weakness, that provides a portal for many things that can help us, and ultimately to God's grace.
Not just visual art either, as music transports us to other places, and the written word open us up as well.  For example, as George Herbert tussled with the inner motions of the soul in his poem Love (III):
Love bade me welcome. Yet my soul drew back 
                              Guilty of dust and sin.
But quick-eyed Love, observing me grow slack 
                             From my first entrance in,
Drew nearer to me, sweetly questioning,
                             If I lacked any thing.
A guest, I answered, worthy to be here:
                             Love said, You shall be he.
I the unkind, ungrateful? Ah my dear,
                             I cannot look on thee.
Love took my hand, and smiling did reply,
                             Who made the eyes but I?
Truth Lord, but I have marred them: let my shame
                             Go where it doth deserve.
And know you not, says Love, who bore the blame?
                             My dear, then I will serve.
You must sit down, says Love, and taste my meat:
                             So I did sit and eat.
All of these opening, welcoming things suggest that the little question, "What can I lay down, that I may leave space for the grace of God to grow within me?", may be a good one to try and answer.  Can I suggest that scepticism and suspicion are two of the worst things to make us jammed up, and cause our minds to be stuffed full of negative thoughts -  the mental equivalent of a busy period on one of Britain's busiest motorways, maybe the M25 in a rush hour.  Why don't we try and switch off this bank holiday weekend and find something, just one beautiful, heart-warming thing, to dwell on quietly, unhurriedly, with eyes and ears tuned to what it may reveal?  That alone may help us through the coming days, and leave us more ready for what God may be trying to show us.
John Mann