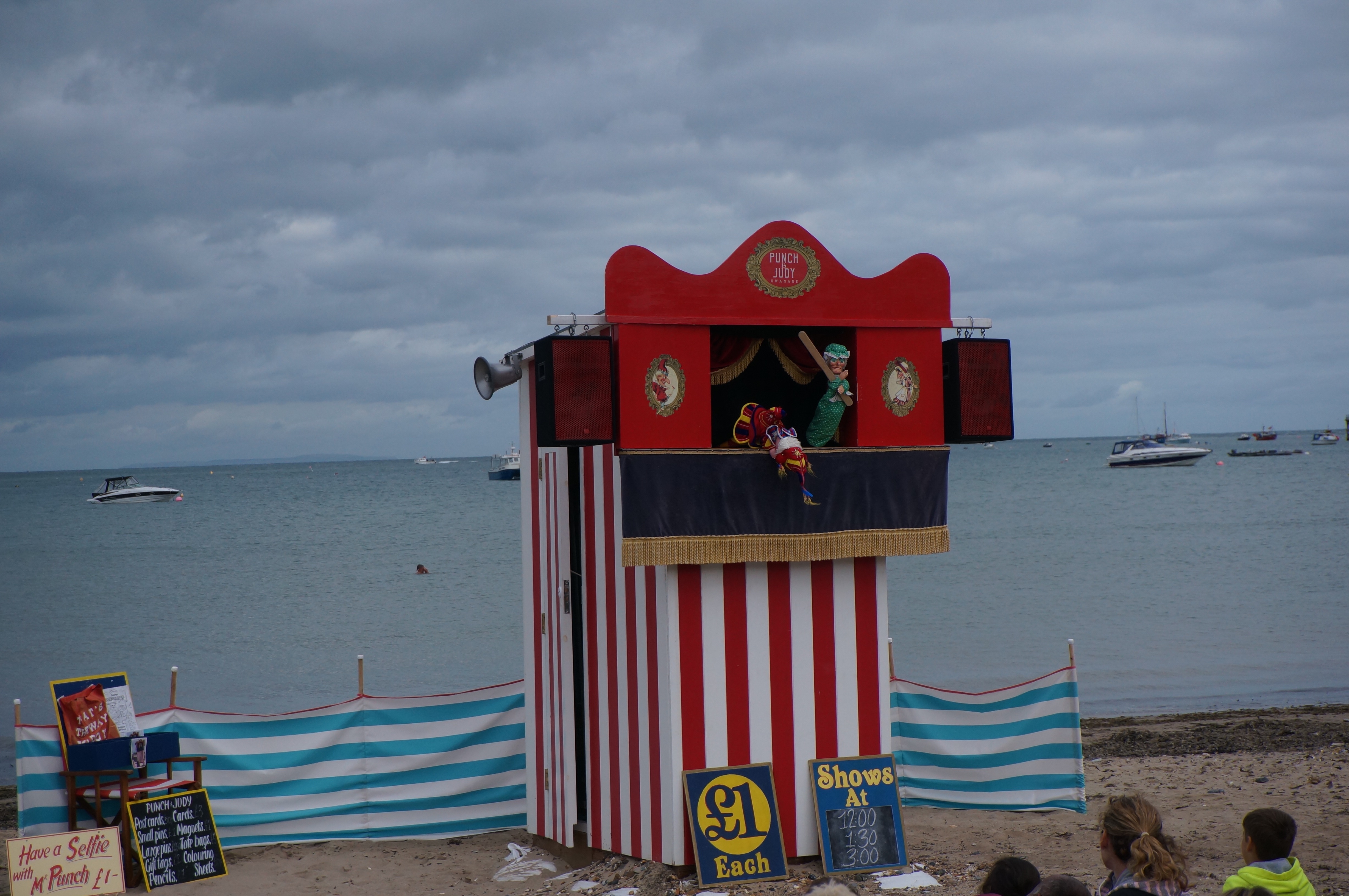 Punch and Judy on the beach

---
A few spikes of autumn lady's-tresses orchids have appeared in the grass in St Mary's churchyard, not for the first time, I gather. It is mysterious isn't is how after such a long dry spell earlier in the summer, through mowing, and the grass being used for parked cars, Fete stalls, gazebos and tables and chairs for teas, these delicate little whorls of flower can suddenly emerge?
Richard Mabey gives other examples of the almost miraculous appearance on the lady's-tresses orchid in his impressive 1996 publication Flora Britannica. Glancing at it yesterday led me on a little train of thought that took back to 1998, to a caravan holiday that we had in the west of Ireland at which I read this book from cover to cover during the course of those two weeks. How do I locate it so exactly this far on? I used the 1998 leaflet from the Sligo Caravan and Camping Parks as a bookmark, and it is still in it (prices in IR£ rather than Euros!). How many of us have half read novels with the stub of an airline boarding pass still marking where we fell asleep or arrived at our destination?
But, that was not the only blast from the past which opening this page of Flora Britannica produced. On the opposite page to the lady's-tresses orchid there is Mabey's description of the violet helleborine, found growing in the churchyard at Bentworth, Hampshire, and reported to Richard Mabey, whom they knew, by Ian and Vicky Thomson, parishioners of that church of which I was at that time rector. It is reported in the book as being found "under a beech tree". I am nearly certain that it was a lime, but never mind.  I recall its understated beauty in the shade of that lovely churchyard.
We were given an English cherrywood table, made by Ian, by parishioners when we left in 1993. Carved on its underside is IT93. I recall him saying at the time that the varnish was only just dry. Many cups of tea and coffee have been served off it since, some to people that will be reading these words. So one memory leads to another…..
Helen and I sat and watched Punch and Judy on Swanage beach yesterday before they pack up and the season ends. We were told that it has been here every Summer since 1908. How it has survived is an even greater miracle than the appearance, seemingly from no-where, of the Lady's-tresses orchids in the grass.
John Mann