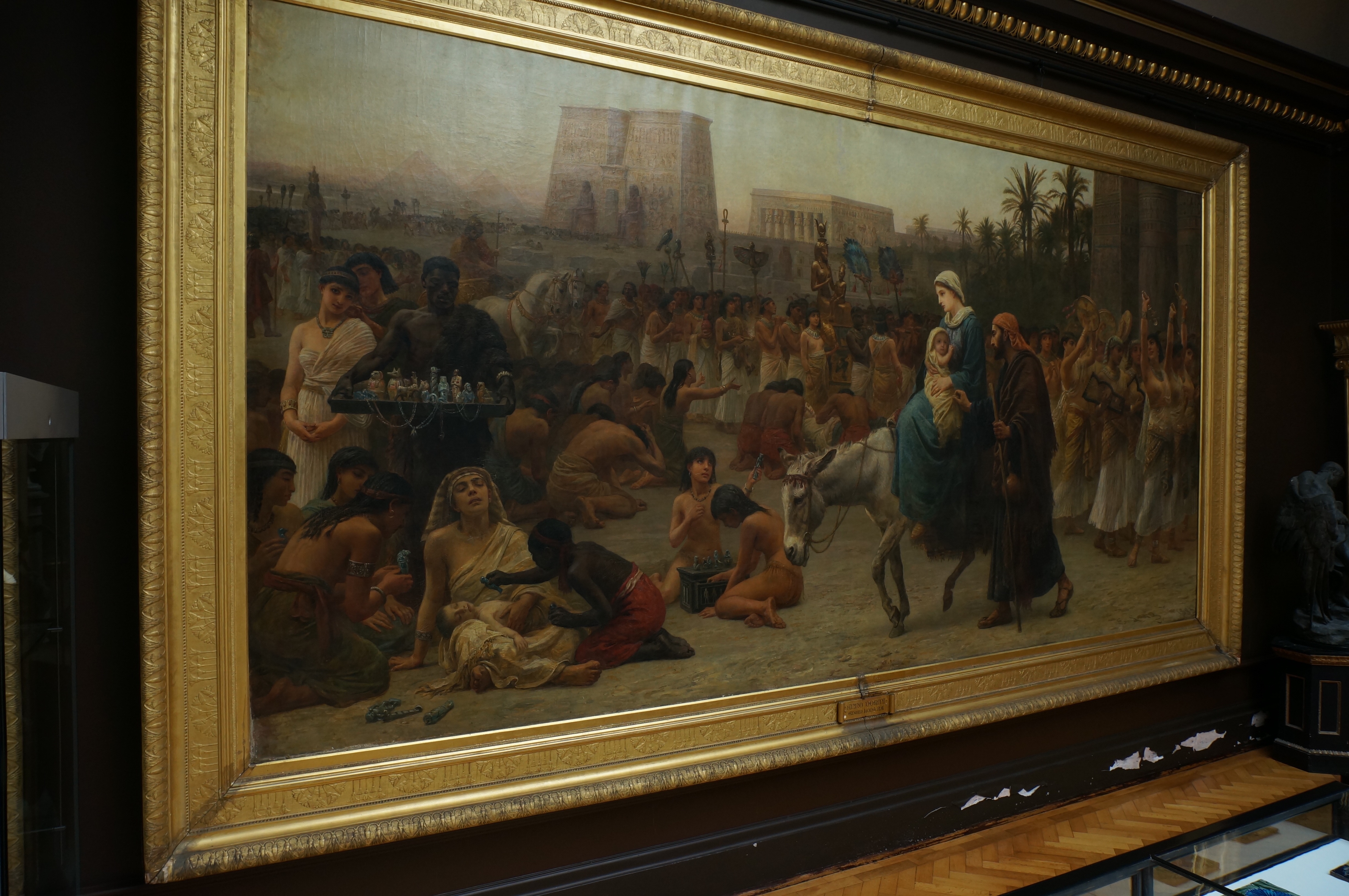 The Holy Family arrive in Egypt

---
Last Saturday, taking a day off, Helen and I took the number 50 bus, the Purbeck Breezer, said by some to be the finest bus-route in England, via the Sandbanks ferry to touch the edge of Poole and onwards to central Bournemouth. It is an hour of seaside views, downland, woods and heath, the lake known as the "Little Sea", and the expanse of Poole Harbour beyond. Engine off, and we waited for the chain ferry to return, while yachts sailed by and cyclists lent, resting on their machines, as terns yelped across the harbour mouth.
Then on, through Canford Cliffs and the deep-set, tree-hugged apartment blocks that rise above the dunes and sands of Westbourne, with its chines and numbered footpaths, exclusive homes and obvious wealth.
Down, down into Bournemouth; lower gardens meeting the pierhead through spits and spots of rain; the crashing waves and laughing children; miles of perfect sand; families dotted along the water's edge; choppy paddling in damp shorts and skirts; brown limbs fading under low clouds, but no dimming of joy; rather the opposite, as energy seemed to bounce around from zip-wire to bat and ball, castles built in sand, and youngsters lost in smiles and beach and sea.
We took the coast path east, to the house of the Russell-Cotes family, then followed two hours of unalloyed joy. Winding round the rooms and galleries, the pictures thickly hung, from the returning prodigal kneeling before his loving father, the paintings line these magnificent walls with scene after scene, reminiscent of the coloured plates of Bible story books of long ago.
There is an immense "Holy Family in Flight to Egypt" across from three huge canvases of the tragedy of Jephthah's daughter; stately and beautiful Judith stands with sword casual in her hand. Is that Hannah and the child Samuel? Surely, yes, though the title places it in Egypt; a Pre-Raphaelite Annunciation overlooks six panels of Ahab's contrary life; whilst seascapes from Cornwall to Sicily maintain perpetual motion, and women stare naked from their frames a century past their model's gaze. Snowy scenes from Highland cattle below soaring mountains, to a lady, "three score years and ten", leaves church upon another's arm.
Stained-glass swallows frozen in their flight bring movement to the windows and from their painted cousins flows life to the frieze high on the walls, as with the rooks returning to roost on windy days, caught for ever, flapping along the cornice; pre-war children are at play in freedom on ancient Cornish granite; a bathing beauty stares down the chasm to the rocks, and Rosetti's Venus captivates men still, as, surely, she always will.
This house and its contents were gifted to the people of Bournemouth, just a bus-ride away. With many artefacts from across the world, the pictures alone are surely one of the most captivating collections of British Art in England.
John Mann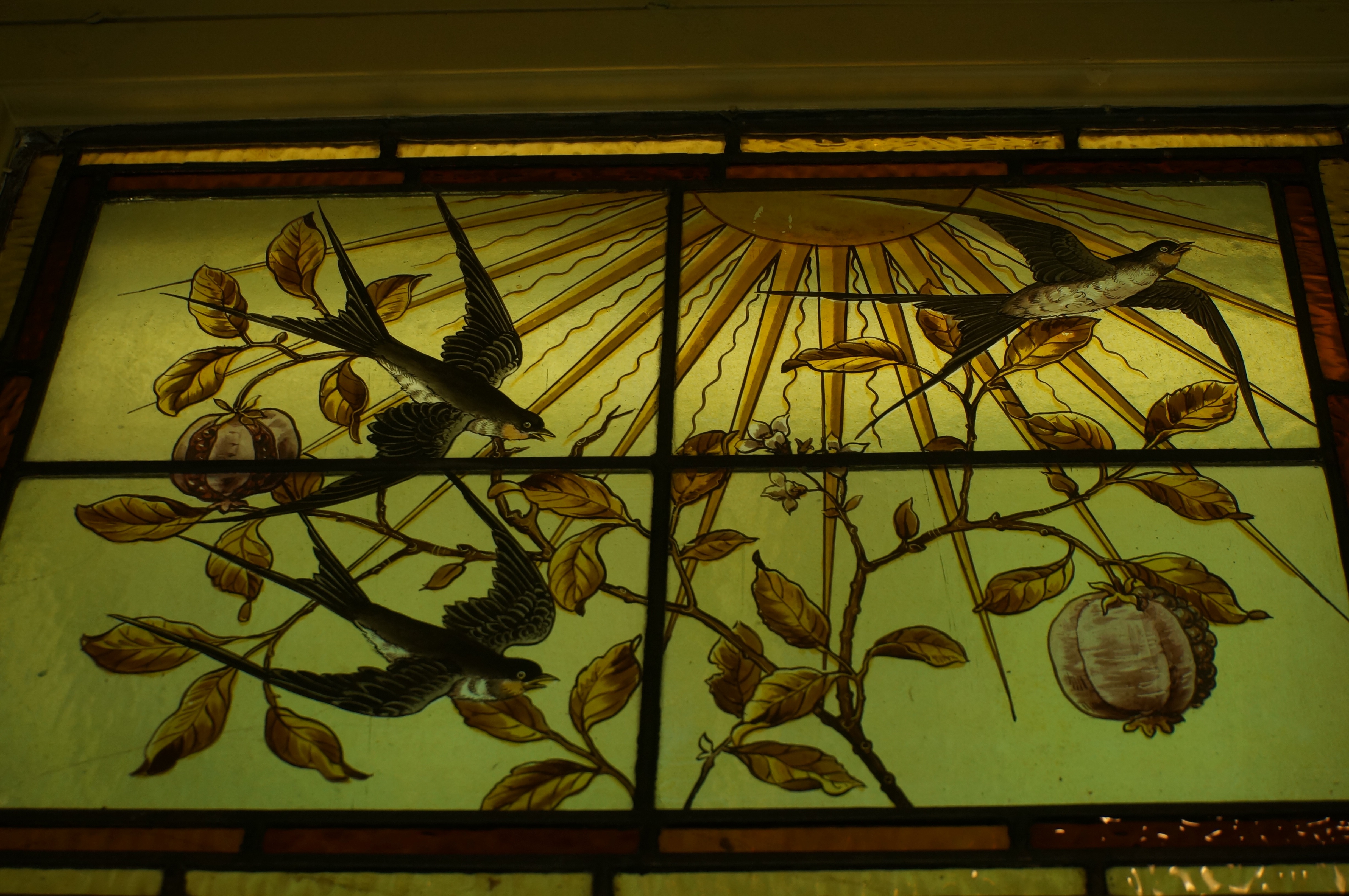 Stained-glass swallows edge the high windows

---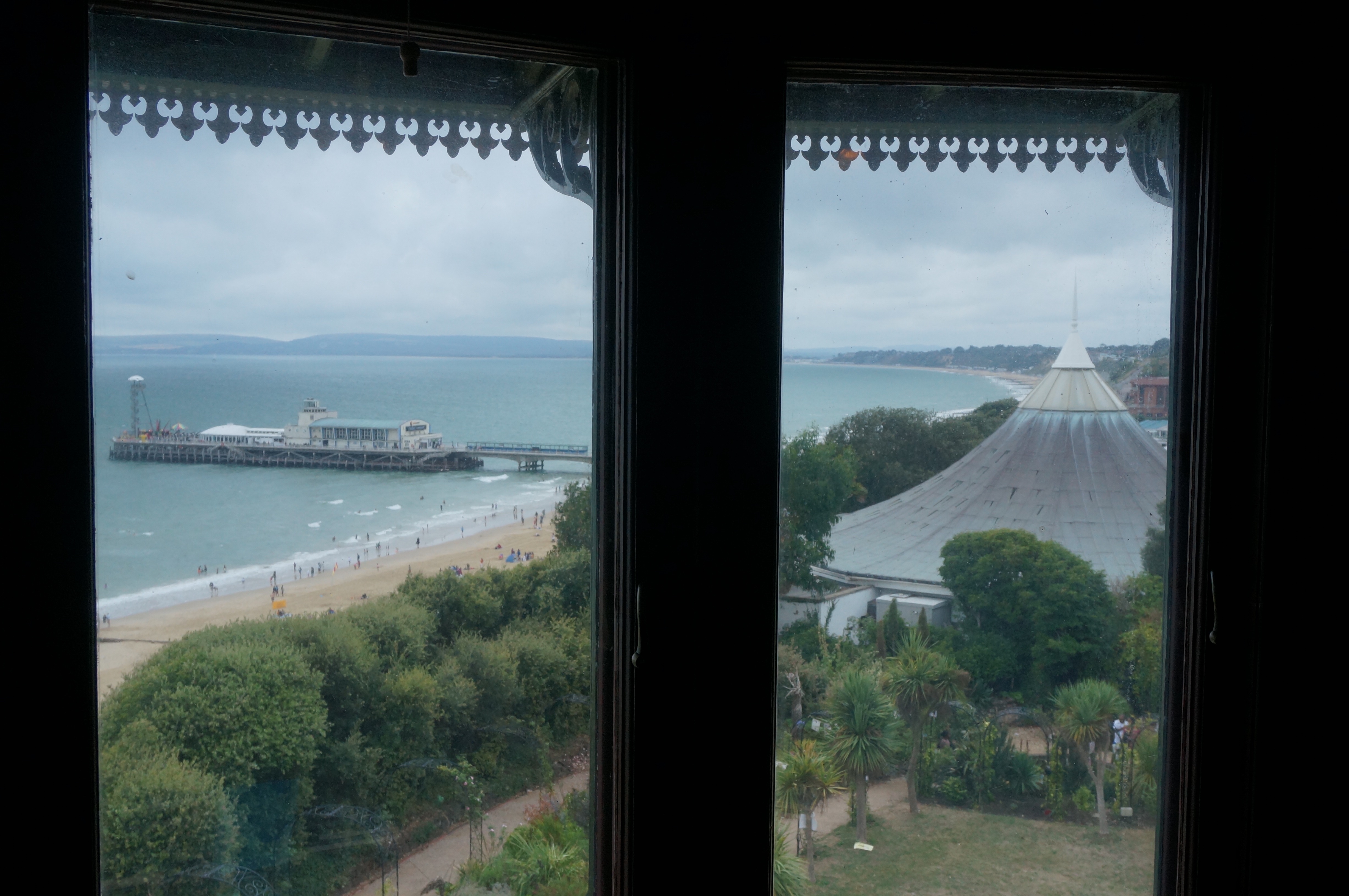 Bournemouth sea front through a Russell-Cotes' house window