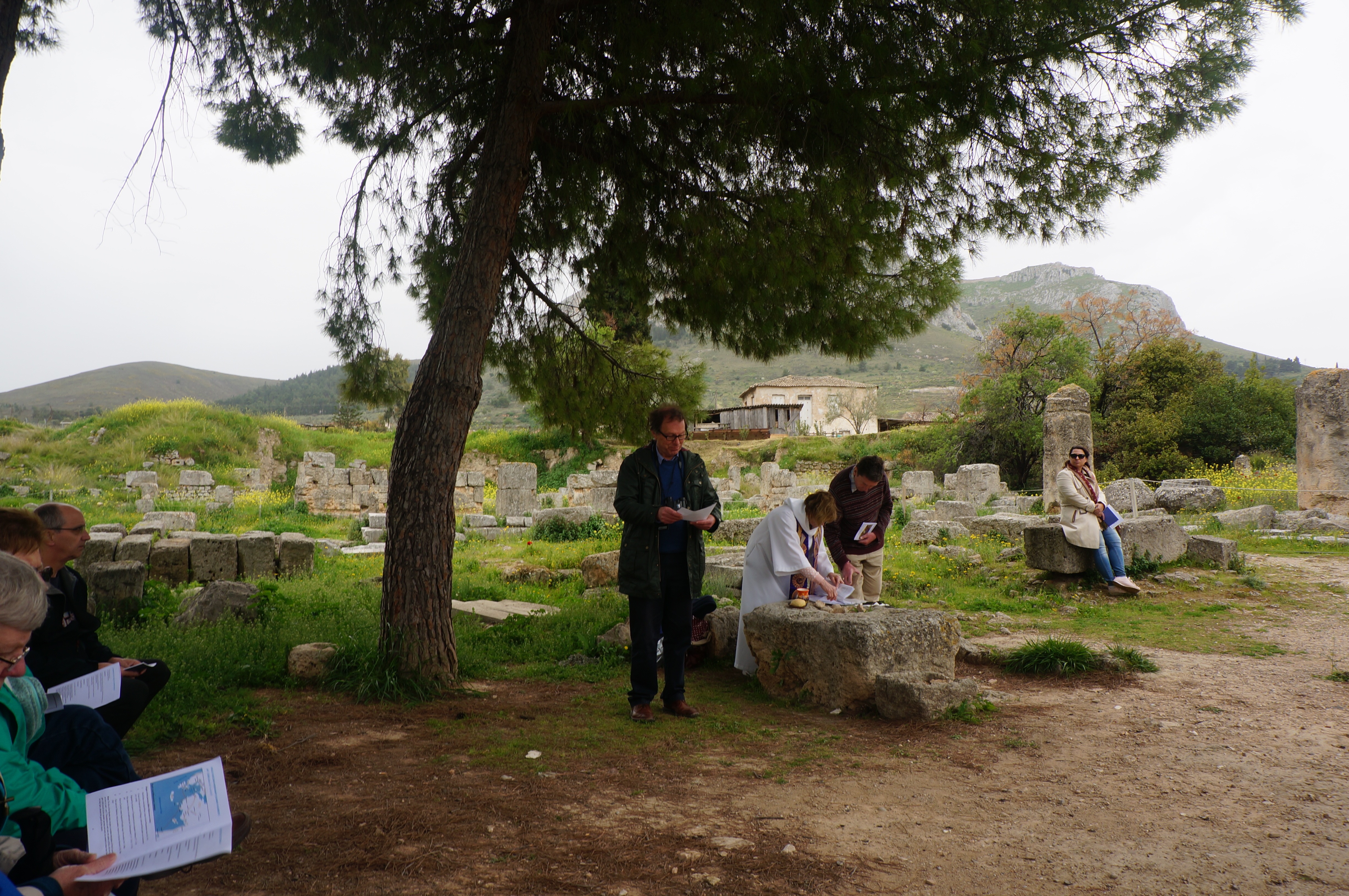 Reading at Holy Communion at the site of ancient Corinth

---
Returning to Swanage yesterday - in still snowy conditions and 1 degree above freezing - was a bit of a shock after the sunshine of Greece, but we are grateful for the pilgrimage just ended. The group of which Helen and I were a part concluded our journey "In the footsteps of St Paul" at Corinth. Here we were led to understand the scale of the challenge to the early Church in this place, which was the centre of the cult of Aphrodite, and, in the Christian view, a highly immoral city. It is within this context that Paul wrote his great treatise on love.
Unlike our day in Athens, the hours we spent in Corinth were quiet, and we were largely on our own. We found a beautiful spot to celebrate Holy Communion in the open air, and read from Acts 18 of Paul's ministry with Priscilla and Aquila, and from 1st Corinthians 13. While we shared bread and wine a stray dog came and lay beside the altar - Alison, our leader kept an eye on the bread roll designated for the communion! - and an unidentified species of finch twittered noisily in the trees. The peace settling on us drew contrast with what it must have been like at this spot in Paul's time; we sang, we read; heads nodded, and the breeze lifted the poppies and yellow mustard, while the sun shone.
Later we lunched beside the Aegean Sea and looked out at the Corinth Canal. This canal is in a deeply gouged-out gorge that connects the Gulf of Corinth with the Aegean Sea. It cuts through the just four miles of the Isthmus of Corinth, and so separates the Peloponnese from the Greek mainland. It was dug and blasted out by the French in the nineteenth century, and is an amazing sight and a great feat of engineering.
A much delayed flight from Athens brought us back to snowy and gloomy Gatwick. Tiredness didn't help, but the pilgrims managed a few heartening farewells before departing for all areas of England, for sleep and memories of the warmth and sunshine of a lovely friendly country, and a happy band of new friends following steps of St Paul!
John Mann