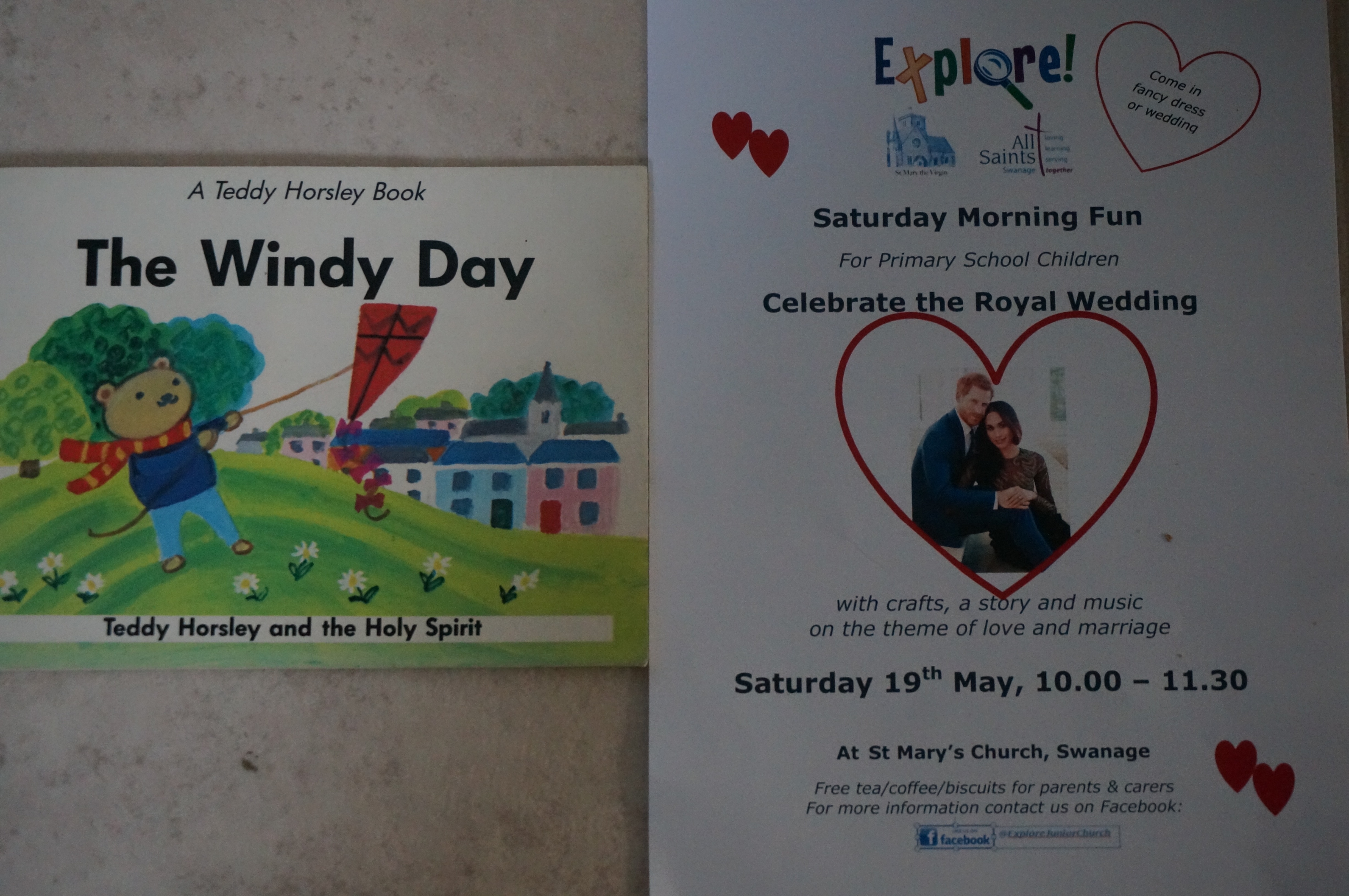 Getting ready for a windy exploration!

---
I have landed myself with a bit of a conundrum for tomorrow. There is a session of "Explore" in St Mary's Church, just before the Royal Wedding. Hatty and the team have been working very hard, and I think that we are likely to get quite a few children there. The headline subject is the Wedding, with suitably themed activities. I am giving the talk to the children, and some time ago, when we were planning it, I breezily announced that "I'll link it in with Pentecost" (noting at the back of my mind, "well, I will need to give that some thought - how do I do it - help!) and merrily went on my way, thinking of other things like PCC meetings, archdeacon's visitations, and a few other services etc.
So, how's it done? It used to be said that there really are only a handful of messages in children's talks in Church; those giving them simply repackage them with different stories and approaches. I think that it may be fairer to say that there are only a number of broad themes of what we would term "theology" that we are inclined to develop, most of them covered by the three most commonly used parables with children: The Sower, The Good Samaritan and The Prodigal Son; and, of course, the major festivals of the Christian Year. So, probably better to start with Pentecost and work back to the wedding, rather than trying to think weddingy thoughts and seeing what I can take out of them. Thus the process of developing an assembly/children's talk gets under way!
The Teddy Horsley book The Windy Day (which has been about for a long time) is still about as good an introduction to the coming of the Holy Spirit for children that I have seen. A rather yellowing copy of it is sitting beside my computer as I type this. Yes, I think that it going to have to be the stirring of the wind that will be the link, as ever. How many brides have nearly lost the veil; bridesmaids' hair blown about for twenty minutes waiting for the bride to arrive, confetti, rice, petals or whatever is thrown these days, carried across churchyard or street - with an odd hat or two, insecurely pinned?
The obvious, is often the best! Thank goodness I am giving the talk before the happy royal couple arrive at Windsor. It wouldn't suit my purpose if they are not buffeted by a gale. And, I wouldn't wish that on them… though it would give clergy on Pentecost Sunday just the opening they need…..!
John Mann