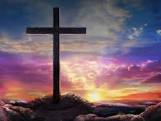 ---
As we approach Holy Week, I would like to take this opportunity to give you some idea as to how we are planning to make the days special, in the absence of services in Church.  I have been in conversation with a number of people to discuss what may be appropriate and possible - and provide encouragement for our devotions as we focus on the Cross, and the events leading up to our Lord's crucifixion.
We hope, within the constrictions that are essential, to distribute palm crosses to as many people as possible, that we may have these in our homes as a symbol of our unity in Christ, who gave his life for us all.  On Palm Sunday itself, on this website, there will be a service to read and sing, much as there was for Passion Sunday.  
On Monday, Tuesday and Wednesday, this blog will be a reflection on the readings at that point in Holy Week.  At the end of each thought-for-the-day Simon hopes to provide us with a short reflective piece of Passiontide music, in order to help us to sit quietly and settle our minds to prayer and thought as the week passes.
On Maundy Thursday, we hope to provide a service much as on Passion and Palm Sundays, but appropriate to the day, with hymns and music to suit.  Good Friday will be different.  There are to be a series of short reflections on Christ's Words from the Cross interspersed with hymns, much as the structure of the Three Hour service, but probably lasting a little over an hour, according to how quickly or slowly you wish to use it.  
So, that is the plan.  Easter Day, I shall write about later.  But, of course, we shall make it celebratory, and I am sure that we shall need to be in good voice at home for those glorious Easter hymns.
John Mann