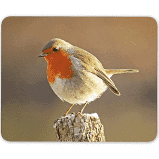 ---
A quick twenty minute tidy in the garden first thing this morning was important to fill the green bin, as today was the last collection for a while.  Hedge trimmings that had been piled ready to go went in first, then the dead growth from herbaceous plants; some cut away, but the sodden remains of dead leaves lifted easily and weighed down the rest.  It was all out by 9.00 a.m. - and I didn't miss the collection.  So that was good.
My work did not go unnoticed.  A robin was back and forth across the exposed areas of soil, finding plenty of food, and I heard other birds twittering their appreciation of the grubs and bugs revealed.  My eyes were more on the points of spring bulbs well up through the soil.  Last spring, after flowering, I had planted some double snowdrops under a hedge on a little wall that is damp enough to suit them.  A few of them have appeared, but much more obvious are the old clumps of single snowdrops.  Some were already in the garden, others we brought from Ireland with us.  They will be flowering in a month from now.
We are fortunate, in the face of all the recent rain, that the rectory garden is so free draining.  Not so good, of course, through continuous dry summer days, but fine for the winter, allowing us to walk across it soon after the most torrential downpour.  Primrose flowers are already opening here and there, but nothing can compete at the moment with the winter jasmine, which remains cheerful and bright beside the front gate.
The size of the moon is falling back now, but last night the sky was full of stars.  Somehow one feels it should be like this, deep into December, with Advent petering out as the great 'O' antiphons of its last days leading us, with deep desire for the coming of Christ, to Christmas Eve on Tuesday.  In the nineteenth century J M Neale translated into a hymn five of the seven of these great antiphons.  We sing them every Advent: "O come, O come Emmanuel…"
John Mann