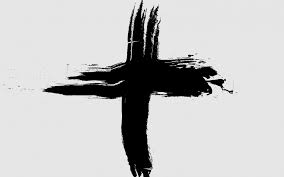 ---
I shall be spending part of today preparing the liturgy for Ash Wednesday, for both the actual service taking place in St Mary's at 7.30 p.m. and the on-line version, that is also printed and posted out - we hope, tomorrow.  The clergy are always thinking one step ahead, whilst trying to keep a focus on the day.  Just now, that means contemplating what we shall be able to manage for Holy Week and Easter in the four churches, whilst not knowing what the route map out of lockdown is going to look like.  The same is going for weddings.  Wedding preparation is going ahead with the couples booked to get married this year in our churches, without knowing exactly what will be the restrictions come the day.  It is all part of the strain of living at the moment.
Going back to Ash Wednesday, the constraints on us in holding a service physically in church are, particularly, two:  no choir and no imposition of ashes.  We could use a cantor - i.e. one singer - and there is provision for sprinkling ashes on people without touching them.  This is where we come into the area of, "what we should do", as against, "what we are allowed to do."  This has been the situation over the holding of services physically at all in this current lockdown.  I believe that we have made the right decision there, in closing for corporate worship three of the churches, and maintaining services just in St Mary's - with increased vigilance and precautions.  It is working well.  
But the decision for Ash Wednesday is settling out as: - no singer and no ash.  We shall be in the sining and penitential place in our minds, but keeping safe and retaining worship in St Mary's means being extra careful, and we are not ready, yet, even to have one person singing - though we may try such soon - and we can easily imagine the ash without complicating matters with trying to use it in a different way.
It is a good moment a few days before Ash Wednesday to think more generally how to spend Lent this year.  We are promoting the Swanage Churches Together Lent course http://www.swanageteam.com/news-events/lent-course-2021/ with its gathers by zoom each week.  But individually, I am fascinated by how some people are approaching self-discipline in lockdown - and not just from a Christian perspective.  Giving and opting-to-do-without are the obvious two paths to tread.  Most people in the churches probably aim for some combination of the two, as a Lenten focus on prayerful reflection is encouraged.  
Preparing the liturgy today will help me to think about these things, and I hope, come next Wednesday and we are using it, or some other personal beginning to the penitential season, we may find what is right for each of us for Lent 2021.  It will be like none other.
John Mann