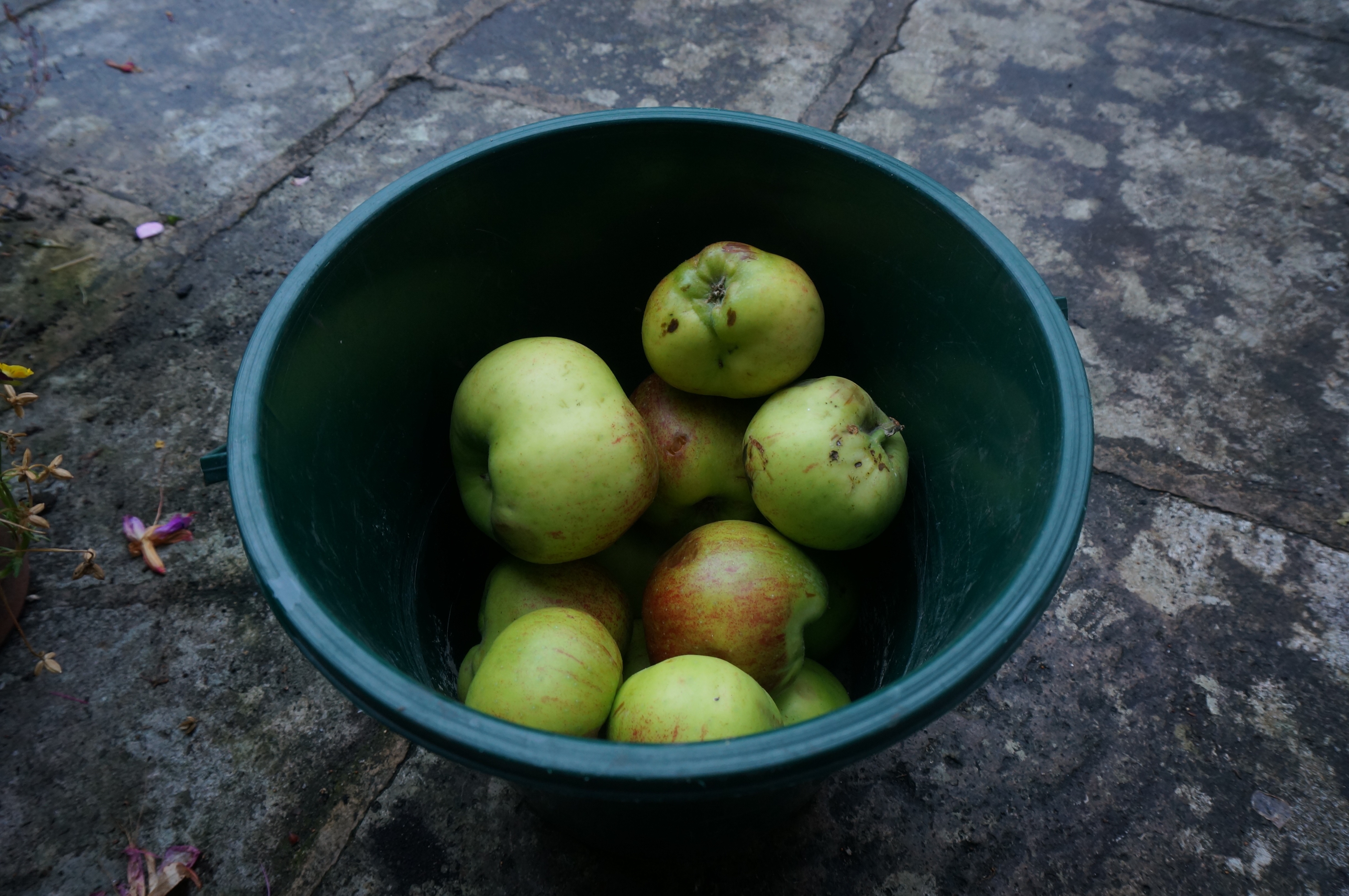 The last few windfalls are still coming

---
Helen is still picking runner beans and the brambly apples are continuing to fall, whether the wind blows or not, though they are nearly all down now. I weighed one a couple of days ago and it was 1lb 2oz - which I think is the record for this year. Those high up have a beautiful rosy colour with all the sunshine that we had earlier in the summer. But, the almost daily bucket of windfalls at our gate is about to be fail, as autumn moves on, the harvest is past, and winter beckons.
Just at the moment I am visiting the schools in Swanage with the town mayor, Mike Bonfield. We are talking about the coming period of remembrance, and how Swanage is to both commemorate the ninety-nine men who were killed in the First World War from Swanage, and celebrate the end of the First World War at the same time. It is interesting to experience how the children respond to this. Several boys and girls in each of the primary schools wanted to tell us of their relations who had fought in the world wars, and the schools themselves are opening up the whole subject of remembrance and the wearing of poppies.
It is, of course, far too complex for young children to fully understand (can any of us really understand?): why countries go to war; why individuals flocked to enlist at the beginning of the First World War; how and why it was fought; and why, within two decades, the world was at war again etc. This all without contemplating the current situation of the world, and the many zones of conflict, the suffering, the attempts of vulnerable civilians to flee in huge numbers for safety in a nearby country, that may, or may not, welcome them.
However, as the plan for the eleven days of remembrance in Swanage unfolds (from a candle-lit vigil at St Mary's church on Thursday 1st November at 7.45 p.m., with the half-muffled bells tolling at 8.00 p.m., to the final lighting of a beacon above Swanage at 7.00 p.m. on Sunday 11th November) there will be plenty of time to reflect and pray, as the horror of all that war brings upon humanity comes home to us, and as we remember those who gave their lives that others may live.
John Mann