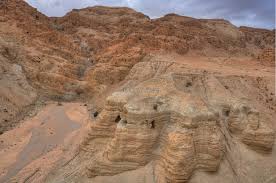 ---
The following is an appendix to yesterday's blog on the water flowing from the temple in Jerusalem in Ezekiel 47: 1-12.  Please read that blog (of 1st December) first.
Learning of the death of five young walkers in a flash flood, climbing near the archeological remains of the Essene settlement of Qumran, where the Dead Sea Scrolls were found, I wrote this attempt at a poem in May 2011, standing close to where the ascetic sect lived, whose practice of ritual bathing several times a day required cisterns and water-channels, in the midst of this wilderness region.  This is the place that John the Baptist may well have entered to disciplined study and ascetic life of prayer.  Yet here too, the adventurous lost their lives ten years ago in a fearful and unexpected flood, in the heat and bright sunshine, and unremitting dryness and salt-encrusted land, of the edge of the Dead Sea. Water gives life, cleanses, renews, is dangerous, unpredictable, can be tainted, and, amongst many other things, we are made of it.
Qumran
Glare encloses sense, hides reality,
in flash-flooded, white-washed cliffs.
Five died here, as the
sharp-eyed broke that fenced stream,
conscious of the spiritual unconsciousness,
of trickling, aqua-ducted channels,
filling the deep caverns, dry now
with dropped coins, the creased leaflet, 
the shades fallen,
cast from a down-turned face,
where tears of anguish fell.
How do we not know? We climb in danger;
risk glints with hard-edged judgement,
yet it sinks, spinning, polished, 
shining, mesmerising,
holding back corrosion in the dry heat,
the stain of rust oozes within,
honeyed dates, bland in taste,
set contrariwise with sweet water,
purifying,
yet unable to buoy the heart,
as saline drips from rock. 
The dust, lifeless, a source of creation,
to it return the dreams, ripped open
in the young adventure failing, falling
to a swept landscape of mind
and physical confusion,
eased through historical cracks,
troughs of sunk thought,
caves in shadowed darkness,
the high sun, glass-edged, unbending,
crumpled, 
by Essenean cowl in silent prayer.
The dry script of fragile parchment,
scored deep, but straight,
with a guiding hand, freely scribed, glows,
bringing order to commandment,
if disorder is in that desert cliff,
cleft cut with caves and crags,
to north and south,
flakes loosen from the face,
encrusted like salt, drawn from the scum
of a gritty beach,
in the corners of dull and blinded eyes.
John Mann