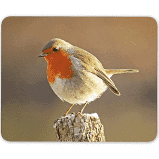 ---
A robin accompanied us from the hearse to the grave, as yesterday we laid Anne, who had lived most of her life in Swanage, to rest at Godlingston cemetery. Throughout the short graveside ceremony, it sat, as if listening, near to us, then drew attention to itself as close family spoke quietly and walked away.  It flew to a nearby small tree as we were about to pass it.  Not just flitting hardly seen at the periphery of our vision, but right before us, as close before our eyes as to startle us, a wing nearly touched my face; and it was singing, as we spoke to it, wondering as one does, "Why then?", "Why, at all?"
All of us noticed, so it was easy to contemplate thoughts of how life and death are so intertwined.  I recall, a long time ago now, maybe twenty or even twenty-five years back at the close of the twentieth century, conducting a funeral on a very hot day in Belfast.  We were in a chapel of a funeral director.  I can see it now.  It was small, and it was full of people.  The doors were left open, the windows, as far as they could be, were open as well.  The traffic passed on a busy road near by, but we needed the air flow through the building.  Huddled around the coffin, a butterfly flew in and settled on the flowers.  It stayed for the service lifting off one flower and moving on to another.  A distraction, yet also a point of reflection.  At the end of the service it flew off again.
Clergy and funeral directors will speak of animals and birds and insects, because in the stillness and quietness we notice them, while we read the familiar words of committal, resurrection and reminders of who we are.  Yesterday, in the clear air of a cold and still winter's day, sound travelled from the building sites across the fields off Northbrook Road.  A distant sound helps us notice when we are being still and quiet too.
Leslie Weatherhead in his 1945 collection of sermons, entitled The Significance of Silence begins the title sermon with a memory of when staying at Jordans, the Quaker House in Buckinghamshire. He woke early on a September morning and before breakfast went outside into the beautiful garden and into a great silence, and he describes the experience in some detail.  But, then he went on to talk of another similar occasion when after a hot and noisy gathering in Lincoln, where he was preaching, he was taken by a farmer for his overnight stay, where he awoke, again in the absolute quiet.  On this occasion though, it was a train in the far distance; that chug, chug, chug that we are familiar with in Swanage, but a long way across the fields that, "interpreted the silence" as he put it.  He writes it all much better than me, but I think that we all know what he means.  It is the things that occur that may just be slightly out of place, or unusual, or a little over-exaggerated, that open our eyes to what is really happening. On a cold crisp morning such as today, with less moving than usual, and no bustle of children going to school, these things are coming to mind.
John Mann