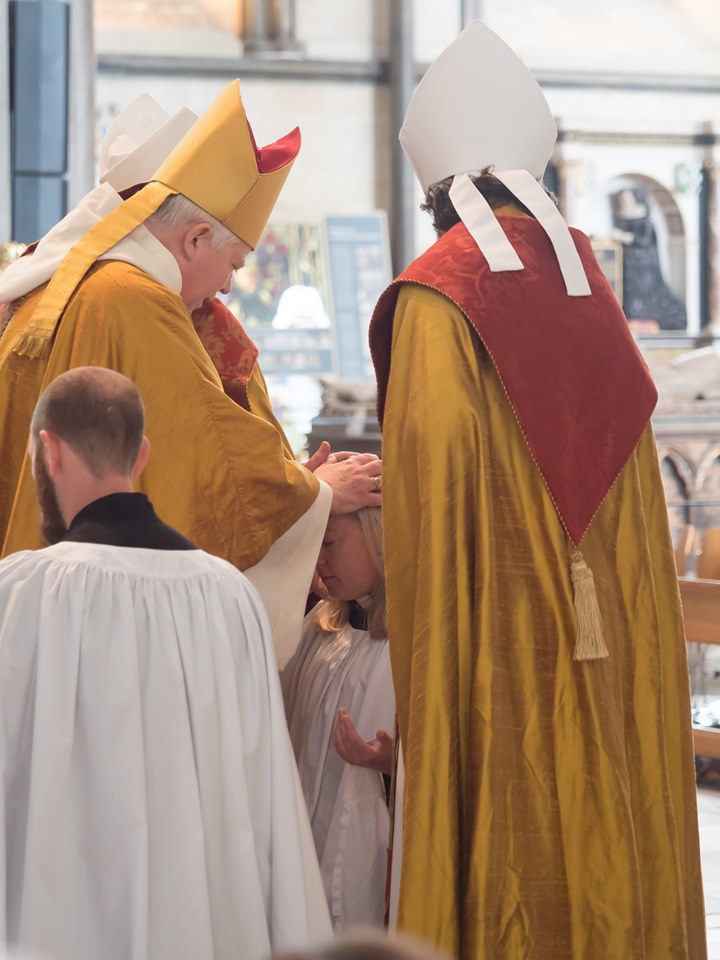 The moment of the laying on of hands

---
Yesterday in St Mark's School, Solveig was greeted with 'bonjour' in assembly, and we spoke to quite a few staff and children afterwards - moving swiftly into English!  There have been some initial meetings and services.  Solveig preached for the first time in St Mark's on Sunday (very well!) and was present at Choral Evensong in St Mary's too. 
I have been thinking back on the ordination service in Salisbury Cathedral today and dwelling on just what a happy occasion it was.  The other deacons are all lovely people too, so the whole year will have the joy of them meeting each other at their various training days out of their parishes, organised by the diocesan team.  This is an important part of Solveig's preparation, as it is for all those starting out on the adventure of the calling to ordination.
In the ordination service on 30th June there was a wonderful sermon and a very well organised celebration of holy communion, but the core parts of the service, as they were performed by and for the new deacons, were full of symbolic actions and extremely important and challenging words.   Primarily, amongst the 'acts', were the bishops modelling the calling to serve, as they took water, towel and bowl and washed the feet of the new deacons; also, at the laying on of hands by the bishops, the whole congregation prayed that the Holy Spirit be upon each of them.  
The description of the work of a deacon expresses delight in service, that is central to a proper understanding of not only the deacon's role, but that of the priest and bishop too.  The preacher made us all think about how the Church envisages vocation, but most particularly that to the ordained ministry.  We continue to pray for all who are launching out into the deep and experiencing something new, in the way of life's pilgrimage, and with a sense of an individual and compelling desire to serve.
John Mann